57 Best Things to do in Connecticut
Although it's not typically known as a big travel destination, there are plenty of fun things to do in Connecticut. The state offers a wide range of attractions for both locals and tourists alike.
As a lifelong Connecticut resident, I've had the pleasure of seeing and doing just about every major activity in CT. So, I have a good idea of what attractions are worth your time.
That's why I put together this complete guide to Connecticut activities. So without further ado, here are the best things to do in CT.
Things to do in Connecticut
1. Historic Downtown Mystic, CT
Mystic is one of the top tourist attractions in the state. This historic town is home to the infamous Mystic Aquarium, Mystic Seaport, and Olde Mistic Village.
Mystic Aquarium houses a variety of interesting sea creatures like African penguins, seals, sea lions, Beluga whales, sting rays, and jellyfish. You can even touch non-threatening sharks.
Then you have Mystic Seaport, which is the country's largest maritime museum. It has over 500 historic sailing ships and boats, along with a working shipyard.
When you're done exploring these two amazing exhibits, head over to Olde Mistic Village up the road to pick up some cool souvenirs.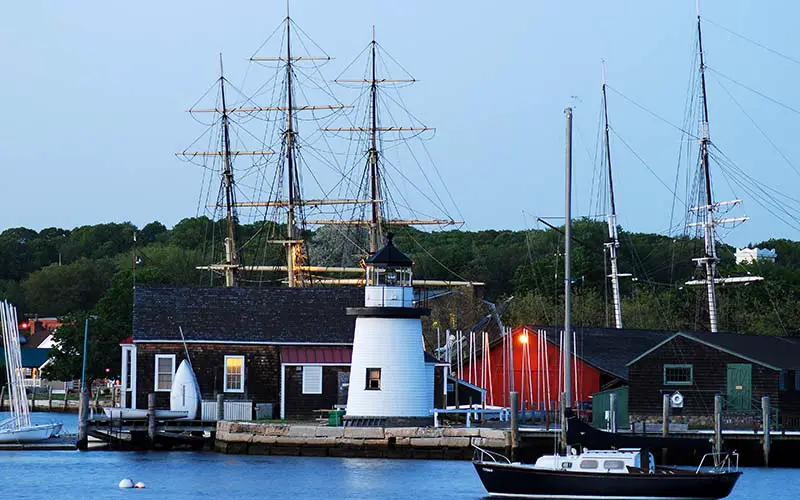 2. Lake Compounce
Lake Compounce is the largest amusement park in Connecticut, and the oldest continuously operating amusement park in the United States. The park spans 332 acres and includes both a traditional amusement park with rides and a water park.
There are tons of fun things to do here, including roller coasters, thrill rides, and water slides. Plus, there are a number of rides designed for smaller kids.
In addition to the main amusement park attractions, Lake Compounce also hosts events like concerts and light shows. You can find Lake Compounce in Southington, CT.
3. Beaches
Although Connecticut does get cold in the winter, you're still able to enjoy the state's many beaches during the warmer months. Connecticut has dozens of cool beaches to explore.
Jennings Beach is one of the more popular places to go swimming, while Ocean Beach Park has a full amusement park and boardwalk.
If you're looking for the beach closest to you, I recommend checking out this article about the top beaches in CT.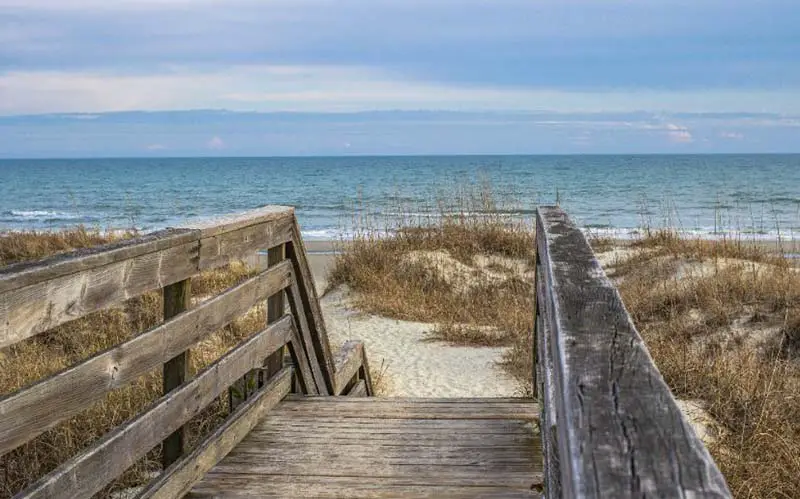 4. Hiking
Connecticut is known for its suburbs, but it also has some beautiful hiking trails. In fact, there are loads of amazing state parks in nature preserves scattered throughout CT.
Whether you want to hike up one of Connecticut's mountains or go for a leisurely stroll by the river, there's a hiking trail in Connecticut for you. It's never a bad time to explore nature.
5. Candlewood Lake (Jest Skiing, Swimming & Scuba Diving)
Candlewood Lake is the largest lake in Connecticut. It stretches 8.4 square miles across and is a popular spot for outdoor activities like boating, swimming, tubing, waterskiing, kayaking, and even scuba diving.
There are several boat launches and marinas surrounding the lake making it easy to access the water for recreational activities. You're able to bring or own equipment or rent from one of the local shops.
You can find Candlewood Lake in the Danbury CT area. If you're visiting the other side of the state, there are a number of other cool lakes in Connecticut to check out.
6. Mark Twain House & Museum
Visiting the Mark Twain House & Museum is another cool thing to do in the Constitution STate. This is the restored version of Mark Twain's home, where he lived from 1874 to 1891.
It's where he wrote some of his most famous works, like Adventures of Huckleberry Finn and The Adventures of Tom Sawyer. Both the tour of the house and the museum are super informative if you're a fan of Mark Twain.
The museum is open 7 days a week, and you can visit the site in Hartford, CT. You don't have to be on vacation to enjoy this tourist attraction.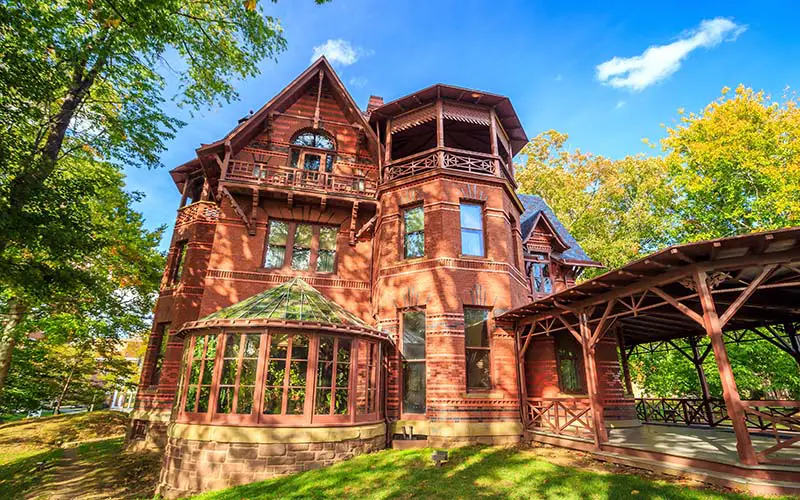 7. New England Air Museum
Visiting the New England Air Museum is one of the best things to do in Connecticut. It has over 100 historic aircraft on display, ranging from early flying machines to modern supersonic jets.
Many of the cockpits on these planes are open, so you can sit inside and explore. Plus, there's a fun flight simulator for older kids and adults.
All of the staff at the New England Air Museum are super knowledgeable, so you can learn a lot here. I highly recommend this museum to any aviation enthusiast visiting Connecticut.
8. Shopping
Connecticut has some of the best shopping malls in the county. With over a dozen malls to choose from, there is never a shortage of shopping opportunities in CT.
Choose from one of Connecticut's massive shopping centers or one of the state's many discount outlets to find deals on name-brand clothing.
9. Spas
Spas are great ways to relax and take your mind off the stress of day-to-day life. Fortunately, Connecticut has plenty of excellent day spas that are highly affordable.
You can receive an array of different treatments, including massages, facials, waxing, manicures, and pedicures. Many locations also have hot tubs, saunas, steam rooms, and salons.
Regardless of whether you're a tourist or a local, it pays to treat yourself to rest and relaxation. That's why we reviewed all of the best day spas in CT.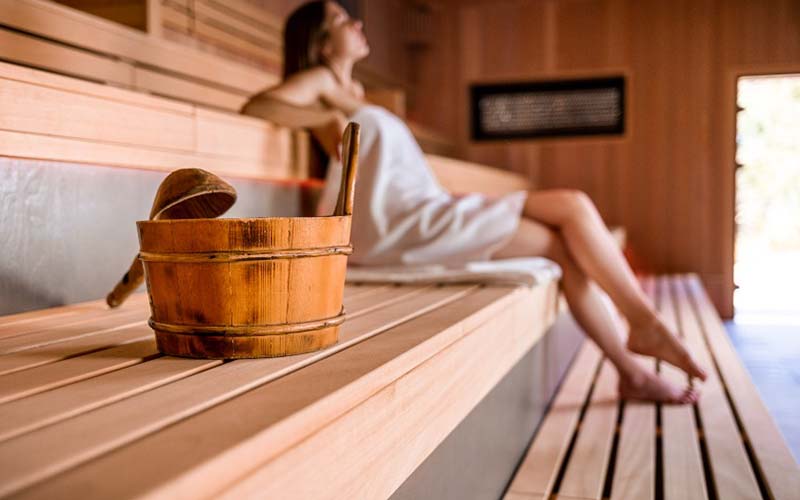 10. Connecticut's Beardsley Zoo
Connecticut's Beardsley Zoo is widely regarded as the best zoo in CT. It features a wide range of animal exhibits, including tigers, leopards, bald eagles, monkeys, snakes, and wolves.
There are over 300 animal species represented at the zoo, primarily from North and South America. This place has been in business for over 100 years and is great for educating students and families about wildlife from around the world.
Be sure to visit the Beardsley Zoo during your stay in CT. Tickets are very affordable.
11. Kayaking on the Connecticut River
Kayaking is another fun thing to experience in Connecticut. Whether you're a beginner or an experienced kayaker, there is no shortage of lakes and rivers that are perfect for paddling in CT.
Several companies also offer opportunities for river tubing and white-water rafting as well. If you've never tried these water sports, they're certainly something you need to do while in Connecticut.
12. Eat Some Hot Lobster Rolls
Connecticut is known to have some of the best lobster rolls in the United States. This is no surprise considering the state is located on Long Island Sound.
Lobster rolls are served in a variety of different styles, like hot lobster rolls, buttered lobster rolls, and lobster roll grill cheeses. You'll be able to find restaurants that serve all kinds of varieties in CT.
We recently ate at all the top lobster shacks in the state to see which ones are the best. So if you're looking to order a Connecticut lobster roll, check out this article.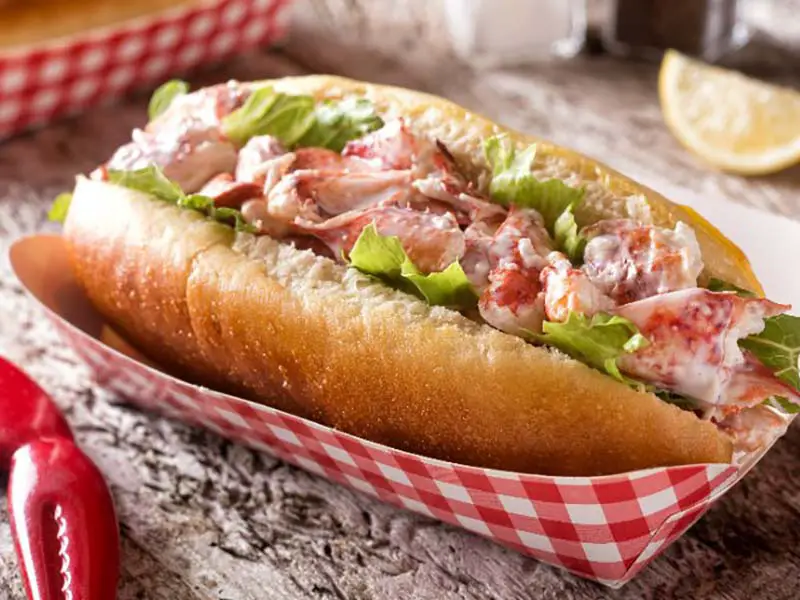 13. Frank Pepe Pizzeria Napoletana
The city of New Haven is widely regarded as the pizza capital of the country. And out of all the pizzerias in the area, Frank Pepe Pizzeria Napoletana is the best.
First opening in 1925, Frank Pepe Pizzeria has a ton of history. You really can't visit Connecticut without stopping by and ordering a slice.
The pies at this shop come in a variety of flavors, including the original tomato pie, Margherita, mozzarella & pepperoni, mozzarella & sausage, and white clam.
This is truly authentic New Haven pizza and needs to be on your Connecticut to-do list.
14. Yale University Art Gallery
The Yale University Art Gallery is one of the top art museums in Connecticut. Founded in 1832, this is the oldest university art museum in the United States.
The museum has nearly 300,000 art pieces from around the globe. A ton of different artists and exhibitions are represented here, so it's easy to get lost in the gallery.
One of the best parts about the Yale University Art Gallery is that it's one of the few free things to do in Connecticut. You can find the museum on the Yale campus in New Haven, CT.
15. Mohegan Sun & Foxwoods
If you're looking for entertainment in Connecticut, you may want to check out one of the two casinos in the state. Both Foxwoods and Mohegan Sun are located near Ledyard CT and have a number of interesting attractions.
Some of the things to do at the casinos range from slots, poker, and table games to concerts, comedy shows, and sporting events.
Foxwoods Resort Casino even has go-karts, zip lines, and shopping outlets. You can learn more about the different Connecticut casinos here.
16. Connecticut Science Center
The Connecticut Science Center is one of the most popular museums in the state of Connecticut. It features over 165 hands-on exhibits, a 3D digital theater, several educational labs, and daily events.
This museum is great for all ages, including both kids and adults. All of the exhibits are extremely engaging and range from physics and sports to geology and space. There's also a cool butterfly museum and mummy exhibit as well.
Tickets to the museum are very affordable and there's enough to do there to last an entire day. You can find the Connecticut Science Center conveniently located near the center of the state in Hartford, CT.
17. Thimble Islands
The Thimble Islands make up a small archipelago in Branford, CT (archipelago means a group of islands). These beautiful isles are a site to see.
There are over 100 small islands in the area, each with a different attraction ranging from large mansions to eco labs owned by Yale's Peabody Museum of Natural History.
You can rent an Airbnb on one of the islands or take a cruise tour of the area. Either way, this is an attraction worth seeing.
18. Lighthouses
Connecticut (and New England as a whole) is known for its lighthouses. CT's lighthouses are some of the most historical landmarks in the state. Not to mention they're cool to look at and photograph.
One of the best things to do in Connecticut while visiting is to take a tour of a lighthouse. Two of the best ones are New Haven Harbor Lighthouse and Fayerweather Island Light in Bridgeport, CT.
Aside from those two, you can find dozens of other interesting lighthouses line up and down Connecticut's coastline.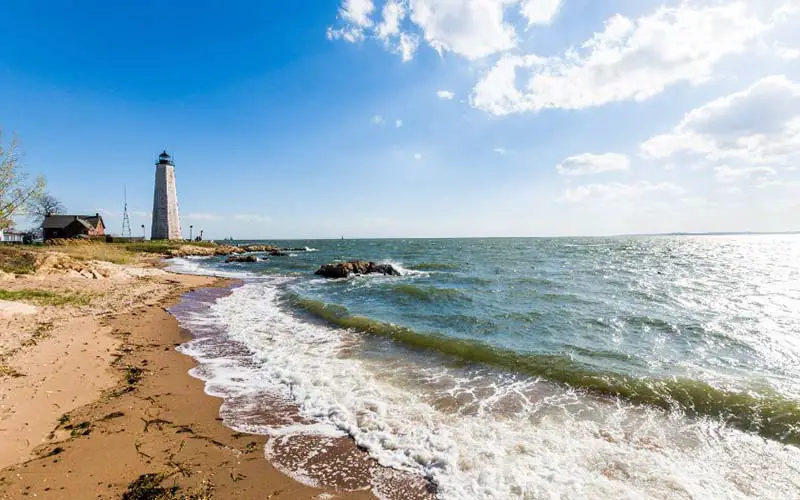 19. It Adventure Ropes Course
The It Adventure Ropes Course is the world's largest indoor ropes course. There are over 100 adrenaline-pumping challenges, including rope ladders, swinging beams, rope bridges, and zip lines.
And oddly enough, this adventure park is located inside a furniture store. That's right, the world's largest indoor ropes course is located inside Jordan's Furniture in New Haven, CT!
Visiting the It Adventure Ropes Course is certainly a must-see thing to do in Connecticut.
20. Connecticut Wine Trail
Connecticut is one of the fastest-growing wine regions in the country. The vineyards here offer a wide variety of wine styles and scenery from around the state.
If you love wine, this is definitely one of the things you need to do while in Connecticut. Many wineries offer discounted wine tastings on a weekly basis.
That's one of the reasons why we were able to visit all of the most popular wineries in CT to see which ones are the best.
21. CT Beer Trail
Just like the wineries, breweries are are massive deal in New England. People in Connecticut really care about the taste of their beer.
Whether you prefer lager or ale, there's no doubt you'll enjoy a trip to one of the awesome breweries in Connecticut. Many places offer food as well, so you don't have to waste time making a reservation at a restaurant afterward.
Visiting a local brewery is truly one of the best things to do in Connecticut.
22. Gillette Castle State Park
Gillette Castle State Park is a 184-acre estate with a medieval Gothic stone castle. It was the property of William Gillette, who has a stage actor in the early 20th century, before being purchased by the state of Connecticut in 1943.
This is a cool place to visit as the castle has a number of secret passages, intricately carved wooden doors, and unique built-in couches.
The architecture of the castle is absolutely astounding. Planning a trip to Gillette Castle should be on your list of things to do while in Connecticut.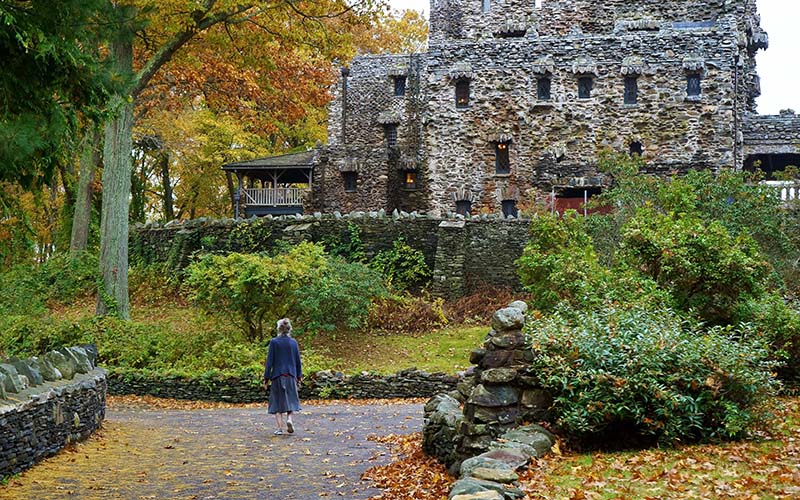 23. Dinosaur State Park
Dinosaur State Park is a state-owned natural history preserve for dinosaur tracks. Sprawling out over 80 acres, it's one of the largest dinosaur track sites in North America.
You'll discover a vast display of early Jurassic fossil tracks that are estimated to have been made 200 million years ago.
This is a great place to visit with your family since they have many hands-on activities, displays, and interactive programs for kids. Visitors can find this attraction in Rocky Hill, CT.
24. Trampoline Parks
If you're looking for somewhere fun to take your kids to burn some energy, you may want to consider visiting a trampoline park.
There are several major trampoline parks in Connecticut distributed across the state, each with its own set of unique obstacles and games.
Whether it's for a birthday party or a rainy day, this is one activity that's always a ton of fun.
25. Horseback Riding
Horseback riding is another popular activity in Connecticut. You don't have to own a horse to take lessons or go for a ride for a day.
Several facilities in Connecticut offer affordable lessons in different parts of the state. And each spot offers a different set of amenities and trails.
If you've ever dreamed about horseback riding, this is your opportunity to finally try it.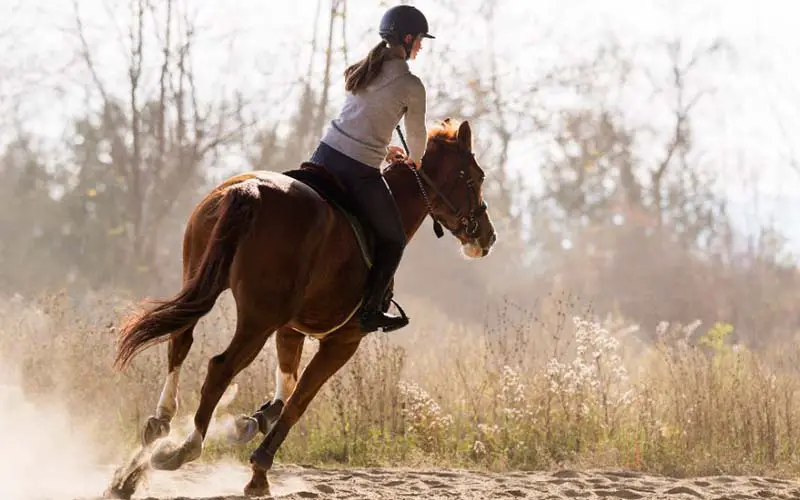 26. Durham Fair
The Durham Fair is one of the seasonal attractions in CT. The fair is held annually every September and has taken place for over 100 years.
As Connecticut's largest agricultural fair, there are plenty of things to do and see, like live entertainment, rides, and games. There are also animal competitions, crafts, exhibits, shopping, and food.
For visitors in the market for fun things to do in Connecticut, this is a must if you're traveling in the fall.
27. Skiing
Although Connecticut certainly doesn't have the same level of ski resorts as Vermont, there are still several great places to go skiing in CT.
Visitors probably haven't packed all of their skiing gear, but this a great activity to try if you live in the area. I picked up snowboarding a few years ago and love it.
It's something fun to do in the winter when everything else is closed. Plus, there are local ski shops in every part of the state.
28. Ice Skating
Ice skating is another fun thing to do during the winter in Connecticut. It's one of the most popular activities in CT during the holidays.
A number of ice skating rinks can be found in towns around the state, but my favorites are Winterfest in Hartford and Simsbury Farms Ice Rink.
If you get the urge to go skating in the summer, Connecticut also has plenty of roller skating rinks too.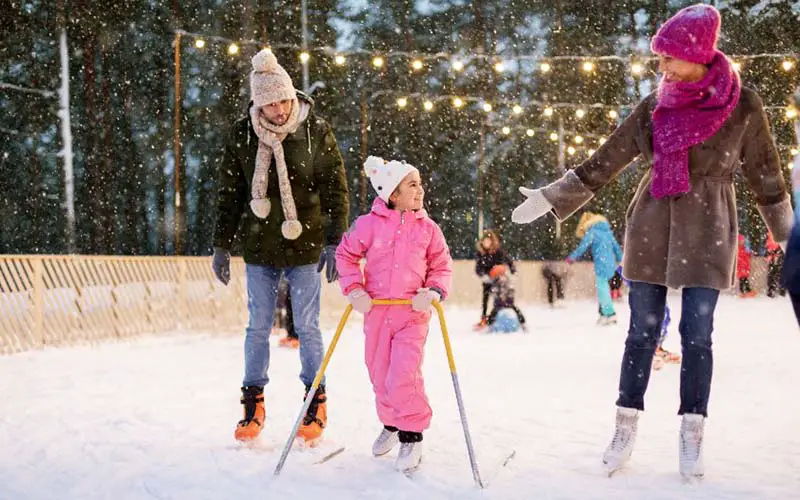 29. Arethusa Farm
Arethusa Farm is a historic dairy farm that was first established in 1868. The farmers here produce some of the best-tasting dairy products in the state, from ice cream, yogurt, and milk to cheese, butter, and eggnog.
In addition to the dairy farm, this place also has one of the best restaurants in Connecticut, called Arethusa al tavolo.
Anyone who visits Litchfield County needs to visit Arethusa Farm. The food is great and the farmland is absolutely beautiful.
30. Maritime Aquarium
The Maritime Aquarium is a popular aquarium in CT. They have 75 live exhibits which feature close to 7,000 animals of 363 different species.
Visitors can see animals like harbor seals, river otters, sharks, sea turtles, sting rays, octopuses, jellyfish, and various species of exotic fish. They have several land animals as well, like their meerkat exhibit.
Tons of cool activities and attractions are available for kids, including feeding the rays, a 4D theater, and virtual reality experiences. You can find the Maritime Aquarium in Norwalk, CT.
31. The Glass House
The Glass House is a historic house museum made completely of glass with floor-to-ceiling windows. Built in 1949, this transparent house is meant to symbolize the preservation of art and architecture.
The property that the house sits on is massive, spanning nearly 50 acres. Plus, there are other structures nearby, including an Art Studio, Brick House, and stone pavilion.
Just know that you must purchase a ticket and book a tour to visit the property. This is a great spot to visit if you find yourself traveling through New Canaan in southern Connecticut.
32. Golfing
Golfing is one of the best pastimes in Connecticut, which is no surprise considering how wealthy some parts of the state are.
With over 150 golf courses in Connecticut, there's no shortage of places to tee off. Whether you're in the Greenwich or Hartford area, it's easy to book a tee time for a quick 18 holes.
Two of my favorite courses are Tamarack Country Club in Greenwich and TPC River Highlands in Cromwell. There are many mini golf courses in Connecticut as well.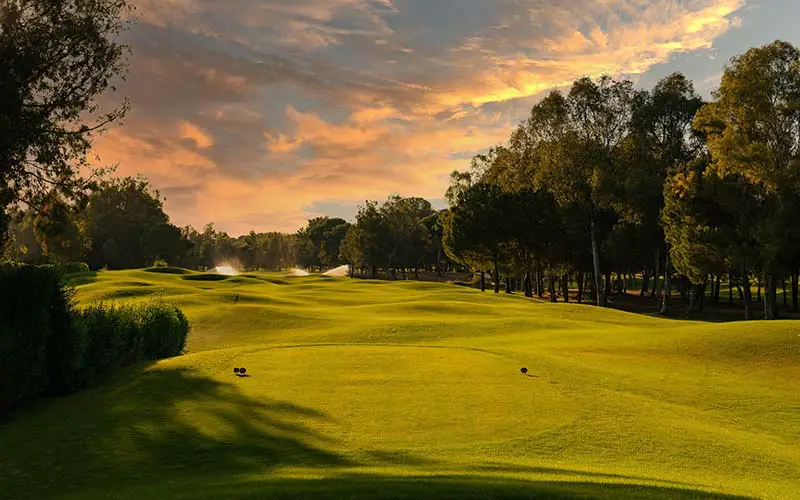 33. Ziplining
Ziplining is another one of the top activities in Connecticut. Although not a mainstream activity, this is one of the attractions that will surprise you with how much fun it is.
There are about half a dozen places to go ziplining across CT, and I highly recommend it for people of all ages. Some courses even allow you to zipline into the water.
34. Concerts
Attending a concert is one of the more popular activities in CT. Whether it's Taylor Swift, Carrie Underwood, Brantley Gilbert, or Journey, there's always a show in town.
Concerts are usually held in the XL Center in Hartford, the Mohegan Sun Arena, Oakdale Theatre, or the Palace Theater in Waterbury. You can see a full list of upcoming concerts in Connecticut here.
35. Comedy Clubs
For many comedians, Connecticut is a major stop on the comedy tour circuit. Artists like Jerry Seinfeld, Chris Rock, Kevin Hart, and Dane Cook all have performed at the Hartford Funnybone.
But aside from the big-name talent, there are plenty of up-and-coming comedians that come through Connecticut. And you can usually get tickets to shows for relatively cheap.
If you want to visit one of the many comedy clubs in Connecticut, check out this article where we reviewed the top-rated theaters in the state.
36. Go Karts
Go-kart racing is a ton of fun for the whole family. There are many places that offer karting in Connecticut, but Supercharged in Montville is one of the best.
In addition to the high-speed race track, Supercharged also has a ninja course, a trampoline park, and axe-throwing pits.
With fun for all ages, you won't want to miss out go karting. It's one of the best things to do in Connecticut.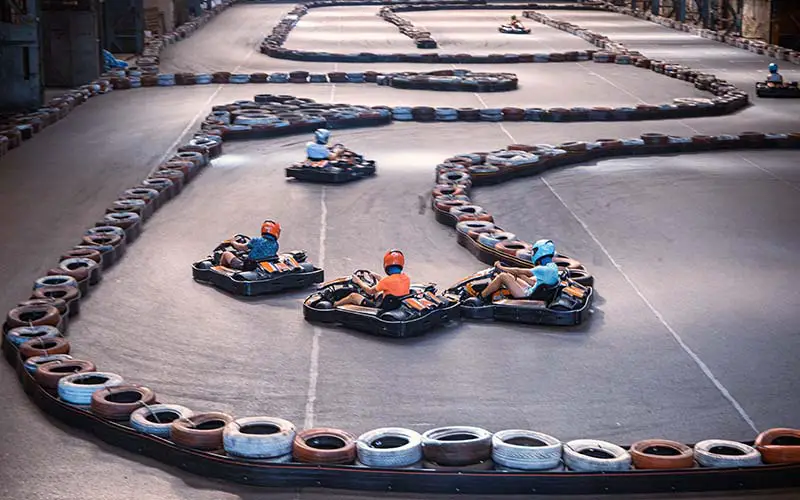 37. Rock Climbing
This CT activity is a ton of fun. Whether you're a beginner climber or a seasoned veteran of the sport, there are plenty of rock climbing destinations in Connecticut.
You can practice at an indoor gym or head into the mountains if you're looking for a more challenging climb.
Many local rock climbing gyms in CT also offer outdoor guided climbing courses, which are excellent introductions to the sport.
38. Niantic Boardwalk
The Niantic Boardwalk is one of the top waterfront walkways in the entire state of Connecticut. It stretches over a mile in the coastal town of East Lyme, CT.
It's a great place to take a walk on a classic New England beach and enjoy the scenic views of Long Island Sound.
If you want to jump in the water, Hole In The Wall Beach and Niantic Beach are located a few steps from the boardwalk.
39. Waterfalls
Waterfalls aren't typically the first thing that comes to mind when you think of Connecticut, but the state has plenty of them.
Several waterfalls are found off the tributaries of the Connecticut River, making them the perfect spot to stop and take a photo. You can also get a nice hike in, as many waterfalls in CT have an associated hiking trail.
If you're looking for something to do during your stay in CT, be sure to add a trip to the state's stunning waterfalls to your list.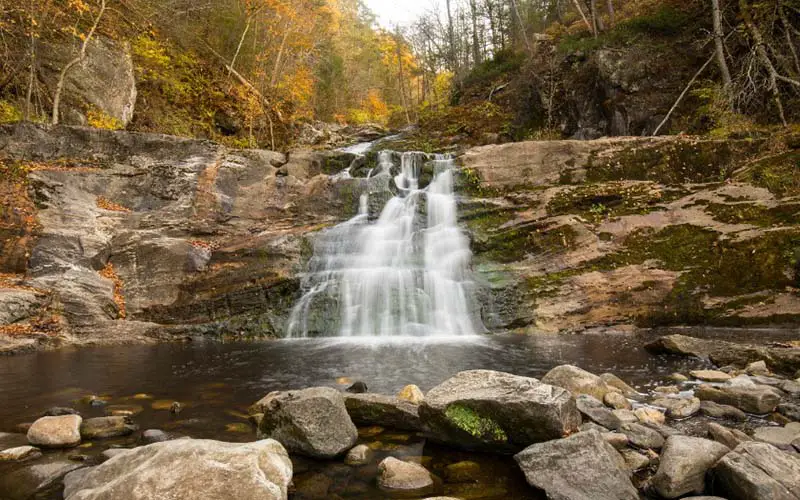 40. Goodspeed Opera House
Visitors looking for a culturally rich tourist attraction in Connecticut, need to check out Goodspeed Opera House.
Located on the banks of the Connecticut River in East Haddam, this opera house opened in 1963 as a professional musical theatre. Today, they focus on producing revived American musicals, putting on hundreds of performances every year.
When you visit the Goodspeed Opera House, you're in for a good time. You can visit them along the Connecticut River in East Haddam or at their second location in Chester, CT.
41. Antique Stores
Spending the day antique shopping is another one of the top activities to enjoy in CT. As one of the oldest states in America, antique stores are omnipresent in Connecticut.
Practically every town in CT has a few places where you can go antiquing, but many of the best antique shops are found on the Connecticut coastline. Why not pick up some historical American antiques when in town?
42. Greenwich Polo Club
If you've never seen a game of polo, you need to visit the Greenwich Polo Club. Established in 1981, the Greenwich Polo Club is recognized as one of the most elite polo venues in the world.
It's one of only three polo venues in the United States that offers matches of high-goal polo. (If you're not familiar, polo is a game played on horseback).
You can visit the club in northern Greenwich, and purchase tickets on their website. Matches are typically held on Sundays.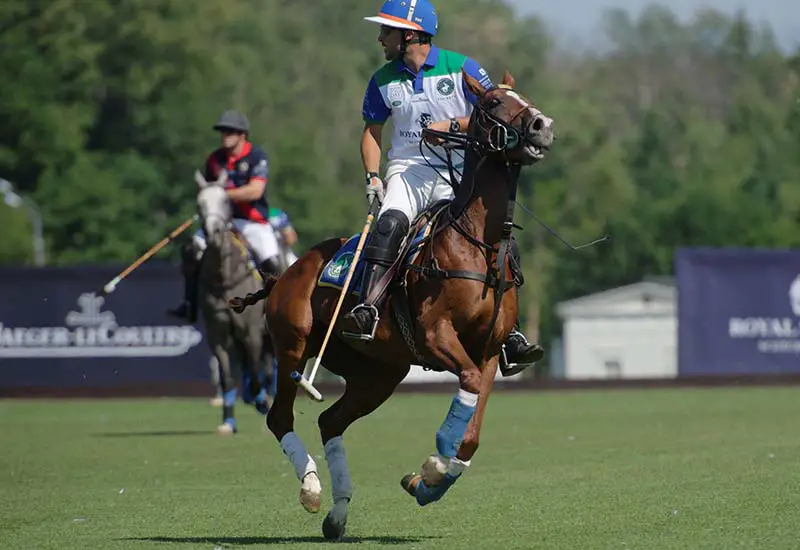 43. Trolley Museum
The Connecticut Trolley Museum is the oldest museum in the United States that's dedicated to electric railroading. The museum is home to over 70 pieces of vintage rail equipment dating back to the 1800s.
Visitors can learn about the extensive collection of passenger and freight trolley cars, elevated railway cars, and locomotives.
The main Connecticut Trolley Museum can be found in East Windsor, but there's also The Shore Line Trolley Museum in East Haven, CT.
44. Essex Steam Train & Riverboat
The Valley Railroad operates narrated, round-trip tours into the heart of the Connecticut River Valley via steam train and Riverboat. This is a great way to learn about the history of the area and ride on some vintage locomotives.
It's one of the best activities to do in CT with your family. Tickets for the tour are cheap, making this a very affordable attraction to visit.
45. Connecticut State Capitol
The Connecticut State Capitol was first opened in 1879, making it one of the older capital buildings in the country. At the time it cost $2 billion to construct, but in today's world, it would cost over $200 billion to replace.
The building is constructed with New England marble and granite and topped with a gold leaf dome. Overlooking Hartford's 41-acre Bushnell Memorial Park, it's certainly a sight to behold.
Self-guided tours are generally available Monday through Friday. Visiting the Connecticut State Capital is one of the best things to do in Hartford, CT.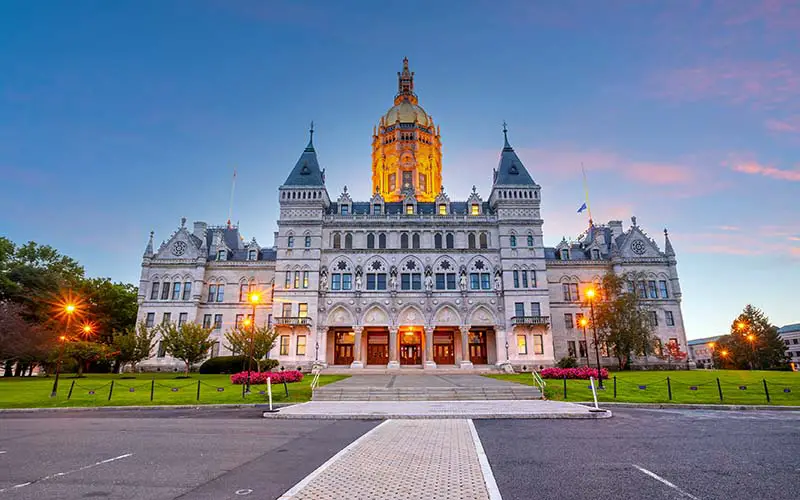 46. Christmas Tree Farms, Pumpkin Patches & Apple Orchards
As a New England state, Connecticut has plenty of excellent orchards, vineyards, and farms for picking things like Christmas trees, pumpkins, and apples.
Apple picking is the most popular, but depending on the time of year, different types of fruits are in season.
Pumpkins, apples, and corn are in season during the fall, while blueberries and strawberries are available for picking in the summer. If you have time while in town, I highly recommend visiting a CT farm and trying some fresh fruit.
47. Sailing
One of the things that Connecticut is known for is sailing. Many locals who live on the coast of Long Island Sound take up sailing as a hobby on the weekends.
While sailing by yourself is an expensive pastime, there are plenty of places that will take you out on the water for a tour. Some companies will even offer sailing lessons for a fee.
48. Bars & Nightlife
Visiting Connecticut's bar and nightlife scene is one of the adult attractions in the state. The bars and clubs in CT aren't as lively as in places like New York or Miami, but they're a fun time.
If you're looking to go out for a night in Connecticut, I recommend checking out these articles we put together detailing the bar and nightclub scene in CT.
49. National Iwo Jima Memorial
Out of all the attractions in Connecticut, few are more important that the National Iwo Jima Memorial. Located in New Britain, this monument is dedicated to the 100 Connecticut soldiers lost during the notorious battle.
The names of soldiers are inscribed on the monument, plus 100 flags are flown at the park to commemorate them.
This is one of the tourist attractions you don't want to miss when visiting Connecticut. The address of the Iwo Jima Memorial is 1 Iwo Jima Way, New Britain, CT.
50. Submarine Force Library & Museum
Naval and history buffs will want to visit The Submarine Force Museum in Groton, CT. The museum is home to one of the best collections of submarine artifacts in the world and is the only submarine museum operated by the United States Navy.
It is the main archive for artifacts, documents, and photographs relating to U.S. submarines. Plus, you can take a self-guided tour of the USS Nautilus, which was the first nuclear-powered submarine.
Best of all, this is one of the free things to do in CT. Both admission and parking to the museum are completely free, and it's open every day except Tuesday.
51. Biking
Connecticut is a great place to go biking, especially in the fall once the leaves start to change colors. It's one of the things to do that's super affordable and doesn't require a lot of planning.
Whether you prefer to ride on pavement or go off-roading, there are plenty of excellent bike trails in Connecticut to enjoy year-round. E-bike rentals are also an option for visitors.
52. State Parks
The state parks in Connecticut have a wide range of attractions. Some have lakes and hiking trails, while others have waterfalls with bridge lookouts.
Many state parks and state forests double as wildlife preserves. You can see an array of rare and beautiful animals in their natural habitat.
If you're wondering what to see when you visit Connecticut, make sure you add a trip to one of the many state parks to your itinerary.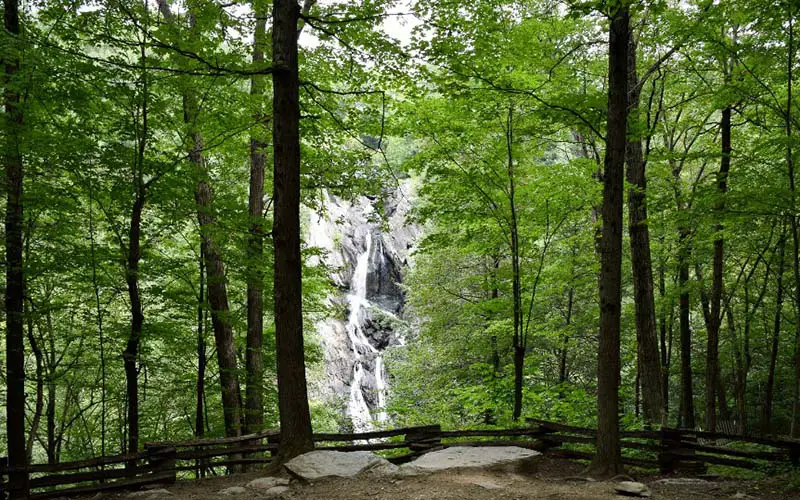 53. Boutique Bed & Breakfasts
Classic bed and breakfasts are popular tourist attractions in CT. If you're not sure what hotel to stay at, I recommend looking into one of the state's many boutique bed and breakfasts.
You'll learn more about New England by staying at a vintage inn than you will by staying at a hotel. Plus, breakfast is often included when staying at a B&B in Connecticut.
54. Museums & Art Exhibits
In addition to the museums already mentioned, there are a number of other excellent museums and art exhibits in CT. In fact, there are dozens of them.
For example, the Wadsworth Atheneum Museum of Art and the Mashantucket Pequot Museum are both worth a visit. You can jump on guided tours or explore each museum yourself.
If you're looking for fun things to do in Connecticut, museums are a great option. Connecticut's museums are always open, so you can plan a visit today, tomorrow, or whenever's convenient.
55. Camping
Visitors looking for things to do in CT that are a bit more adventurous can try camping. There is no shortage of campgrounds in Connecticut for weekend getaways.
From luxury RV resorts to traditional campgrounds with no amenities, the state offers a solid dose of outdoor fun. If you're looking for more information, we recently put together a list of all the top camping sites currently in the state.
56. White Water Rafting
Although not a mainstream attraction in Connecticut, white water rafting is quite an adventure. Several Connecticut tour groups offer excursions on the Connecticut River and Farmington River.
It's another thing to do if you're looking for exhilarating activities and extreme tourist attractions in CT. This activity isn't for the faint of heart, but it's a ton of fun for anyone who can handle it.
57. Bowling
Of all the Connecticut attractions on this list, bowling is one of the most basic. However, it's one of the activities that can be enjoyed by both locals and tourists at a reasonable cost.
Any visitors looking for something cheap to do in CT should know bowling is always an option. You can easily spend an afternoon or an evening enjoying the lanes.
Other Places to Visit in Connecticut
There are numerous other sites and attractions to see around the state that aren't as popular. Here are some other things in Connecticut that you may want to check out if you're planning a visit.
Saville Dam
New Britain Museum of American Art
Harriet Beecher Stowe Center
New England Carousel Museum
What Activities and Tourist Attractions should you do first?
Many people ask the question, "what's the best thing to do in Connecticut," or "what's the first thing I should do when I visit Connecticut?" The answer is whatever interests you the most.
There are so many different things to do in Connecticut that you'll never get to all of them. But, if I were to make a recommendation, I would say start with Mystic.
There are a ton of things to do in and around Mystic CT within a short distance. You won't have to travel very far to visit the 10 or so attractions in the area. Visiting Mystic is the most efficient use of your time if you want to see as many attractions as possible.
Fun Things to do in CT – Final Thoughts
Those are some of the best things to do in Connecticut. As you can see, there are a wide variety of activities and attractions in the state.
If you're looking for things to do in Connecticut this weekend, check out the event calendar here. That way you're able to find upcoming events without having to travel across the state.
Although it's one of the smaller states in the country, Connecticut has a ton of traffic. You may want to check out some CT town maps to help find your way around.