Best Rooftop Bars in CT [2023 Update]
Everything is better with a view, especially when it comes to bars. That's exactly why you need to visit one of the excellent rooftop bars Connecticut has to offer.
I recently grabbed a drink at all the most popular rooftop bars in CT to see which ones are the best. Here's what I found.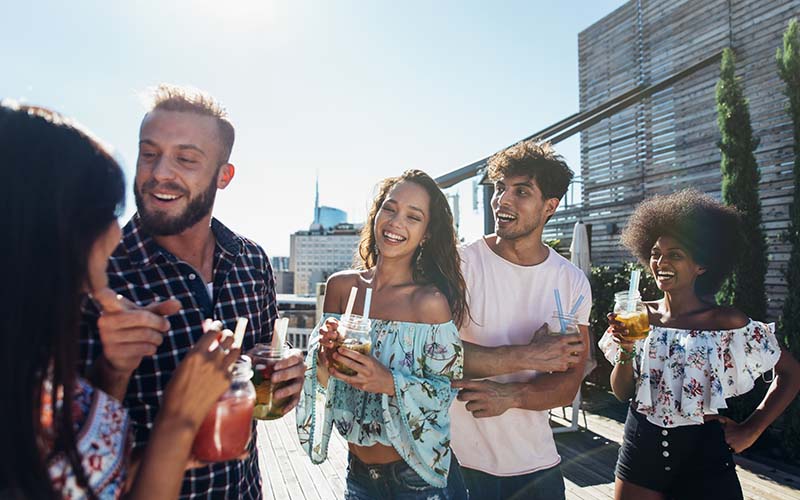 Top Rooftop Bars in Connecticut
1. Elm City Social – New Haven, CT
Elm City Social is one of the top rooftop bars in Connecticut. This cocktail bar can be found in New Haven, offering a wide variety of artisanal cocktails.
They have a great selection of tequila, mezcal, margaritas, beers, mixed drinks, and wines. When having a drink at the rooftop tiki bar, you're also able to order small comfort food dishes.
Location: 266 College St, New Haven, CT
Read: Top Connecticut Bars by City
2. Mix Rooftop & Bar at Sift – Mystic, CT
Mix Rooftop & Bar at Sift is a great place to grab drinks in Mystic, Connecticut. The rooftop bar offers a nice selection of hand-crafted cocktails and local beers.
In addition to offering drinks, Mix is also a full-service restaurant and one of the best bakeries in the state of Connecticut.
Location: 5 Water St, Mystic, CT
Read: 10 Best Wine Bars in Connecticut 
3. Fortina Yacht Club – Stamford, Connecticut
Fortina Yacht Club is an excellent rooftop bar in CT. Located in Stamford, this place serves specialty cocktails, margaritas, beers, and wines all summer long.
They also have a poolside-inspired food menu that features plates like burgers, pizza, and grilled cheese. The happy hour specials at Fortina Yacht Club are solid too.
Location: 120 Washington Blvd, Stamford, CT
Read: 12 Best Sports Bars in CT 
4. Sign of the Whale – Stamford, CT
Sign of the Whale is another fantastic gastropub in Stamford. This Connecticut rooftop is known for its superb cocktails and delicious brunch, but it's also a social hub.
The drink menu features tons of signature and classic cocktails, along with shots, beer, and wine. If you're hungry, there's also a food menu with dishes like burgers, tacos, and pizza.
Although the rooftop has outdoor seating, Sign of the Whale also has an indoor dining room during the colder months.
Location: 6 Hbr Pt Rd, Stamford, CT
Read: 11 Best Karaoke Bars in Connecticut
5. Russian Lady – Hartford, CT
Russian Lady is a popular 3-floor pub located in Hartford. The first floor is a casual pub with TVs, the second floor houses the vodka bar & lounge, and the third floor is a cigar bar rooftop.
The bar rooftop here is always energetic. They sometimes have live DJs playing house, dance, and techno music as well.
As a side note, Pig's Eye Pub (located next door) also has a small rooftop patio.
Location: 191 Ann Uccello St, Hartford, CT
Read: Top Connecticut Nightclubs by City
6. Rooftop 120 – Glastonbury, Connecticut
Rooftop 120 is one of Connecticut's rooftop bars found in the central part of the state. This cool rooftop lounge has fire pits, so they're able to keep their outdoor patio open year-round.
The bar offers a range of seasonal cocktails, live entertainment, and happy hour specials. You're able to order craft cocktails, like margaritas, martinis, sangria, wine, and beer.
Rooftop 120 also offers small plates of food, including steak & fries, burgers, and wings. You can visit Rooftop 120 in Glastonbury, CT.
Location: 120 Hebron Ave, Glastonbury, CT 
Read: 17 Best Breweries in CT
7. Sono Sky Rooftop Bar – Norwalk, Connecticut
Sono Sky Rooftop Bar is another one of CT's bars with rooftop seating. This contemporary rooftop venue offers a range of cocktails, wines, and beers.
Plus, they have a seafood-driven food menu, which also features light dishes like chips & dip, tacos, and flatbreads. The tiramisu is excellent here as well.
During happy hour, the prices are super affordable with cocktails costing $10, wines costing $8, and beers costing $5. I highly recommend checking out this rooftop cocktail bar if you live in Norwalk, CT.
Location: 45 S Main St, Norwalk, CT
Read: 18 Best Vineyards in Connecticut
8. High George at The Blake Hotel – New Haven, CT
High George is one more rooftop bar in Connecticut. Located in New Haven in the Blake Hotel, the bar serves wine by the glass, cocktails, beer, and ciders.
The wine list at High Geroge is quite extensive. Plus, this rooftop bar's views are unmatched. If you visit, you'll get to enjoy a scenic view of the city.
Location: 9 High St, New Haven, CT
Read: 10 Best Bars in New Haven, CT
Rooftop Bars CT – Final Thoughts
Those are the best rooftop bars in Connecticut. If you want to grab a drink on a roof with a view, all of these bars are great options.
If you don't see a bar close to you on this list, check out this article about the best rooftop restaurants in Connecticut. Some of those restaurants serve drinks as well.