Best Corn Maze in CT – 15 Connecticut Corn Mazes for 2023
You know it's fall when you start seeing corn mazes in Connecticut. But, there are so many amazing corn mazes spread throughout the state, that it can be difficult to decide which one to visit.
That's why I decided to make a complete list of all the top corn mazes in CT by town. Use this list to find the corn maze closest to you. (I also added a map of corn mazes to the bottom of this article).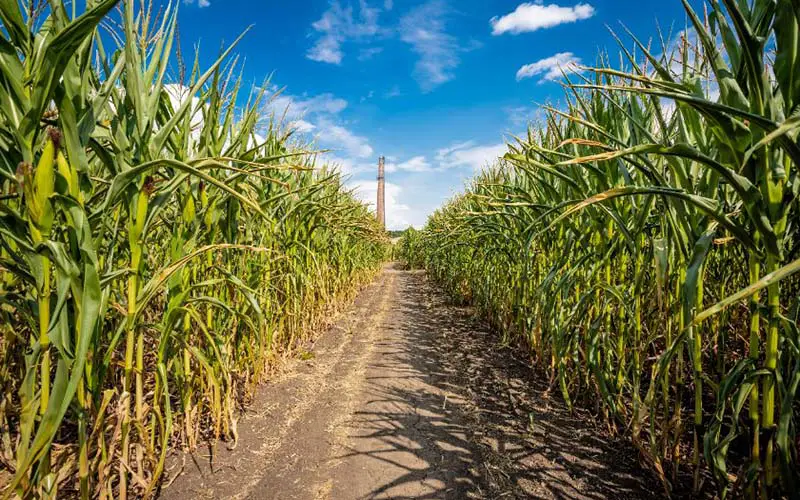 Best Corn Mazes in Connecticut
1. Foster Farm – South Windsor, CT
Foster Farm in South Windsor builds a very detailed and intricate corn maze every fall. Well, actually, they have two full-sized corn mazes sprawling 8 acres of land and 4 miles of trails. Foster Farm does hayrides as well. When you're done with the corn maze, I recommend that you head over to their pumpkin patch to pick out a Halloween pumpkin or visit some of the farm animals.
Location: 90 Foster St, South Windsor, CT
2. Wells Hollow Creamery – Shelton, CT
Wells Hollow Creamery has an excellent corn maze in Shelton, CT. It's not the largest corn maze around, but it's a ton of fun for the whole family (especially considering they have ice cream). They usually open at the end of September and remain open until the end of October. Tickets are typically in the $10-$15 range.
Location: 5 Beard Sawmill Rd, Shelton, CT
3. Bishop's Orchards Farm Market & Winery – Guilford, CT
Bishop's Orchards Farm Market in Guilford hosts an annual corn maze every year. They celebrate the harvest season with fun, games, and food. They have both a corn maze and a hay maze, plus wagon rides. You're able to pick apples and pumpkins as well.
Location: 526 New England Rd, Guilford, CT
4. Lyman Orchards Farm Store at the Apple Barrel – Middlefield, CT
Lyman Orchards in Middlefield has a giant corn maze. It's approximately 4 acres in size and takes roughly 30 to 40 minutes to complete. They also hide golf balls in the maze, which can be redeemed for prizes if you find one. Additionally, Lyman Orchards donates a portion of the maze admission fee to a good cause.
Location: 32 Reeds Gap Rd, Middlefield, CT
5. Ekonk Hill Turkey Farm – Moosup, CT
Ekonk Hill Turkey Farm has a corn maze in Moosup, Connecticut. It's a dark corn maze, which makes things much more challenging, so make sure you bring a flashlight. Aside from the mazes, Ekonk Hill Turkey Farm also does hay rides and has farm animals. They have some delicious ice cream too.
Location: 227 Ekonk Hill Rd, Moosup, CT
6. Plasko's Farm Creamery & Cafe – Trumbull, CT
Plasko's Farm has a 4.5-acre corn field where they build a corn maze every year. The maze features a mystery that is solved by finding your way through the twists and turns of this 10-foot corn stalk labyrinth. The farm also has a bakery and creamery where you can eat ice cream and apple pies.
Location: 670 Daniels Farm Rd, Trumbull, CT
7. Scott's Yankee Farmer – East Lyme, CT
Scott's Yankee Farmer has another top corn maze in CT. You can find this maze in East Lyme, not too far from 1-95. Maze tickets are very affordable here, just know that they close down the maze after 4 pm.
Location: 291 North Bride Brook Rd, East Lyme, CT
8. The Farm – Woodbury CT
The Farm is another corn maze in Connecticut. You can find them out in Woodbury, off of Weekeepeeee Road (Try pronouncing that!). They host themed corn mazes, along with flashlight nights. There's a nice pumpkin patch here too.
Location: 281 Weekeepeeee Road, CT-132, Woodbury, CT
9. Castle Hill Farm – Newtown, CT
Castle Hill Farm has a huge Connecticut corn maze in Newtown. There are a ton of activities at Castle Hill Farm Fall Festival, including a 7-acre corn maze, pick-you-own-pumpkin patch, hayrides, farm animal exhibits (goats & ducks), live music, and a food truck.
Location: 1 Sugar Ln, Newtown, CT
10. March Farm – Bethlehem, CT
March Farm is a 4th generation family farm that offers corn mazes in Connecticut. Tickets for the maze are super cheap at only $5 a person. The farm also allows you to have your pick of apples and pumpkins since they're in season during September and October.
Location: 160 Munger Ln, Bethlehem, CT
11. Treat Farm – Orange, CT
Treat Farm hosts one of the CT corn mazes found in the southern part of the state. In addition to their standard maze, Treat Farm recently built a new 6-acre maze with miles of trails. It's a challenging maze that's very easy to get lost in, so come prepared with comfortable shoes and a jacket if it's cold outside. They are also requiring you to make reservations online this year before attending the maze.
Location: 361 Old Tavern Rd, Orange, CT 
12. Fort Hill Farms – Thompson, CT
There are some more Connecticut corn mazes found in Thompson, CT. Fort Hill Farms has several corn mazes, some of which are very challenging. The largest corn maze takes about 90-minutes to complete, so it's perfect for older kids and adults looking to have some fun. Younger children will fair better in the smaller maze at Hill Farm, although both are fun for the whole family.
Location: 260 Quaddick Rd, Thompson, CT 
13. Buttonwood Farm – Griswald, CT
Buttonwood Farm is another CT corn maze out in Griswald. Once the sunflower season is over, Buttonwood transitions to corn. There aren't too many mazes to explore out in eastern Connecticut, so this is a solid option. They serve ice cream too.
Location: 473 Shetucket Turnpike, Griswold, CT
14. Holmberg Orchards – Gales Ferry, CT
Holmberg Orchards has a maze out in Gales Ferry, Connecticut. This place is popular for its food, seasonal wines, and hard ciders, so it's a great spot for adults to have a good time. The orchard has a lot of history, plus its pies are sensational.
Location: 1990 CT-12, Gales Ferry, CT
15. Brown's Harvest – Windsor, CT
Brown's Harvest has another one of Connecticut's corn mazes. The maze spans 5 acres and has storyboards and picture stations hidden inside. Aside from the maze, they also have a ton of other activities like hay rides, jump pads, a hay pile, tire swinging, a hula hoop horse, fire trucks, and a kid's play area with a mini maze.
Location: 1911 Poquonock Ave, Windsor, CT
Map of Corn Maze CT
If you're looking for the nearest corn maze CT, check out the map below. I included all of the best corn mazes around the state on the map. You'll find more than one maze in each county.
Corn Mazes in CT – Final Thoughts
I hope you enjoyed this guide to the best corn mazes in CT. If you're looking for an adventure during this fall season, visit a corn maze. It's the perfect way to enjoy autumn in New England. While you're there you may also want to check out a pumpkin patch before Halloween.
Also, be sure to check out this article about where to find a Christmas tree in Connecticut.