Waterfalls aren't typically the first thing that comes to mind when you think of Connecticut, but rest assured the state has plenty of them. That's why I visited all of the most popular waterfalls in Connecticut to see which ones are the best.
After a few weekends of hiking, I was able to put together a list of the most beautiful falls in the state. So without further ado, these are the best waterfalls in CT.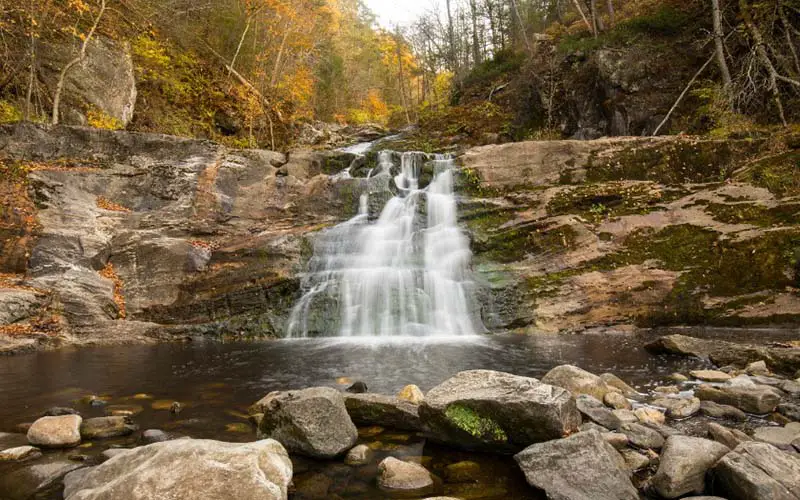 Top Waterfalls in Connecticut
1. Wadsworth Falls (Big & Little) – Middletown
The Wadsworth Falls State Park is home to two of the best waterfalls in Connecticut, appropriately named Big Falls and Little Falls. The Big Falls has a much larger water volume and is a bit higher, but both falls are gorgeous.
Hiking to the falls is easy and doesn't require much work. Swimming is prohibited at the waterfalls, however, there is a natural reservoir with a beach nearby, where you can swim freely.
Location: 721 Wadsworth St, Middletown, CT
2. Kent Falls – Kent
Kent Falls is another popular waterfall in Connecticut. Kent Falls State Park has a series of waterfalls that extend out over half a mile and drop over 250 feet. The water originates from the Housatonic River, so it's a great spot for fishing.
Getting to the falls isn't too difficult, however, the trail is pretty steep. This is one of the most visited waterfalls in Connecticut, especially in the fall when the leaves begin to change colors.
Location: 462 Kent Cornwall Rd, Kent, CT
3. Enders Falls – Granby
Enders Falls is a highly-acclaimed waterfall in CT. Located near the Connecticut-Massachusetts border in the Ender State Forest, this park features a variety of smaller cascading falls that flow into a plunge pool at the bottom.
There are 5 total waterfalls, some of which are great places for swimming and cliff jumping. The hike up to the falls takes between 30 to 60 minutes, depending on how fast you go. You can find this waterfall in Granby.
4. Black Ledge Falls – Glastonbury
Black Ledge Falls is a beautiful Connecticut waterfall found in Glastonbury. The falls here feature a 30-foot drop, however, they are very narrow.
It's a great spot to go hiking or take cool pictures of nature. This is a very relaxing trail that doesn't get overcrowded. Just be aware that there is a fee for parking
Location: Hebron Ave, Glastonbury, CT
5. Great Falls – Canaan 
Great Falls is a fantastic waterfall that can be found in the small town of Canaan in northern Connecticut. As far as Connecticut's waterfalls are concerned, this is the closest thing to Niagra Falls in the state.
Massive amounts of water flow over this 50-foot waterfall, creating whitewater underneath. You'll often see people swimming and kayaking in the lakes and ponds under the waterfall. Parking is easy to find since it's only a few hundred feet from the road to the falls.
Location: Great Falls, Canaan, CT
6. Burr Falls – Torrington
Burr Falls is one of Connecticut's many waterfalls located in Litchfield County. The falls are officially located in Burr Pond State Park in Torrington and feature a 45-foot chain of water cascades.
Although this is one of the most scenic waterfalls in Connecticut, the parking situation is pretty bad. So if you decide to come out to visit the falls, you'll probably be able to enjoy some privacy.
Location: 384 Burr Mountain Rd, Torrington, CT
7. Ayers Gap Preserve – Franklin
You can find Ayers Gap Preserve by hiking Bailey's Ravine Trailhead in Franklin, Connecticut. There isn't just one waterfall here, but many smaller falls.
I especially enjoy the waterfalls here when the water freezes over. The hike into the falls isn't too bad, so this park is well worth a visit.
Location: 291 Pond Rd, North Franklin, CT
8. Campbell Falls – Norfolk
Campbell Falls is another fantastic waterfall in Connecticut. This waterfall is very easy to get to from the road, plus it has some decent fishing spots.
The falls don't get too busy because of their location, so you'll probably have this natural beauty all to yourself. Campbell Falls State Park Reserve can be found in Norfolk, which is in the northeastern part of the state.
Location: Spaulding Rd, Norfolk Historic District, CT
9. Yantic Falls – Norwich
Yantic Falls is one of the most powerful waterfalls in the state of Connecticut. The falls are partially a dam and partially natural geography. It has a nearly 40-foot drop and immense volumes of water.
The river that flows through the waterfall is also very impressive as it travels through the gorges below. Even though this waterfall is partially man-made, it's still one of the most picturesque waterfalls in all of Connecticut. There's a pedestrian bridge above the falls as well if you want to get a closer view.
Yantic Falls, Norwich, CT
10. Dean's Ravine Falls – Canaan
Dean's Ravine Falls can be found just 20 minutes up the road from Campbell Falls. The peak of this waterfall is nearly 50 feet high and it's relatively wide compared to other waterfalls in the state.
Dean's Ravine Falls is a horsetail waterfall, which means it has a steep vertical drop and the water remains in constant contact with the rock underneath. The lighting at this waterfall is really good for pictures too.
11. Spruce Brook Falls – Beacon Falls
Spruce Brook Falls is located in the Naugatuck State Forest, which is in Beacon Falls Connecticut. This state park has several cascading waterfalls, the largest of which is about 15 feet in height.
The most impressive waterfalls can be found after heavy rain towards the top of the hiking trail. Just be aware that the trail that leads to the waterfall can be slippery at times.
Location: 600 Hunters Mountain Rd, Naugatuck, CT
12. Westfield Falls – Middletown
Westfield Falls is another one of the Connecticut waterfalls found in the central part of the state. This is probably the most accessible waterfall on this list since it's located right off I-95. You'll find the falls nestled between the highway and Miner Hills Golf Course in Middletown, Connecticut.
Although the surroundings aren't the most scenic the waterfall and the stream that creates it are quite beautiful. The falls split into several sections to form a horsetail waterfall on the left and a plunge waterfall on the right.
Location: Westfield Falls, Middletown, CT
13. Southford Falls – Southbury
Southford Falls is a fantastic waterfall found between Waterbury and Danbury. It's a partially man-made waterfall that drops about 10 feet at the start, then approximately another 50 feet as you go downstream.
The hike to get to the falls isn't very long, plus there's a covered bridge at the bottom of the falls. Fishing and picnicking are allowed too.
Location: 175 Quaker Farms Rd, Southbury, CT 
14. Day Pond Brook Falls – Colchester
Day Pond Brook Falls is a classic waterfall found in New England. It cascades about 40 feet in total as the brook twists and turns down the slope. There are many rocks around the falls, which make great perches to take photos.
It's a quiet waterfall as many Connecticut residents are unaware of its existence. This is likely due to the long hiking trails needed to reach the falls. But regardless of the hike, it's worth watching this waterfall cascade.
Location: Day Pond Brook Falls, Colchester, CT
15. Lake Whitney Dam Falls – Hamden
Lake Whitney Dam is home to a colossal waterfall in Hamden Connecticut. It's so loud that you'll hear the water crashing down over the dam from a couple of hundred feet away.
This used to be a water source for New Haven residents, but that was discontinued in the 1990s. Now, the water flows from Lake Whitney down over the dam into Mill River. You can easily get to the falls by visiting the adjacent Eli Whitney Museum.
Location: 915 Whitney Ave, Hamden, CT
Other Notable Connecticut Waterfalls
Although these are our top choices for waterfalls in Connecticut, the state has plenty of other scenic waterfalls as well. I recommend checking out some of the other notable waterfalls in CT once you visit the ones listed above. Here are a few other them:
Chapman Falls in East Haddam
Roaring Brook Falls in Cheshire
Mill Pond Falls in Newington
Buttermilk Falls in Plymouth
Stair Brook Falls in North Branford
Aspetuck Falls in New Preston
Mount Carmel Spring Falls in Hamden
Knife Shop Falls in Litchfield
Best CT Waterfall – Final Thoughts
Those are CT's most popular waterfalls. Whichever waterfall you visit, remember to pack the appropriate clothes and shoes for hiking, along with a snack if the hike lasts a bit longer than expected.