Strawberry Picking in CT – 10 Best Connecticut Strawberry Fields
Nothing says summer like picking strawberries. So, with the strawberry season right around the corner, I thought it made sense to put together a list of the top strawberry fields in the state.
There are a ton of places to go strawberry picking in Connecticut, so we narrowed down our list to the top 10. These are the best places to pick strawberries in CT.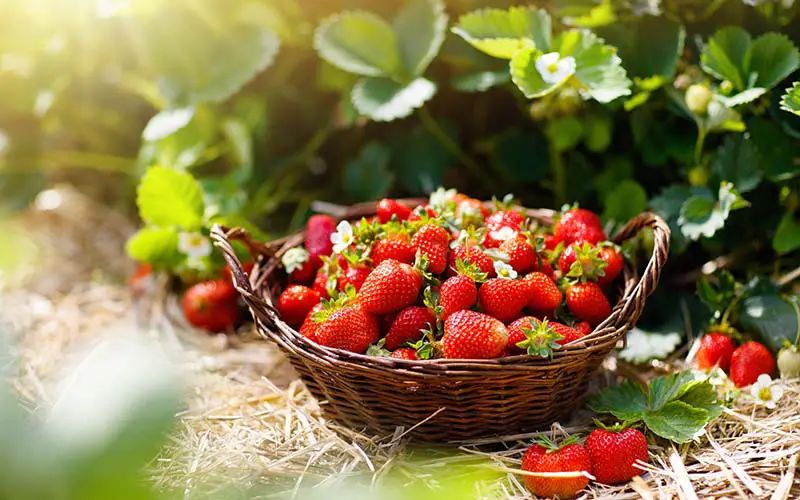 Top Places to Pick Strawberries in Connecticut
1. Lyman Orchards Farm – Middlefield
Lyman Orchards Farm is one of the top places for strawberry picking in Connecticut. Located in Middlefield, they allow customers to pick their own strawberries from early June to early July.
The farm also produces a number of other delicious fruits, like honeyberries, blueberries, jostaberries, raspberries, apples, peaches, pears, and nectarines.
Address: 32 Reeds Gap Rd, Middlefield, CT
2. Jones Family Farms – Shelton
Jones Family Farms is another popular place to pick strawberries in Connecticut. It's a short season, so I recommend stopping by the farm before mid-summer.
Guests can harvest their own strawberries, which are always fresh and sweet. This is a great activity for families with kids as you can make pies and shortcakes with strawberries.
Address: 606 Walnut Tree Hill Rd, Shelton, CT
3. Bishop's Orchard – Guilford
Bishop's Orchard has a great strawberry field in Guilford, CT. The farmers here take pride in growing the highest quality fruits, and you can taste it.
Strawberry season is always the first harvest of the year at Bishop's Orchard, but you can also pick blueberries, peaches, raspberries, pears, apples, and pumpkins in the summer and fall.
Address: 1355 Boston Post Rd, Guilford, CT
4. Dondero Orchards – Glastonbury
Dondero Orchards is a family-owned local farm that has been in business for over 100 years. It's also home to one of Connecticut's top strawberry fields in the central part of the state.
Starting in early June, the strawberries on the farm become ripe, so you're able to go pick your own. The prices are pretty affordable too.
Address: 529 Woodland St, South Glastonbury, CT
5. Dzen Farms – South Windsor
Dzen Farms is an excellent spot for strawberry picking in CT if you live in the northern part of the state. Their Strawberry Hill is open for harvesting starting in early June, and the season lasts through the 4th of July.
Their pick-your-own strawberry farm is perfected for families looking for the finest berries in the region. The farm is well-organized and the service is always good.
Address: 244 Barber Hill Rd, South Windsor, CT
6. Scott's Yankee Farmer – East Lyme
Scott's Yankee Farmer is a highly-rated farm that grows strawberries in East Lyme, CT. Not only that, but this local farm also grows blueberries, peaches, apples, and nectarines.
If you live in New London County, this should be one of your go-to places to get strawberries in Connecticut.
Address: 436 Boston Post Rd, East Lyme, CT
Read: Best Corn Mazes in Connecticut
7. Buell's Orchard – Eastford
Buell's Orchard is another family-owned strawberry farm in Connecticut. Located in Eastford, this is one of the top places to pick strawberries in Windham County.
In addition to strawberries, Buell's Orchard also sells almost 2 dozen varieties of apples, along with blueberries and peaches. They have a nice store too that offers baked goods.
Address: 108 Crystal Pond Rd, Eastford, CT
8. Scantic Valley Farm – Somers
Scantic Valley Farm is a small family farm found in Somers. They grow fresh strawberries and blueberries but raise beef and pork too.
The staff here are super friendly, and the fruits are perfect for making a range of dishes, like pies and jams. Or, you can eat the berries as a standalone item if you want.
Address: 327 9th District Rd, Somers, CT
9. Deeply Rooted Farms – Harwinton
Deeply Rooted Farms is a family-owned and operated pick-your-own strawberry farm. It's located in the town of Harwinton, which is on the Hartford County-Litchfield County border.
The farmers here pride themselves on growing some of the best-tasting strawberries in the state. I highly recommend visiting this farm if you live in the Bristol or Torrington area.
Address: Terryville Rd, Harwinton, CT 
10. Raspberry Knoll Farm – Windham, CT
Raspberry Knoll Farm is one more strawberry farm in CT. They grow several varieties of juicy strawberries that always taste amazing. Their prices are really good too.
Aside from strawberries, the farm also produces other crops for picking like raspberries, blackberries, and blueberries. They grow a few vegetables and herbs as well.
Address: 163 N Windham Rd, North Windham, CT
Strawberry Picking CT – Final Thoughts
Those are some of the top strawberry-picking farms in Connecticut. It's important to remember that strawberry season is very short, so it's best to visit in early or mid-June.
Once the season is over, many of these farms grow other varieties of fruit, like apples, blueberries, and peaches. Some have pumpkins as well.
If you want to grow your own fruit or want access to different fruits in the off-season, check out these articles about the best nurseries and farmer's markets in Connecticut.