Apple Picking in CT – 10 Best Connecticut Apple Orchards
Exploring apple orchards in the fall is a fun activity for the whole family. And fortunately, Connecticut has some of the best apple orchards in the entire county.
This past fall, I visited all of the most popular places to pick apples in the state, to see which ones are the best. After picking apples for a couple of weekends in a row, I believe I've found the 10 best places to pick apples in CT.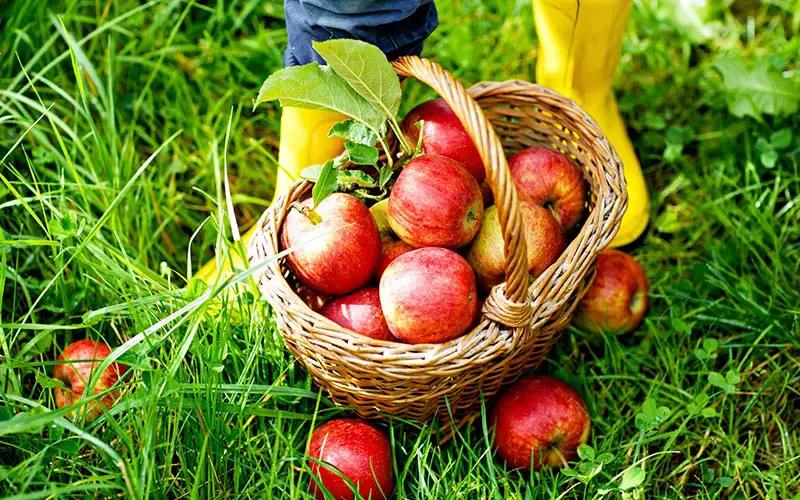 Top Places for Apple Picking in Connecticut
1. Belltown Hill Orchards – Glastonbury
Belltown Hill Orchards is one of the best apple orchards in CT. This 4th generation orchard is located in the rolling hills of south Glastonbury.
The farm is known for its pick-your-own apples, offering more than 24 varieties. They also offer other fruits and vegetables like corn, tomatoes, green peppers, onions, and green beans. The apple pies and cider donuts are great as well.
Location: 483 Matson Hill Rd, South Glastonbury, CT
2. Beardsley's Cider Mill & Orchard – Shelton
Beardsley's Cider Mill & Orchard is another one of the top places to pick apples in Connecticut. The farm grows a wide range of apple varieties, including Mcintosh, Zestar, Honeycrisp, Gala, Macoun, Empire, Liberty, Jonagold, Cortland, Mutsu, Red Delicious, Braeburn, and Granny Smith.
In addition to the 13,000 apple trees, the orchard is also home to over 400 peach trees. The season for apple picking starts in September.
Location: 278 Leavenworth Rd, Shelton, CT
3. Lyman Orchards – Middlefield
Lyman Orchards Farm is a popular spot for apple picking in Connecticut. Located in Middlefield, they allow customers to pick their own apples from mid-August through November.
The farm also produces a number of other delicious fruits, like honeyberries, blueberries, jostaberries, raspberries, strawberries, peaches, pears, and nectarines.
Address: 32 Reeds Gap Rd, Middlefield, CT
4. Lapsley Orchards – Pomfret
Lapsley Orchards is one of the apple orchards in Connecticut located in the northeastern part of the state. This is one of the oldest farms in all of Connecticut, as it's been producing food since the early colonial days.
In addition to the delicious apples, this farm also grows strawberries, blueberries peaches, nectarines, tomatoes, corn, apples, pears, raspberries, pumpkins, blackberries, and mixed vegetables.
Location: 403 Orchard Hill Rd, Pomfret Center, CT
5. Silverman's Farm – Easton
Silverman's Farm is a great place for apple picking in CT if you live in Fairfield County. You can pick a wide range of fruit at this orchard throughout the year, including peaches, raspberries, blueberries, and pumpkins.
Their fresh-baked apple pies, donuts, and apple ciders taste great too. You can visit Silverman's Farm in Easton, Connecticut.
Address: 451 Sport Hill Rd, Easton, CT
6. Easy Pickin's Orchard – Enfield
Easy Pickin's Orchard is one of the top places for apple picking in northern Connecticut. Found in Enfield, the farm has been growing fresh produce for more than 50 years.
This Connecticut apple orchard has a wide variety of apples available including Cortland, Creston, Empire, Gala, Fuji, Ginger Gold, Golden Delicious, McIntosh, and Honeycrisp. You can pick your own (PYO) blueberries, raspberries, pears, and vegetables as well.
Location: 46 Bailey Rd, Enfield, CT
7. Karabin Farms – Southington
Karabin Farms is one of Connecticut's apple orchards located in the central part of the state. Visitors here are encouraged to sample apples as they pick to ensure that they're getting their favorite variety.
Some of the apples grown here include Honey Crisp, Cortland, Gala, Red Delicious, and Fuji. The apple season at Karabin Farms begins in mid-August and ends in late October.
Location: 894 Andrews St, Southington, CT
8. Bishop's Orchards – Guilford
Bishop's Orchards is another highly-rated apple orchard in Connecticut. The farmers here take pride in growing the highest quality apples, every season.
The apple season at Bishop's Orchard is open from late August to late October with more than 20 varieties of apples available. You can also pick strawberries, peaches, blueberries, raspberries, pears, and pumpkins here throughout the year.
Location: 1355 Boston Post Rd, Guilford, CT
9. Scott's Yankee Farmer – East Lyme
Scott's Yankee Farmer is one of CT's top orchards in New London County. If you live in the area, this should be one of your go-to places to get apples in Connecticut.
The season for apples here lasts from early September through the end of October. In addition to apples, this local farm also grows blueberries, peaches, strawberries, and nectarines.
Location: 436 Boston Post Rd, East Lyme, CT
10. Buell's Orchard – Eastford
Buell's Orchard is one more apple orchard in CT. This farm has been family-owned and operated for 5 generations, so they take care of their crops.
The orchard offers nearly 20 different varieties of apples, along with other fruits like strawberries, peaches, blueberries, and pumpkins.
Location: 108 Crystal Pond Road Eastford, CT 
Other Great Orchards for Picking Apples in Connecticut
Those are some of the best places for apple picking in CT. However, there are plenty of other places to pick apples in the state. Here are some other Connecticut apple orchards to visit:
Johnny Appleseed's Farm in Ellington
Clark Farms in Granby
Holmberg Orchards in Gales Ferry
Blue Hills Orchard in Wallingford
Drazen Orchards in Cheshire
Rogers Orchards in Southington
Apple Orchards CT – Final Thoughts
Connecticut orchards are perfect for picking apples, along with a variety of other fruit. If you're looking for a spot to pick blueberries, strawberries, or pumpkins in Connecticut, check out these articles.