Spas in CT – 13 Best Connecticut Day Spas [2023]
A spa is a great way to relax and take your mind off the stress of day-to-day life. Fortunately, you don't have to go very far to treat yourself to one. There are plenty of excellent spas in Connecticut.
After comparing some of the most popular spas in the state, I've compiled a list of my top choices. These are the best day spas in CT.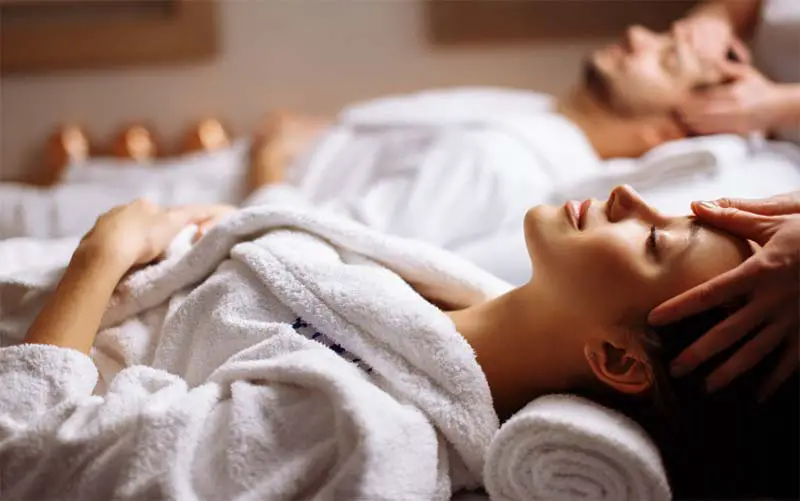 Top Day Spas in CT
1. The Spa at Norwich Inn – Norwich, Connecticut
The Spa at Norwich Inn is one of the best day spas in Connecticut. This spa features over 2 dozen treatment rooms, an indoor pool, a hot tub, a sauna, a steam room, and a salon. There are fitness classes available here as well.
The Spa a Norwich Inn has day spa packages available for anyone not staying at the hotel, but they also offer overnight spa packages if you're looking for something more immersive.
As the name suggests, you can visit this spa in Norwich, Connecticut.
Location: 607 W Thames St, Norwich, CT
Open: Daily
2. Saybrook Point Resort Spa – Old Saybrook, CT
The Saybrook Point Resort is the home of a very popular day spa in CT. The spa, which is open 7 days a week, offers treatments like facials, massage therapies, waxing, manicures, and pedicures.
They also offer spa body rituals, which are meant to rejuvenate and detoxify your skin. The body rituals cost between $100-$200 depending on which one you get, but they are highly recommended. You can find this spa in Old Saybrook, Connecticut.
Location: 2 Bridge St, Old Saybrook, CT 
Open: Daily
3. Water's Edge Resort & Spa – Westbrook, Connecticut
The Water's Edge Resort & Spa in Westbrook is another top CT day spa. They have 3 daytime packages that range from $250-$390. The Rejuvenation Package is the cheapest and includes a 50-minute Swedish massage and a European deep cleansing facial.
The Seaside Escape Package is the mid-tier option and includes a 50-minute bliss wrap, on top of the Swedish massage and facial cleansing. The Renew Package is the most expensive and includes a 50-minute aromatherapy massage, a 50-minute sea salt citrus body polish, and a facial. All the packages here get high praise.
Location: 1525 Boston Post Rd, Westbrook, CT
Open: Daily
4. Winvian Farm – Morris, CT
Winvian Farm is a 4-star boutique hotel located out in Morris. It just so happens that this little hotel in the middle of nowhere has one of the best spas in CT. Their 5,000-square-foot facility out in the Litchfield Hills is super relaxing.
In addition to massages and facials, Winvian offers private yoga and fitness classes, hydrotherapy, aromatherapy, and sound therapy. On their retreats, they have couples massage packages as well.
Location: 155 Alain White Rd, Morris, CT
Open: Daily
5. A Moment Away – Southington & Plainville, CT
A Moment Away is a CT spa with two locations in Connecticut, one in Southington and one in New Britain. This spa does everything from deep tissue massages, facial treatments, and waxing to pedicures and manicures.
All of the spa treatments here of super affordable, which explains why this place gets such good reviews online. They also have a list of services just for men.
There are a lot of options and amenities at this resort. I highly recommend coming in for some relaxation if you live in central Connecticut.
Location 1: 61 Curtiss St, Southington, CT 
Location 2: 175 New Britain Ave, Plainville, CT
Open: Daily
6. Mayflower Inn & Spa – Washington, Connecticut
The Mayflower Inn is home to another top spa in Connecticut. Located near New Milford, this exquisite country retreat is surrounded by acres of beautiful gardens.
Wellness treatments at this spa include full-body reboots, micropuncture facials, and Reiki, which is a Japanese energy-balancing technique that uses light touches to promote healing. The Mayflower Inn offers meditation classes as well.
You can enjoy the experience at this spa by visiting Washington, Connecticut.
Location: 118 Woodbury Rd, CT-47, Washington, CT
Open: Daily
7. Catherine & Company Salon & Day Spa – Meriden, CT
Catherine & Company Salon & Day Spa can be found in Meriden. This Connecticut spa offers a range of body treatments, facials, and massage therapies.
The staff here pampers their guests into a deep state of relaxation through techniques like hot stone massages, Swedish massages, and deep tissue massages. Each massage is offered in 30, 60, and 90-minute sessions, so you can select the package that's best for you (most are under $100).
Location: 710 E Main St, Meriden, CT
Open: Every day except for Tuesday and Sunday
8. Dream Spa & Salon – Westport, Connecticut
Dream Spa & Salon is another one of the top Connecticut spas. Found in Westport, this spa offers treatments like collagen facials, hot rock massages, deep tissue massages, body scrubs, manicures, and pedicures.
I really enjoyed their sports therapy massage, which is an extended version of the deep tissue massage, but with more focus on areas of injury and soreness. The Dream Spa & Salon is relatively affordable, with most of the treatments costing under $200.
Location: 1220 Post Rd E, Westport, CT
Open: Every day except for Sunday
9. Delamar Southport – Southport, CT
Delamar Southport is one of the CT spas found on the coastline. This luxury spa offers a number of high-tech treatments and therapies, to help guests induce a deep state of relaxation.
You can order facials, eye masks, deep tissue massages, aromatherapy massages, and detox body wraps. They also do hair removal, along with brow and lash treatments. This spa can be found in Southport, Connecticut.
Location: 275 Old Post Rd, Southport, CT
Open: Daily
10. Silvana Dayspa & Salon – Bristol, Connecticut
Silvana Dayspa & Salon is a popular spa in CT found in Bristol. For nearly 40 years, they have been offering innovative spa and salon services designed for your wellness and relaxation.
Their beauty experts offer manicures, pedicures, body wraps, facials, keratin hair smoothing treatments, waxing, and make-up applications. Whatever package you choose, Silvana Dayspa will provide you with a relaxing and energizing experience.
Location: 102 E Main St, Bristol, CT
Open: Every day except Sunday and Monday
11. Mandara Spa at Mohegan Sun – Uncasville, CT
The Mandara Spa is an award-winning spa in Connecticut found inside the Sky Tower at Mohegan Sun. This Bali-themed spa spans over 16,000 square feet and encompasses 13 individual treatment rooms.
There are plenty of unique treatments available, but their signature treatment is the Fire and Ice massage. I recommend getting that if you're looking for an unforgettable spa experience while in Connecticut.
This is one of the more luxurious spas in Connecticut.
Location: 1 Mohegan Sun Blvd, Uncasville, CT 
Open: Daily
12. G Spa & Salon at Foxwoods – Mashantucket, Connecticut
The G Spa & Salon at Foxwoods is a day spa in Connecticut located at the Foxwoods Casino. You can get a number of luxurious body treatments, massages, and facials. Plus, the spa features a pool, whirlpools, a dry sauna, and a fitness center.
Day passes are given out on a first come, first serve basis and are discounted for hotel guests. You must be 21 years or older to get access to the spa.
This is one of only two spas located inside Connecticut's casinos.
Location: 240 Fox Tower Dr, Mashantucket, CT
Open: Every day except Tuesday (fitness center only)
13. By the Sea Day Spa, Branford – CT
By the Sea Day Spa is an affordable day spa found in Branford, Connecticut. They offer a range of therapeutic treatments, like deep tissue massage, lymphatic drainage, cupping, CBD massage, myofascial release, hot stone therapy, and pregnancy massages for soon-to-be mothers.
When you're getting a massage here, you'll quickly notice the scent of essential oils like lavender and eucalyptus that help to relax your mind and body, which is a great touch. They offer spa party specials as well.
Location: 107 Montowese St #3807, Branford, CT
Open: Every day except Sunday
Connecticut Spas – Final Thoughts
Whether you're looking for a massage, a facial, or just a relaxing afternoon, these are the best spas CT. Regardless of what treatment you choose, any one of these spas will take care of you.
If you're looking for an all-inclusive spa experience, you'll want to check out these spa hotels in Connecticut.
By visiting a spa hotel, you can enjoy the spa services and pampering for more than just a day. This will compound the effects the experience will have on your hair, skin, beauty, mood, and overall wellness.
Some of the affordable Connecticut nail salons are also worth a visit if you're only looking for a manicure or pedicure.