Go Karts in CT – 7 Best Go-Kart Tracks in Connecticut
If you are looking for an adrenaline rush rather than a standard activity, go-kart racing is a great option. Go-karts are an excellent way to entertain your kids but they are also fun for adults.
There are several options for go-karting in Connecticut, and I recently tried out some of the most popular tracks myself. Let's take a look at them and see which ones are the best. These are the top places to ride go-karts in CT.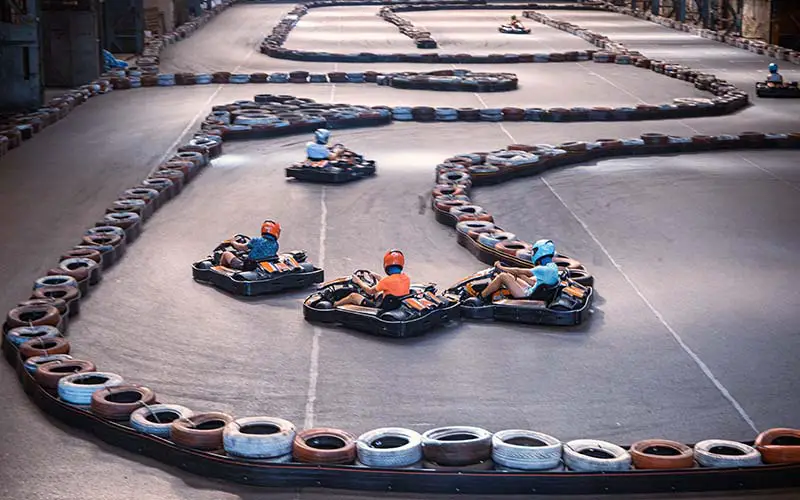 Best Go-Kart Tracks in CT
1. Supercharged Indoor Karting – Oakdale
Supercharged Indoor Karting is one of the most popular Connecticut go-kart spots. It's home to the world's largest multi-level karting track, which extends 80,000 square feet.
The entire indoor facility is 110,000 square feet and houses two different multi-level tracks. They are great for drivers of all ages whether you're a beginner or experienced. Plus, they host frequent competitive karting events.
In addition to the go-kart track, this place also has other activities and attractions like a trampoline park, an axe-throwing pit, and an arcade. Supercharged serves food as well. You can find them in Oakdale, CT.
Address: 1 Sachatello Industrial Dr, Oakdale, CT
2. RPM Raceway – Stamford
RPM Raceway is the best place to ride go-karts in Connecticut if you live in the southern part of the state. The two tracks here offer a European-style high-speed karting experience, meaning they are designed with hairpin turns.
Each track is a quarter mile long, but RPM Raceway combines the two racing tracks every Monday to create a massive half-mile-long go-kart track.
Aside from the go-karts this spot also has an expansive arcade with VR race simulators, a bowling alley, and a solid restaurant with a bar and grill. I highly recommend RPM Raceway if you want to go karting in the Stamford area.
Address: 600 West Ave, Stamford, CT
3. On Track Karting – Wallingford
On Track Karting offers indoor go-kart racing, with high-speed, gas-powered karts that can exceed 40mph. The go-karts here are fast, high-performance vehicles designed for adults (although they do have a junior carting program in addition to the adult karting and pro karting programs).
The indoor circuit takes approximately 8 minutes to complete and new heats start every 10 minutes, so you can get a lot of laps in.
On Track Karting will provide drivers with all the necessary safety equipment, including helmets and neck braces. Just make sure you wear closed-toed shoes.
This is the best place to enjoy go-karting in Connecticut if you live in the central part of the state.
Address: 984 N Colony Rd, Wallingford, CT
4. Brass City Raceway – Waterbury
Brass City Raceway is an indoor karting facility in Waterbury, Connecticut. They have a high-speed race track with live-time scoring.
The go-kart track is a ton of fun and offers challenges for drivers of all ages and skill levels (kids must be taller than 48″ and at least 7 years old to participate in races). Although they have electric karts instead of gas, the karts still have plenty of speed.
When you're done karting for the day, Brass City Raceway also has a batting cage, axe throwing ranges, and arcade games. Plus, they're a BYOB facility so you can host parties and events with your friends.
Address: 130 Scott Rd, Waterbury, CT
5. MONZA World Class Karting at Foxwoods – Ledyard
MONZA World Class Karting is a go-kart facility found at Foxwoods Resort Casino in Ledyard, Connecticut. The track is owned and operated by the aforementioned On Track Karting, so the racing experience is very good.
The state-of-the-art track here rides fast. It's 1,600 feet long and features 7 elevation changes and 14 turns offering over 1G of corning. The track is 20 ft wide, so you'll have plenty of opportunities to pass other riders.
It costs $30 to race and each session lasts about 10 minutes. Food and beverages are available at the race track too.
Address: 240 Fox Tower Dr, Ledyard, CT
6. Berlin Batting Cages – Berlin
The Berlin Batting Cages is another place to ride Connecticut go-karts. The track is much smaller than some of the others in the state, but it's still plenty of fun.
The grand prix racetrack has several turns and straightaways. It cost costs $7.50 per race to drive karts at the Berlin Batting Cages.
When you're done karting, this place also has other cool things to do like batting cages, mini golf, and bumper boats.
Address: 1801 Berlin Turnpike, Berlin, CT
7. Sonny's Place – Somers
Sonny's Place is one of Connecticut's amusement parks that has a go-kart racing track. The karts aren't as fast as the ones at the dedicated go-kart tracks, so this is a great place to bring younger racers.
Just be aware that their hours are limited in the winter and the outdoor go-kart track may even be closed if it's too cold outside.
Sonny's Place also offers other activities for kids like batting cages, mini-golf, laser tag, and an arcade. There's a ton to do here besides racing karts. You can find them in Somers, Connecticut.
Address: 349 Main Street, CT-190, Somers, CT
Other Places for Go-Kart Racing in Connecticut
Aside from the karting tracks already mentioned there are several other lesser-known places to go-kart in Connecticut. If you're looking for other places to ride a go kart in CT that are closer to home, you may want to check out these spots:
Pomfret Speedway in Pomfret
R & B Sports World in Winsted
Urban Air Trampoline and Adventure Park in Orange
Go Karts CT – Final Thoughts
Those are the best places to ride go karts in CT. Regardless of which go-kart track you decide to visit you're bound to have a great time racing for the day.