The Top 10 Boating Locations in Connecticut
Connecticut is a fantastic place to rent a boat due to its diverse and picturesque waterways. From tranquil lakes and rivers to the beautiful coastline along Long Island Sound, boaters have an array of options to explore.
Whether you're interested in leisurely cruising, fishing, water sports, or simply enjoying the peaceful surroundings, Connecticut's varied boating locations cater to all preferences.
Boating allows visitors and residents alike to experience the state's natural beauty from a unique perspective, providing opportunities to discover charming coastal towns, historic sites, and hidden gems along the water's edge.
If you don't own a boat, you can find a lot of boat rentals on GetMyBoat, which is the largest boat rental booking platform in the state. With a multitude of marinas, rental facilities, and professional services available, renting a boat in Connecticut is a hassle-free and enjoyable way to create lasting memories on the water.
Not sure where to begin your boating adventures in Connecticut? Here are the top 10 boating locations in the state to choose from!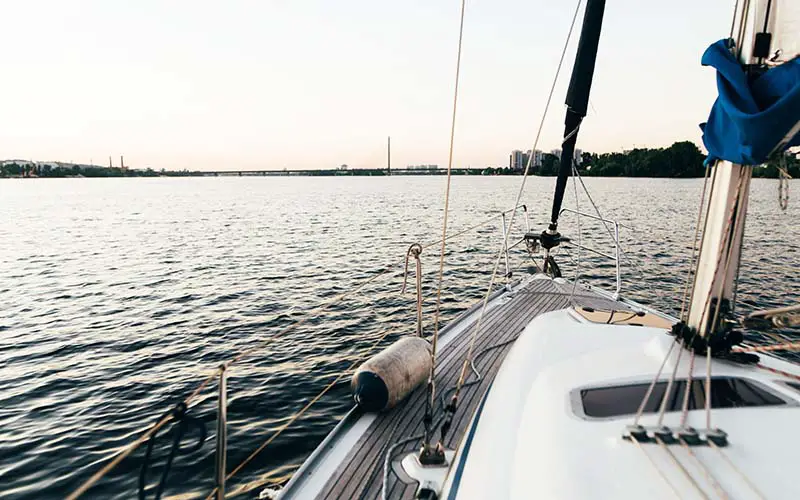 1. Long Island Sound
The Long Island Sound provides access to the Atlantic Ocean and offers excellent sailing opportunities. Its waters are relatively calm, making it suitable for various boating activities.
Here, the popular styles of boats to rent include sailboats, powerboats, and yachts. These are common in this area due to the broad waters and opportunities for coastal cruising. Enjoy exploring picturesque coastal towns like Mystic, Stamford, and Old Saybrook, which offer charming marinas, waterfront dining, and cultural attractions.
2. Connecticut River
The Connecticut River is the longest river in New England, providing boaters with scenic views and a peaceful environment for cruising, fishing, and kayaking. Here you can rent motorboats, pontoons, and kayaks, which are all popular choices for navigating the river's calm waters.
The Connecticut River Valley is rich in history, with various museums, historic sites, and charming small towns along its banks that are worth exploring if you come onshore.
3. Candlewood Lake
As the largest lake in Connecticut, Candlewood Lake offers ample space for water skiing, wakeboarding, and fishing. The lake's natural beauty and surrounding hills make it a top choice for boaters.
Here you can rent speedboats, wakeboard boats, and fishing boats. Candlewood Lake's proximity to Danbury and New Milford means easy access to restaurants, shops, and other amenities.
4. Lake Waramaug
Lake Waramaug is renowned for its crystal-clear waters and tranquil atmosphere, making it ideal for leisurely boating and fishing. It's a smaller lake, so kayaks, canoes, and small motorboats are popular choices for exploring this pristine lake while keeping the atmosphere tranquil.
The lake is surrounded by lush forests and charming villages, offering scenic hiking trails and local wineries to explore.
5. Housatonic River
The Housatonic River flows through western Connecticut, offering boaters a scenic route with opportunities for fishing and wildlife watching. Here you'll find lots of canoes, kayaks, and small fishing boats, commonly used to navigate the river's gentle currents.
The river's path leads to picturesque towns like Kent and Cornwall, known for their art galleries, antique shops, and outdoor recreational activities.
6. Lake Zoar
Lake Zoar's narrow shape and calm waters make it a great spot for water skiing, tubing, and wakeboarding. It's a reservoir of the Housatonic River and is a popular spot for speedboat rentals, pontoon cruising, and jet skis.
It's a place where fun on the water is emphasized. Since it's near Newtown and Monroe, Lake Zoar offers access to local eateries, parks, and golf courses.
7. Mystic River
The Mystic River is a beautiful and historic waterway, providing boaters with easy access to the Long Island Sound and the Mystic Seaport Museum. Here you'll often find sailboats, small motorboats, and paddleboards, as people look to relax on the water and cruise the river.
Mystic is a boating enthusiast's dream, with its maritime history, charming downtown area, and excellent seafood restaurants. Take a break from cruising and come onshore for a delicious bite to eat in Mystic. 
8. Thames River:
The Thames River flows through southeastern Connecticut, offering boaters picturesque views of historic sites and access to Long Island Sound. The river leads to New London, a vibrant coastal city with maritime attractions, arts and culture, and a variety of dining options.
You can just cruise on the river or use it as a passageway to access the Long Island Sound for further boating adventures. 
9. Bantam Lake
Bantam Lake is the largest natural lake in Connecticut, offering boaters a serene setting surrounded by forested hills. Here you'll commonly find people cruising in pontoon boats, canoes, and kayaks, as it's a very serene lake where people want to enjoy nature and being outdoors without too much ruckus.
The area around Bantam Lake is known for its rural charm, with antique shops, country inns, and outdoor activities like hiking and birdwatching.
10. Lake Lillinonah
And last, but certainly not least, Lake Lillinonah is a reservoir formed by the Shepaug Dam, offering boaters a peaceful environment for fishing and water sports. You'll find ample fishing boat rentals as well as guided fishing tours available, pontoon rentals, and kayaks for enjoying the calm waters of the lake.
The lake is situated near Newtown and Bridgewater, with local attractions including wineries, farmers' markets, and hiking trails.
Boat Launches in CT – Final Thoughts
Before heading out to any of these boating locations in Connecticut, always check the local regulations and weather conditions for a safe and enjoyable experience.
Also, make sure your boat is equipped with the proper safety gear, have lifejackets for everyone onboard, and pack the cooler with plenty of drinks and snacks to enjoy the day out on the water in Connecticut. 
Be sure to check out our guides for white water rafting and lake swimming in CT as well.