Where to Kayak in CT: 13 Best Kayaking Locations
Whether you're a beginner or an experienced kayaker, there are plenty of lakes and rivers that are perfect for paddling in Connecticut. But with so many choices in the state, it can be difficult to decide where to go.
That's why I went kayaking at all the most popular spots this past season, to see which ones are the best. After a few weeks, I've determined that these are the best places to kayak in CT.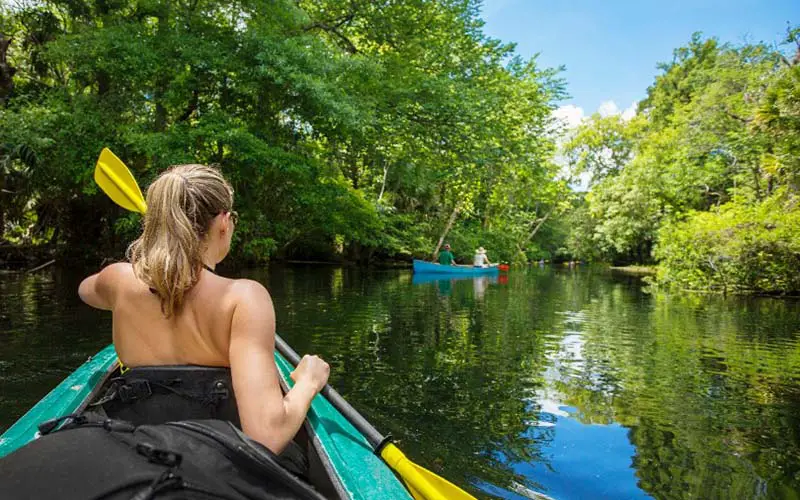 Best Places to Kayak in Connecticut
1. Farmington River – Multiple Launch Points
The Farmington River is the perfect place for kayakers of all levels to paddle. The river has Class I and Class II rapids, but also many peaceful spots. In the summer, it's one of the premier spots for tubing and rafting in Connecticut as well.
There are plenty of points to launch your own kayak along the river, but you can also rent from one of the many canoe and kayak companies that do guided tours. Depending on where you go, kayak rentals are usually about $50 for the day.
Location: Access Point 30, River Street Boat Launch, Windsor, CT
2. Lighthouse Point Park – New Haven, CT
Lighthouse Point Park is a great place to go kayaking in CT. You can paddle Morris Creek while enjoying the wildlife preserve, or you have the option of heading out into Long Island Sound.
Only experience kayakers should venture into the Sound, but it's a ton of fun if you're up for it. Just stay close to the shore so the waves don't get too big.
Location: 2 Lighthouse Rd, New Haven, CT
3. Bigelow Hollow State Park – Union, CT
Bigelow Hollow State Park is another popular spot to kayak in Connecticut, especially if you live in the northwestern part of the state. There are multiple ponds in the park, but the largest is Mashapaug Pond.
It's a decently large body of water that features many interesting islands and inlets. The pond takes about 2 hours to paddle around the outside and the water is calm (however, it can get choppy if the wind picks up). Just know that this place can get busy on the weekends.
Location: 298 Bigelow Hollow Rd, Union, CT
4. Connecticut River – Multiple Launch Points
The Connecticut River is often an overlooked kayaking spot, but it has over a hundred access points. The River features over 400 miles of open water for canoes and kayaks, and most of it is relatively calm.
As you paddle down the Connecticut River, you'll get an amazing view of all of Connecticut's suburbs, cities, and marshes. If you don't have a kayak, there are a couple of places where you can rent one for relatively cheap.
Location: 67 Palisado Ave, Windsor, CT
5. Collis P. Huntington State Park – Redding, CT
Collis P. Huntington State Park is a terrific place to kayaking in Connecticut if you live in the Danbury area. The park has 3 ponds, the largest of which is Hungtington Pond.
It's a good-sized body of water with a massive Island in the middle. If you paddle around for long enough, you'll see plenty of wildlife, including a beaver dam and rare bird species. The fishing here is also very good.
Location: 9 Dodgingtown Rd, Redding, CT 
6. Mt Tom State Park – Washington Depot, CT 
Mt Tom State Park is a great spot to go kayaking in Litchfield County. Mt Tom pond has over 50 acres of calm waters to explore, but it's also known as a scenic hiking destination.
Although the lake is mostly just open water (not many coves or inlets) it's still a great time. Just know that the recreation area allows kayaking, canoeing, fishing, swimming, and boating, so it can get crowded on the weekends.
Location: Mount Tom Rd, Washington Depot, CT
7. Saugatuck River – Westport, CT
The Saugatuck River is a common southern Connecticut kayaking area. It's an open, winding river that eventually feeds into Long Island Sound, making it a good choice for both beginners and experienced kayakers.
It's super easy to find a dock and launch your kayak into the river. Plus, there are some kayak rental places nearby.
Location: 301 Riverside Ave, Westport, CT 06880
8. Pattaconk Recreation Area – Chester, CT
Pattaconk Recreation Area is located in Cockaponset State Forest, which is one of the largest forests in Connecticut. So not only is the lake great for kayaking, but also for fishing. This is one of the best spots to catch largemouth bass in the state.
If you're not an angler, the Pattaconk Reservoir provides an excellent place to work on your kayaking skills in calm waters. It's not a challenging place to paddle, but it's still plenty of fun.
Location: State Forest Rd, Chester, CT
9. Candlewood Lake – Brookfield, CT
Candlewood Lake is a top CT kayaking spot found in Brookfield. This is a massive lake (the largest in Connecticut) with many marinas and boat launches. It's a cool spot to take a kayak because there are so many inlets, bays, and islands to explore.
Candlewood Lake is also known as a water sports hub, so you'll see plenty of people boating, tubing, and waterskiing, but the lake is large enough that those activities shouldn't bother you. Plenty of local shops offer rentals here as well if you don't have your own kayak.
Location: 204 Candlewood Lake Rd, Brookfield, CT 
10. Quinnipiac River Marina – New Haven, CT
The Quinnipiac River Marina is another great place to take out your kayaks in CT. It's a relatively long river that attracts both experienced kayakers and beginners. You can paddle south into Long Island Sound or north into some of the other tributaries.
The water is generally pretty calm, especially as you go north, so paddling is very easy. There are kayak rental services available, plus you can get a guided tour.
Location: 307 Front St, New Haven, CT
11. Mystic River – Mystic, CT
The Mystic River is a fantastic place to kayak if you have some experience. There are plenty of launch points on the river, plus you can paddle into Mystic Harbor where you'll find lots of cool islands and coves.
I always enjoy checking out Mason's Island, which can be found between the river and Long Island Sound. Just know that the water can get choppy at times, so be ready for difficult paddling.
Location: 15 Holmes St, Mystic, CT
12. Bluff Point State Park – Groton, CT
Bluff Point State Park is one more popular spot to take out your kayak. The park has a launching point into the Poquonnock River, where to go and explore the sandbars and islands near Long Island Sound. It's really a beautiful scene along the coast.
When you arrive, you'll find plenty of parking available at the boat launch. And once you're done paddling for the day, Bluff Point State Park is also great for hiking.
Location: 55 Depot Rd, Groton, CT
13. Squantz Pond State Park – New Fairfield, CT
Squantz Pond State Park is another of the Connecticut state parks that allows paddling. It's located adjacent to Candlewood Lake, but you'll encounter fewer motorized boats and jet skis on the water.
This is also a great place to go fishing since the lake is a bit out of the way. Just be aware that there aren't many rentals available in the area so you're going to need to bring your own kayak.
Address: 178 Short Woods Road, New Fairfield, CT
Other Places to Go Kayaking in the State
Aside from the places mentioned there are other popular spots to go kayaking with amazing scenery. Almost every town in the state has a good-sized body of water that allows kayaking. Don't underestimate your town's pond or lake.
Taking out your Kayaks in CT – Final Thoughts
There are the best places to kayak CT. All of these lakes, rivers, and ponds are great for paddling, but depending on your level of experience, one of them may be better suited for you than another.