17 Best Breweries in CT [Updated 2023]
Whether you prefer lager or ale, there's no doubt that there a plenty of awesome breweries in Connecticut. But with so many options available, it can be difficult to decide where to grab a beer.
That's why I visited all of the most popular breweries in the state to see which ones are the best. After a few months of taste testing, I've determined that these are the best breweries in CT.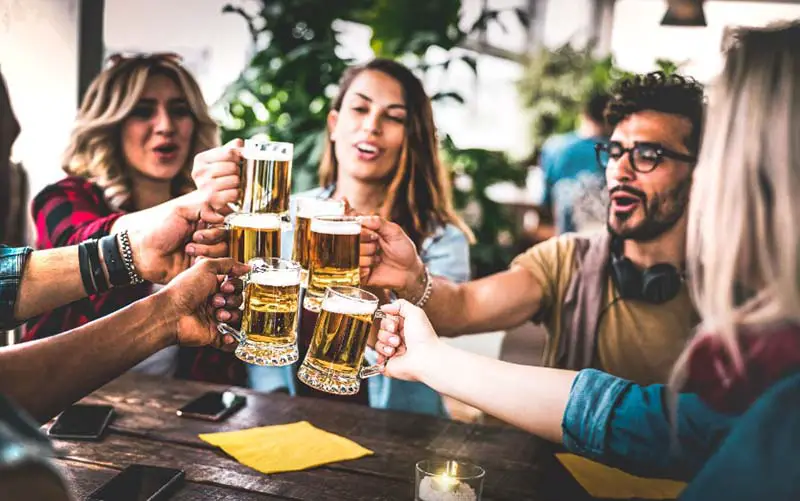 Best Breweries in Connecticut
1. New Park Brewing
New Park Brewing is one of the best places to drink beer in CT. The brewery offers a wide range of IPAs, lagers, and ales available on tap.
This place also has great pizza, outdoor patio seating, and frequently holds events. The taproom is always lively the staff is super friendly. They don't have flights but the beer is reasonably priced.
Location: 485 New Park Ave, West Hartford, CT
2. Two Roads Brewing Company
Two Roads Brewing Company is a fantastic brewery in Connecticut. They have an extensive menu of traditionally brewed beers, made in small batches. Everything is high-quality and flavorful.
The tasting rooms here are awesome, as the Two Roads beer flights allow you to taste up to 5 different brews. While you're at the brewery, I recommend you hop on one of their tours to see how their beer is made. Two Roads Brewing Company has a second tap room located inside Bradly International Airport as well.
Location: 1700 Stratford Ave, Stratford, CT 
3. New England Brewing Co
New England Brewing Co is a popular brewery in CT found in the New Haven area. This place has a laid-back atmosphere, offering plenty of different types of beer, including their famous citrus fuzzy baby ducks IPA.
The brewery itself is always fun to visit, with its helpful staff and delicious food trucks. There's also outdoor seating in the summer.
Location: 175 Amity Rd, Woodbridge, CT
4. Fox Farm Brewery
Fox Farm Brewery is an excellent spot to grab some drinks out in Salem, Connecticut. It's a bit out of the way, but this brewery has a terrific tap list of high-quality beers.
Fox Farm Brewery has both indoor and outdoor seating, but you must make a reservation in advance. If you don't have time to sit down and enjoy the craft beer made here, you also have the option of ordering bottles and cans for pickup.
Location: 62 Music Vale Rd, Salem, CT
5. Tribus Beer Co.
Tribus Beer Co. is one of the top breweries in Connecticut. They have a rotating selection of craft beer, wine, and cider available in their taproom (which is open from 5 pm to 10 pm daily).
There isn't a restaurant at this brewery, however, you can grab a snack from the food trucks outside. If you don't drink, Tribus Beer Co. also has some excellent non-alcoholic beer options too.
Location: 100 Raton Dr, Milford, CT
6. Connecticut Valley Brewing Company
Connecticut Valley Brewing Company is one of CT's breweries found in South Windsor. They are known for their New England Style India Pale Ale, but also brew plenty of other types of beer for a range of palates.
You can order anything from IPAs, stouts, sours, and seltzers to their delicious spiked smoothies. Aside from the adult beverages, the food and coffee made here are also worth a try.
Location: 765 Sullivan Ave, South Windsor, CT
7. Alvarium Beer Company
Alvarium Beer Company is a great Connecticut brewery located in New Britain. They have a solid selection of beers available in their taproom, which is quite comfortable.
You're able to sample a fair amount of drafts here since they come in a number of different sizes. Plus, this is one of the dog-friendly brewing companies in the state.
Location: 365 John Downey Dr Suite B, New Britain, CT
8. Twelve Percent Beer Project
Twelve Percent Beer Project is another great place to drink beer in Connecticut. The brewery has some excellent bartenders that are great at describing the beers to you if you're not sure what to order.
This local North Haven brewery releases a new beer every week, in addition to the 20 different beers they already have on tap. They're open 7 days a week and have a food truck on-site Wednesday through Sunday.
Location: 341 State St, North Haven, CT
9. Counter Weight Brewing Co
Counter Weight Brewing Co is one of Connecticut's breweries found in the south-central part of the state. They have a solid taproom menu, plus a smaller to-go beer menu.
This brewery features a modern bar with music, so it always seems lively when I stop by. They have bars both upstairs and downstairs, so you don't have to wait too long in line before getting served. Counter Weight Brewing Co doesn't have a restaurant, but there is often a food truck outside.
Location: 7 Diana Ct, Cheshire, CT
10. Back East Brewing Company
Back East Brewing Company is one of the CT brewers that focuses on seasonal beers. Located in Bloomfield, the brewery produces top-notch beers in its small, yet state-of-the-art facility.
The bartenders here are great and will often give you pouring samples while giving you some background on each of the beers you're tasting. The brewery also has plenty of space and plays live music.
Location: 1296 Blue Hills Ave, Bloomfield, CT
11. Labyrinth Brewing Company
Labyrinth Brewing Company is a highly-rated CT brewery found in Manchester. This craft brewery is known for brewing high-quality IPAs, along with hard ciders and wines.
This is another one of the breweries that often has a food truck parked out front, plus it's a dog-friendly space. I highly recommend you grab a drink at Labyrinth Brewing Company if you live in the Manchester area.
Location: 148 Forest St, Manchester, CT
12. Little House Brewing Company
Little House Brewing Company is a local brewery found in downtown Chester (it's on the Middlesex County-New London County border). When you visit, you'll see them brewing beers in a nearly 200-year-old historic building, which is an attraction in and of itself.
Little House Brewing Company offers a diverse selection of beers, along with some ciders. This is a small brewery, so just know that it can fill up with patrons relatively quickly.
Location: 16 Main St, Chester, CT
13. Problem Solved Brewing Company
Problem Solved Brewing Company is one of the smaller Connecticut breweries. They serve different beers and IPAs made with a variety of hops and fruits.
This is one of the breweries that offer flights at a very affordable price, plus there is a good diversity of flavors. Food isn't served at the brewery, but you can easily head over to Sofia's Restaurant & Pizzeria across the street.
Location: 2 N Rd #4, East Windsor, CT
14. Kent Falls Brewing Co. & Tasting Room
Kent Falls Brewing Co. & Tasting Room is one of the Connecticut brewers located out in Litchfield County. The brewery has an amazing view of the Connecticut countryside, along with a menu of tasty beers.
There are plenty of styles of beer to choose from, as well as a decent selection of cans and bottles. The beer made a Kent Falls Brewing Co is made with high-quality local ingredients, making this a true local brewing company.
Location: 33 Camps Rd, Kent, CT
15. Athletic Brewing Co
The Athletic Brewing Co is one of the few CT breweries that only serves non-alcoholic beers. So if you enjoy the taste of beer but still want to remain health-conscious, this is the brewery for you.
Athletic Brewing Co offers IPAs, sour, and stout beers on their menu, along with a few other varieties of beer. Just know that the taproom is located in the back of the brewery. It's a bit difficult to find but worth the trouble. You'll enjoy an amazing view of Long Island Sound as you sip on your craft beer.
Location: 350 Long Beach Blvd, Stratford, CT
16. OEC Brewing
OEC Brewing is a popular CT brewer located in Oxford. They have a unique brewing process that uses specific fermentation techniques and barrel aging.
In addition to beer, OEC Brewing also has light snacks and pizza, but you can also bring your own food if you like. If you enjoy the beer here but don't want to make the trip out to Oxford, the brewery even offers home delivery services.
Location: 7 Fox Hollow Road, Oxford, CT 
17. Bear Hands Brewing Company
Bear Hands Brewing Company is one more beer brewing company in Connecticut. Located out in Windham County, this brewery makes a range of different beers, so there's something for everyone.
This is one of the breweries that has plenty of entertainment in the form of food, music, and arcade games. The seating at the brewery is first come, first serve and they allow dogs on the outdoor patio.
Location: 75 Main Street Suite 1, Putnam, CT
Map of Breweries CT
If you're looking for the nearest brewery CT, check out the map below. Many of the top breweries in Connecticut can be found on the map.
Other Places That Have Good Beers in CT
There are over 100 breweries in the state of Connecticut, so it's impossible to make a list of all of them here. But here are some honorable mentions, for top CT's best breweries:
Broad Brook Brewing LLC
Powder Hollow Brewery
Hog River Brewing Co.
Thomas Hooker Brewery
City Steam Brewery
BADSONS Beer Co.
Brewport Brewing Co
Dockside Brewery
Broken Symmetry Gastro Brewery
Norbrook Farm Brewery
Connecticut Breweries – Final Thoughts
Whether you're looking for a local microbrewery or a lively brewpub, you won't be disappointed with any of the breweries on this list.
Aside from breweries, there are plenty of other great places to get drinks in Connecticut. If you haven't already, I highly recommend you check out our picks for the best bars and wineries in CT.