12 Best Bars in CT – Top Connecticut Bars by City [2023]
While looking for a place to go out in Connecticut, I was having difficulty finding a decent bar. So, I decided to do some research to find the best bars in the state.
I asked around and visited some of the most recommended bars in each city. After a few months of trying new bars and pubs, I've compiled a list of the best drinking establishments in Connecticut. So without further ado, these are the best bars in CT.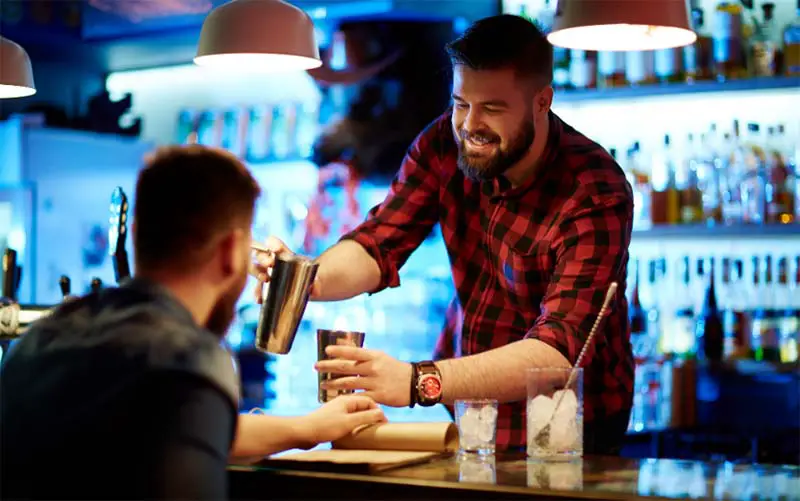 Best Bars in Connecticut
1. Sign of the Whale – Stamford, CT
Sign of the Whale is a very popular bar in CT, found in Stamford. It's a modern gastropub and restaurant that serves delicious cocktails and draft beers.
The best feature of the bar is the rooftop patio, which has an amazing view of the city. The best nights to visit Sign of the Whale are Thursday, Friday, and Saturday as they're open late. The brunch here is worth a try as well.
Address: 6 Hbr Pt Rd, Stamford, CT
2. Pigs Eye Pub – Hartford, CT
Pigs Eye Pub is one of the top bars in Hartford, Connecticut. You can find this place on Asylum Street, near Bushnell Park. Pigs Eye Pub is open 7 days a week until 1 or 2 in the morning.
They have happy hour specials, food, an outdoor patio, and games like pool and darts. The atmosphere here is always great, and the people are friendly. If you live in the Hartford area and don't know where to go out, this is your best option.
Address: 356 Asylum St, Hartford, CT 
3. Eli Cannons Tap Room – Middletown, CT
Eli Cannons Tap Room is one of the best bars in Middletown. The tavern offers a wide range of flavorful beers on tap, along with a solid food menu. They also have a cool outdoor "beach" area in the back (outdoor patio with beach chairs).
This bar has been in business for nearly 30 years, so it's a favorite among locals. Eli Cannons Tap Room is open every day except for Monday.
Address: 695 Main St, Middletown, CT
4. Rooftop 120 – Glastonbury, CT 
Rooftop 120 is one of Connecticut's best rooftop bars. This is the largest 4-season rooftop in New England, so you can enjoy the views regardless of the weather. They have fire pits, couches, and outdoor heaters that allow you to remain comfortable during the winter months.
There's also an indoor area with a very laid-back ambiance. The bar itself features seasonal cocktails, live entertainment, food, and happy hour specials. You can find this trendy bar at Eric Town Square in the heart of Glastonbury.
Address: 120 Hebron Ave, Glastonbury, CT 
5. Barcade – New Haven, CT
Barcade is a CT bar and arcade located in New Haven. This pub features an inventory of nearly 75 video games and classic pinball machines from the 1980s, so the entire venue has a retro feel to it.
The games at Barcade only cost 25 cents each, so you can spend a ton of time playing here. The drinks are affordable as well. If you're looking for a fun night out with your friends, Barcade is certainly worth a visit. There are also plenty of great nightclubs in New Haven.
Address: 56 Orange St, New Haven, CT 
6. Russian Lady – Hartford, CT
Russian Lady is another one of the top CT bars found in Hartford. It's located within walking distance from Pigs Eye Pub, so it's easy to check out both bars in one night.
There are 3 floors at Russian Lady. The first floor is a casual pub with TVs, where you can order signature cocktails like Russian Roulette Poppers. The second floor houses the Vodka Bar & Lounge, where you can find over 100 different types of vodka. And the third floor is a cigar bar rooftop. They often have live DJs playing house, dance, and techno music as well.
Address: 191 Ann Uccello St, Hartford, CT
7. Hot Rod Cafe – New London, CT
The Hot Rod Cafe is one more highly-rated bar in Connecticut. This sports bar serves some of the best wings in CT. The menu features over 20 chicken wings flavors, including BBQ ranch, jerk, buffalo, and garlic parmesan.
Aside from the food, the Hot Rod Cafe is also known for its craft beers and live music. They always have a good selection of music and a fun atmosphere. Plus, they have a rooftop bar overlooking the Thames River in New London.
Address: 114 Bank St, New London, CT 
8. Tigin Irish Pub – Stamford, CT
Tigin Irish Pub is another one of the top bars in Connecticut located in Stamford. This traditional Irish Pub serves dozens of international and local beers, along with a great selection of whiskey.
It's a small pub, but the energy here is fantastic and the staff is great. Locals often flock here for craft beer and bar games, but the food is really good too.
Address: 175 Bedford St, Stamford, CT
9. Ordinary – New Haven, CT
Ordinary is a popular Connecticut bar with a ton of history. The cocktails here are some of the best in the state. They offer a wide selection of spirits, from bourbon, whiskey, and scotch to gin, tequila, and rum.
This isn't a party spot, but more of a place to enjoy a really good drink. The bar provides a quiet and very intimate atmosphere. You can find the Ordinary cocktail bar in downtown New Haven, near the New Haven Green.
Address: 990 Chapel St, New Haven, CT, United States
10. World of Beer – West Hartford, CT
World of Beer is a highly-reviewed gastropub in West Hartford. Their expansive menu features over 500 global beers, along with custom draft beers. The service here is excellent and the bartenders are super knowledgable.
This is a great place to grab a drink with your friends after work or watch the game. The food here is solid as well and is competitive with the restaurants in the area (one of the many reasons it gets such rave reviews).
Address: 73 Isham Road #B-30, West Hartford, CT
11. Barcelona Wine Bar – Several Locations
Barcelona Wine Bar is a Spanish bar and restaurant with multiple locations throughout Connecticut. You can visit this place in West Hartford, New Haven, Stamford, Norwalk, and Fairfield.
They have over 400 exquisite wines available on the menu, but the food is amazing as well. If you plan on dining here, I highly recommend you order the tapas. Anyone who enjoys top-notch wine and authentic Spanish food needs to try this place.
Address 1: 971 Farmington Ave, West Hartford, CT
Address 2: 155 Temple St, New Haven, CT
Address 3: 4180 Black Rock Turnpike, Fairfield, CT 
12. The Hidden Still – Ellington, CT
The Hidden Still is another one of the Connecticut bars found in Hartford County. This was Connecticut's first moonshine bar, so there's a good amount of old history here.
This place attracts a younger crowd and has a ton of energy. The drink menu features a number of high-quality moonshines, cocktails, bourbons, wines, and whiskeys. Beverages are cheap, and the food is pretty good here too.
Address: 87 West Rd, Ellington, CT
Best Bar CT – Final Thoughts
There you have it, those are CT's best bars. Whether you're looking for a spot to go drinking with your friends or a place that simply serves awesome cocktails, you won't find a better bar CT.