7 Best Places for White Water Rafting in CT [2023 Update]
Connecticut isn't known for its rapids, but there are still a few spots where you can go white water rafting in CT. Plus, there are a couple of places to go rafting right over the border in neighboring states.
I recently tried out some of the most popular rafting locations in the area to see which ones are the best. So without further ado, these are the best places to go white water rafting in Connecticut.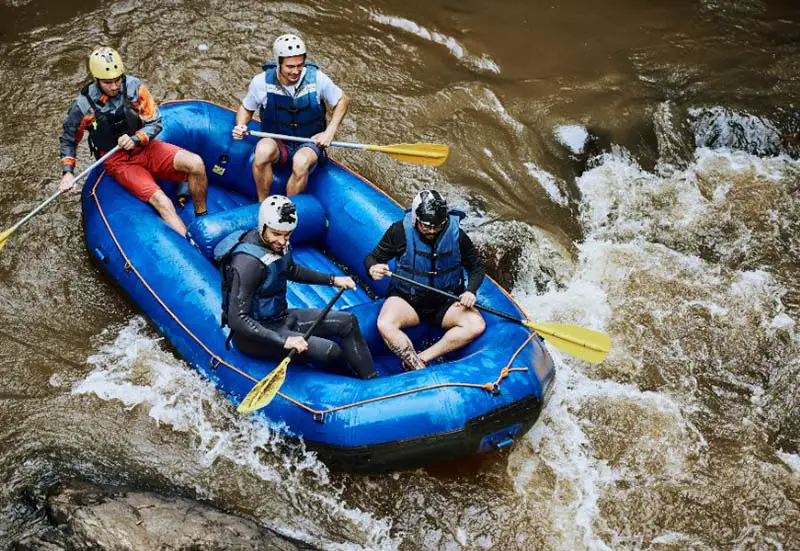 Top Places for White Water Rafting in CT
1. Clarke Outdoors – Cornwall
Clarke Outdoors is one of the top places to go rafting in CT. They guide you down the gorgeous Housatonic River in Northwestern Connecticut, giving you the opportunity to paddle 6 or 10 miles on the water.
Raft rentals cost between $35 and $60 a person depending on the day of the week you visit and the length of the ride. When your journey is over, Clarke pick you up and bring you back to the starting point. Canoe and kayak rentals are available as well to take out on the water.
Location: 163 US-7, West Cornwall, CT
2. Main Stream Canoes & Kayaks – New Hartford
Main Stream Canoes & Kayaks is another popular whitewater rafting company in Connecticut. They have 6 different routes that take you down the Farmington River, ranging from 6 to 12-mile flat water stretches of Class I and Class II rapids.
If you're a first-time paddler, the shorter routes may be more optimal, but seasoned kayakers should choose the 12-mile stretch, which is a challenging 5-hour ride. Either way, you'll enjoy a lush back-county view on the water.
Canoes can hold up to 3 people while kayaks are either single or tandem. Whitewater canoeing rentals cost $65 for the day and include paddles. Kayaks are $55 for the day.
Location: 170 Main St, New Hartford, CT
3. Farmington River Tubing – New Hartford
Farmington River Tubing is a popular white water tubing place in CT. You get to ride 2.5 miles down the Farmington River passing through 3 different sets of rapids. It's not rafting, but it's still a ton of fun floating your way down the river in a tube.
The tubes are supplied, so all you have to bring is a pair of clothes you're comfortable swimming in. Tickets only cost $25 per person to get in the water at Farmington River Tubing.
Address: 92 Main Street, New Hartford, CT
4. Metacomet Tours – Windsor
Metacomet Tours is Connecticut's only kayaking and canoeing outfitter that allows you to experience both the Farmington River and the Connecticut River on the same trip.
They offer a number of guided tours, including Moonlight Trips which allow you to paddle the river at night. Kayak rentals cost $35 for a single and $60 for a double. Once you book, Metacomet Tours takes care of everything else so you can enjoy a great day out on the river.
This is perfect if you're new to white water rafting. The water isn't too fast and you'll get a good introduction to rafting.
Location: 67 Palisado Ave, Windsor, CT
5. Collinsville Canoe & Kayak – Collinsville
If you're looking for a flatwater experience instead of river rafting, you're going to want to check out Collinsville Canoe & Kayak. They sell canoeing and kayaking gear but also rent out equipment for use on a calm section of the Farmington River.
You can rent out a kayak for $22 an hour or $55 for an entire day out on the water (this includes paddles and personal flotation devices). They offer stand-up paddleboard rentals as well. This is a great opportunity for beginners to explore the river unsupervised while kayaking in Connecticut.
Location: 41 Bridge St, Collinsville, CT
Where to Go White Water Rafting Near Connecticut
There aren't too many white water river rafting places in Connecticut, however, there are a few just over the state border. Here are a few other white water rafting places near CT.
6. Zoar Outdoor Adventure Resort – Charlemont
Zoar Outdoor Adventure Resort is one of the best rafting places in New England. Located in northern Massachusetts, they allow you to ride class 2 to class 4 rapids on the Deerfield River.
They have several levels of packages that range from beginner-friendly trips for families to wild rafting trips for those looking for an intense white water rafting experience. Zoar Outdoor Adventure provides you with experienced professional guides and all the gear you need for your white water rafting adventure.
Location: 7 Main St, Charlemont, MA
7. Silver Canoe & Whitewater Rafting – Point Jervis
Silver Canoe & Whitewater Rafting is one more white rafting spot to visit near Connecticut. They offer rafting, kayaking, canoeing, and tubing down the waters of the Delaware River.
The rafts here can hold up to 6 people, but they also offer 2-3 person rafts for smaller groups. There are a number of different river trips available to choose from but expect to pay about $50 for a raft rental.
Location: 10 Corso Rd, Port Jervis, NY
White Water Rafting CT – Final Thoughts
White water rafting is a great way to enjoy the outdoors and is a ton of fun for the whole family. Plus, there are places to go white water rafting in CT, for every skill level.
Most of the best rafting in Connecticut is on the Farmington River, but a few outfits will take you out on the Connecticut River. If you're looking for a more extreme adventure on faster rapids, there are a few spots you can visit right outside the state.
But regardless of what rivers you go white water rafting on, I'm confident you'll enjoy the experience. Stay safe on the water!