Celebrities in CT – Famous People From Connecticut
Although Connecticut is small in size, there are plenty of celebrities and famous people from the state. In fact, some of the most influential people that have ever lived are from CT.
That's why I recently did some research to figure out which famous people live in Connecticut today. So without further ado, these are the most notable celebrities in CT.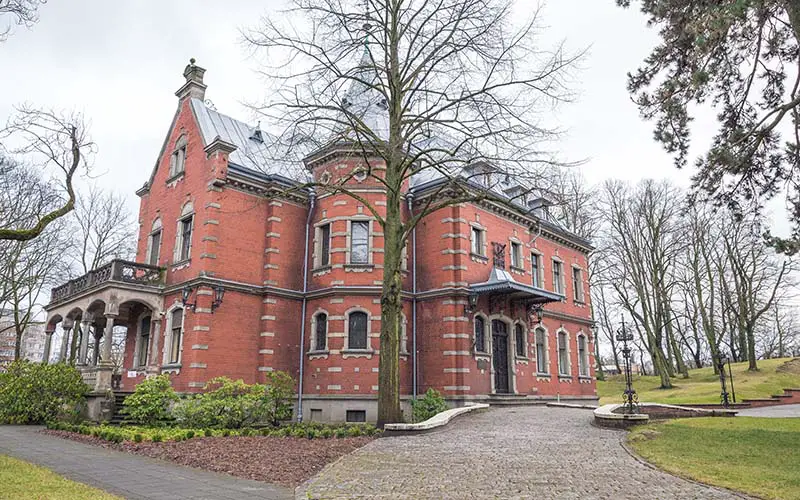 Celebrities Who Are From or Live in Connecticut
This is a list of celebrities who were either born in Connecticut or currently live here. Just know that it's difficult to confirm if some of these people are still living in the state today.
Dixie and Charli D'amelio – Now that we live in the age of social media, it makes sense to put Dixie and Charli D'amelio first on this list. The D'Amelio family was living in Norwalk CT up until 2020 but relocated to Los Angeles after their rise to fame on TikTok.
50 Cent – The famous rapper owned a house in Farmington CT for over a decade. However, he finally sold it in 2019 after it sat on the market for 12 years.
Mel Gibson – The famous actor and producer lived in Greenwich CT for over 15 years. He purchased his residence in 1994 for $9.3 million but sold it in 2010 for $24 million. The house sat on 75 acres of prime real estate.
Meryl Streep – Oscar-winning actress Meryl Streep currently owns a home in the small town of Salisbury, CT. She purchases the Connecticut home several years after graduating from Yale University in New Haven, CT. She splits her time between Connecticut and California.
John Mayer – The celebrity musician was born in Bridgeport and raised in the Stratfield section of Fairfield, CT. However, he currently does not reside in Connecticut.
Michael Bolton – Another famous person that lives in Connecticut is Michael Bolton. He was born in the city of New Haven, where he lived with his family for many years. He now currently lives in Westport, CT.
Katharine Hepburn – The Academy Award-winning actress grew up in Old Saybrook as a child, and eventually returned to the town in 1997 to retire. She passed away there in 2003.
Justin Long – Justin Long is another celebrity who was born and raised in Connecticut. He is from Fairfield and recently returned to the town during a movie event.
Jocko Willink – The decorated Navy SEAL, author, and podcaster was born in Torrington, Connecticut. However, he currently resides on the west coast in San Diego, California.
Seth MacFarlane – Best known as the creator of the popular TV show Family Guy, Seth MacFarlane's roots trace back to Connecticut. The celeb grow up in the small town of Kent.
Dana White – The UFC President was born in Manchester CT, before moving to Las Vegas with his mother as a child. He spent some time living in Boston but currently resides in Las Vegas.
George W. Bush – The 43rd President of the United States was born in New Haven, Connecticut. Although he is from Connecticut, George W. Bush was raised in Texas. The President did return to New Haven to complete his bachelor's degree at Yale University.
Steve Wynn – Steve Wynn is the casino mogul who built some of the most famous casinos in the world, including The Bellagio, The Mirage, Treasure Island, and Wynn Las Vegas. He was initially born in Connecticut but was raised in upstate New York.
Chris Berman – The longtime ESPN sportscaster has born in Greenwich, Connecticut. Seeing as ESPN's headquarters is located in Bristol, it's no surprise that he currently lives in the nearby town of Cheshire, CT.
Stephenie Meyer – Stephenie Meyer is a novelist best known for writing the popular vampire series Twilight. She was born in Hartford but grew up in Arizona.
Suzanne Collins – Suzanne Collins, best known for writing The Hunger Games, is another famous author who was born in Connecticut. She is also one of the celebrities in Connecticut who currently lives in the state. Born in Hartford, the author currently lives in Sandy Hook with her family.
Gaten Matarazzo – The star from Netflix's Stranger Things was born in New London, and briefly lived in Mystic CT before moving to New Jersey.
Christopher Lloyd – Best known for playing "Doc" in Back to the Future, Christopher Lloyd was raised in New Canaan, Connecticut.
Most Famous People From Connecticut
There has been a number of prominent people throughout history who were either born or lived in the state of Connecticut. Here are a few of them.
J.P. Morgan – John Pierpont Morgan was one of the richest and most influential men in history. He helped build the J.P. Morgan Chase bank in the 1800s and early 1900s. J.P. Morgan was originally from Hartford, Connecticut.
Mark Twain – Mark Twain was born in Missouri, but lived in Hartford from 1874 to 1891. He grew to love the city and is where he wrote some of his most famous works, like Adventures of Huckleberry Finn and The Adventures of Tom Sawyer.
Harriet Beecher Stowe – Harriet Beecher Stowe wrote dozens of important books, including the famous novel Uncle Tom's Cabin. She was born in Litchfield but lived in Hartford from 1863 until her passing in 1896.
Nathan Hale – Nathan Hale is a Connecticut hero from the Revolutionary War. He was captured by the British and was sentenced to death for spying. His famous last words were "I only regret that I have but one life to lose for my country." The patriot was born in Coventry and worked as a schoolteacher in East Haddam and New London, Connecticut.
Charles Goodyear – You may recognize the name Goodyear from the well-known tire brand. That's because Charles Goodyear discovered the rubber vulcanization process in 1839. Although he didn't start the company, it wouldn't exist today without his contributions.
Samuel Colt – Samuel Colt was an inventor and businessman who started Colt's Patent Fire-Arms Manufacturing Company. He is famous for inventing a revolver that could be fired multiple times without reloading. He lived his entire life as a resident of Hartford, CT.
Benjamin Spock – Dr. Benjamin Spock wrote the book The Common Sense Book of Baby and Child Care and quickly become the most famous pediatrician in the world. His work is still very influential today, even though it was published in 1946. Benjamin Spock was born in New Haven, Connecticut.
Celebrities CT – Final Thoughts
Those are some of the most notable celebrities from Connecticut. There may also be more celebrities who are more private that we don't know about. It also isn't uncommon for a CT celebrity to have a second home in another state.