12 Best Places to Get a Lobster Roll in Connecticut [2023]
Connecticut has some of the best lobster rolls in the country. Whether you're looking for hot lobster rolls, buttered lobster rolls, or a lobster roll grill cheese, you'll be able to find them in CT.
Over the past few weeks, I've eaten at all the top lobster shacks in the state to see which ones are the best. These are the top spots to get a lobster roll in Connecticut.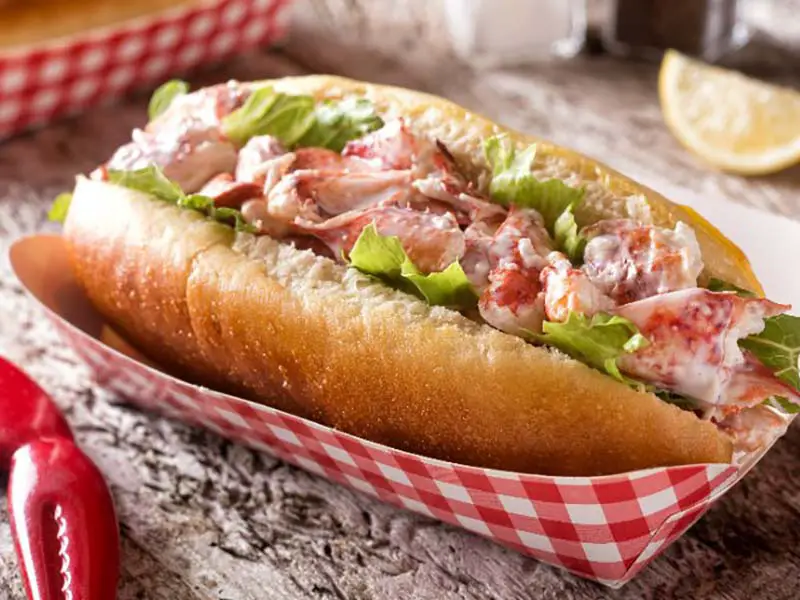 Best Connecticut Lobster Rolls
1. Lenny & Joe's Fish Tale – Westbrook and Madison
Lenny & Joe's serves one of the best lobster rolls in CT. This shoreline restaurant has two locations, one in Madison and one in Westbrook. Both are open every day of the week for lunch and dinner all year, so you're able to get CT lobster rolls in the winter.
Lenny and Joe's Fish Tale is known for their reasonable prices, great service, and generous portion sizes. The lobster rolls here are stuffed into New England-style hot dog buns, which make them extra delicious.
Location 1: 86 Boston Post Rd, Westbrook, CT
Location 2: 1301 Boston Post Rd, Madison, CT
2. Donahue's Clam Castle – Madison
Donahue's Clam Castle is a great place to eat lobster rolls in Connecticut. This place is known for its award-winning clam chowder, but the lobster rolls served here are amazing too.
In addition to chowder and lobster rolls, the restaurant serves fresh seafood platters, fish tacos, hot dogs, and burgers. You can find Donahue's Clam Castle on Route 1 in Madison CT, right near the beach. Just know that they are closed on Tuesdays.
Location: 1324 Boston Post Rd, Madison, CT
3. Ford's Lobsters – Noank
Ford's Lobsters is a top lobster shop found in Noank, CT. They serve a wide range of seafood, sandwiches, salads, and soups on their menu.
Their lobster rolls are made with a quarter pound of freshly caught lobster alongside hot butter. You can also order them cold with mayo and celery. At Ford's Lobsters, you can take choose a seat inside or opt to enjoy your rolls on the outdoor patio.
Location: 15 Riverview Ave, Noank, CT 
4. Captain Scott's Lobster Dock – New London
Captain Scott's Lobster Dock is a top popular seafood restaurant in New London. By far the most popular item on the menu here is their famous lobster rolls, which are topped with warm butter on a toasted roll.
You have the choice of ordering a small or larger lobster roll, which is nice if you have kids. The menu features other seafood delights as well, including tuna salad, shrimp cocktails, clam fritters, oysters, and fried calamari. For landlubbers, hot dogs and hamburgers are available too.
Location: 80 Hamilton St, New London, CT
5. Abbott's Lobster In the Rough – Noank
Abbott's Lobster In the Rough serves some of the best lobster rolls in CT. The menu offers three separate sizes of lobster rolls. There's the classic quarter-pound lobster roll, the half-pound OMG lobster roll, and the 1-pound lobster roll. All three are served with melted butter on a toasted bun.
Abbott's is known for its other seafood dishes as well. The clams and oysters on the half shell, shrimp, crab, mussels, and corn on the cob are all very popular. I highly recommend you try the hot crab roll if you have a chance.
Location: 117 Pearl St, Noank, CT
6. Lobster Landing – Clinton
Lobster Landing is another great place to grab a lobster roll in CT. This lobster spot has a very simple menu, which focuses on the classics.
You can order standard lobster rolls, double lobster rolls, lobster bisque, and clam chowder. Everything on the menu is delicious, plus Lobster Landing is BYOB friendly. The restaurant is located in Clinton, right on the water.
Location: 152 Commerce St, Clinton, CT
7. The Lobster Shack – Westport
The Lobster Shack is one of the top places to get Connecticut lobster rolls. Opening in 2016, the restaurant serves several varieties of fresh lobster rolls. You can even create your own lobster roll.
Some of the options on the menu include the king lobster roll (half-pound of lobster meat on a brioche bun), Maine-style chilled lobster rolls, Maine-BLT lobster roll, Connecticut-style lobster roll (with melted butter), and the Angry roll (with hot and spicy tomato sauce). I really enjoy the Maine lobster roll here.
Location: 540 Riverside Ave, Westport, CT
8. Overton's Seafood – Norwalk
Overton's Seafood is a great place to eat a CT lobster roll. This low-key restaurant serves an extensive menu of seafood items and desserts. Eating here is always a pleasure since the lobster shack sits on a long dock, perfect for waterfront dining.
You can order your lobster for takeout or you can eat on the beautiful waterfront dock (I recommend you eat on the dock). If you're in a rush, Overton's Seafood offers delivery on Doordash and Ubereasts as well.
Location: 80 Seaview Ave, Norwalk, CT
9. Knapp's Landing – Stratford
Knapp's Landing is a popular spot to get a Connecticut lobster roll in Stratford. The restaurant overlooks Long Island Sound and serves a number of seafood dishes.
Two of the most popular foods on the menu include lobster rolls and lobster ravioli. The lobster rolls are made with poached lobster, which is toasted on a brioche bun and served with coleslaw. The lobster ravioli is equally as good but offers a different taste since it's prepared with vodka sauce and sauteed spinach.
Location: 520 Sniffens Ln, Stratford, CT
10. LobsterCraft – Multiple Locations
If you live in central or northern Connecticut, you may find it difficult to drive to the shoreline every time you crave a hot lobster roll. Fortunately, LobsterCraft has several locations throughout the state, most notably in West Hartford (Update: this location is now closed).
Some of the items on the menu here include CT lobster rolls, lobster BLT, lobster grilled cheese sandwiches, lobster tacos, and lobster Mac N Cheese. LobsterCraft serves a lot of unconventional lobster dishes, but the food is good.
Location 1: 961 Farmington Ave, West Hartford, CT
Location 2: 1814 Post Rd, Fairfield, CT
Location 3: 107 Greenwich Ave, Greenwich, CT
11. Guilford Lobster Pound – Guilford
Guilford Lobster Pound sells freshly caught lobsters along with delicious lobster rolls. The owner of the restaurant catches the fish himself, so you know the food is fresh.
In addition to the hot lobster rolls, Guilford Lobster Pound also serves clam chowder, chili dogs (or sea dog), ice cream, and shrimp cocktails. You're able to BYOB as well.
Location: 505 Old Whitfield St #3443, Guilford, CT
12. Bill's Seafood Restaurant – Westbrook
Bill's Seafood Restaurant is located near the marinas in Westport. They serve a tasty platter of hot lobster rolls topped with butter and cold lobster rolls topped with mayo.
But the rolls aren't the only lobster dish on the menu. This is one of the restaurants that also has some great boiled and stuffed lobster recipes. I recommend you also try their boiled Maine lobster which comes with 1.25 pounds of meat. If you want to enjoy a classic shoreline view of New England while you eat your food, check out Bill's Seafood Restaurant.
Location: 548 Boston Post Rd, Westbrook, CT
Best Connecticut Lobster Roll – Final Thoughts
Very few foods are better than a Connecticut lobster. There are plenty of excellent places to grab a hot lobster roll in Connecticut. But if you want a hot buttered lobster instead of rolls, you'll have no shortage of options either.
All of the restaurants on this list have an amazing lobster recipe, which is validated by their high reviews online. If you live in southern Connecticut, any of these restaurants will suffice. But locals up north may want to stick with Lobstercraft to avoid the long drive to the shoreline.
If you want a whole lobster, check out this article about the best restaurants that serve lobster in CT.