Best Snowboard & Ski Shops in CT [2023 Update]
We're finally coming up on the ski and snowboard season here in Connecticut. So, whether you're looking to upgrade your current equipment or make your first purchase, you're probably going to want to find a reputable ski shop.
Not all ski shops are created equal, so it's important that you find the best one. That's why we put together this list of the best ski shops in CT.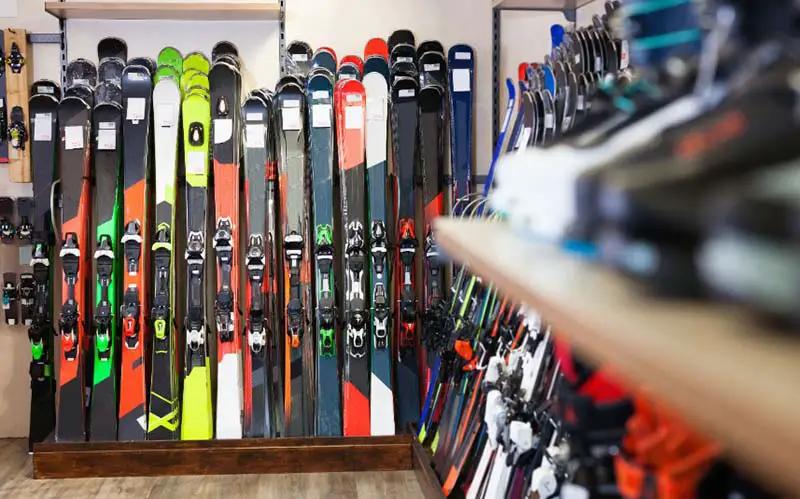 Best Ski & Snowboard Shops in Connecticut
1. Alpine Haus – Wethersfield, CT
Alpine Haus is one of the premier ski and snowboard shops in CT. They offer a number of services including, boot fitting, ski rentals, snowboard rentals, ski repair, snowboard repair, and tune-ups.
You can also rent winter apparel, like helmets, shoes, and jackets from their store. Alpine Haus' inventory is vast, so you can find equipment for men, women, and kids.
Address: 942 Silas Deane Hwy, Wethersfield, CT
2. Rotary Ski & Snowboard – Stratford, CT
Rotary Ski & Snowboard is a popular Connecticut ski shop found in Stratford. This family-run business offers all the accessories you need to stay active on the slopes.
They carry gear from brands like Burton, K2, Nordica, The North Face, Rossignol, and Abor to name a few. The staff here is very knowledgeable, and they have a wide selection of equipment in a variety of sizes. The prices are very fair as well.
Address: 555 Lordship Blvd Suite 9, Stratford, CT
3. Leisuretime of Southbury – Southbury, CT 
Leisuretime of Southbury is another great ski store in CT. The shop sells everything from snowboard boots and bindings to ski poles. You can pick up new goggles, socks, snowshoes, helmets, and snow pants if you need them.
The store offers seasonal rental programs as well. If you don't have time to visit the shop, you can order online for both pickup and delivery.
Address: 1500 Southford Rd, Southbury, CT
4. Cycleology Bike & Ski – Westport, CT
Cycleology Bike & Ski services and sells both bike and ski gear. The ski gear is super high-quality, and there's a good selection available. If you can't afford to buy new gear, you're able to rent as well.
The shop also offers winter rentals in a variety of packages, including new and used ones. By going with the used ski packages, you can get everything you need for the entire season for about $160. You can find them in Westport, near the Fairfield border.
Address: 1554 Post Rd E, Westport, CT
Read: Top 10 Bike Shops in CT
5. Suburban Sports – Berlin, CT
Suburban Sports is another popular ski shop in CT. The store sells ski and snowboard equipment, along with all the accessories that you could ever want. You can get skis, snowboards, boots, clothing, helmets, warmers, and other types of gear.
On top of that, Suburban has rental programs and tuning services too. If you need extra assistance finding the best gear, you're able to schedule a boot fitting appointment online. Suburban Sports is located out in Berlin, CT.
Address: 25 Webster Square Rd, Berlin, CT
6. Fatty's Snowboards – Canton, CT
Fatty's Snowboards is an excellent spot to shop for skis and snowboards out in Canton, Connecticut. They don't have a huge selection of clothing or gear, but the selection of skis and snowboards is pretty impressive.
The staff is very knowledgeable when it comes to anything related to ski or snowboard equipment, so you'll leave the shop with exactly what you need.
Address: 136 Albany Turnpike, Canton, CT
Read: Best Shopping Malls in Connecticut
7. Pedigree Ski Shop – Stamford, CT
Pedigree Ski Shop is a chain found in southern Connecticut and New York. They sell gear like bags, ski clothing, ski accessories, pants, and ski shoes, along with high-quality skis and snowboards.
The shop has ski apparel available in all sizes, so are plenty of options available for men, women, and youth. You're able to do ski and snowboard rentals as well.
Address: 350 Bedford St, Stamford, CT
8. Cutting Edge – Berlin, CT
Cutting Edge another one of the ski shops in Connecticut found out in Berlin (well, technically they only sell snowboards, not skis). You can find some awesome boards made by brands like Bent Metal, Burton, Union, Lib Tech, Now, Gnu, Nitro, and Vans.
Although they don't sell skis, the staff at Cutting Edge are experts in tuning and repairing them. They offer a range of services including ski edge tuning, ski stone grinding, ski base repair, ski waxing, and ski binding mounting. The same services are available for your snowboard too.
Address: 146 Mill St, Berlin, CT
Read: Best Shopping Outlets in Connecticut
9. Bob's Sports Chalet – Bristol, CT
Bob's Sports Chalet is one more ski shop in CT. Their wide selection of ski gear features skis, snowboards, outerwear, boots, bindings, pants, socks, backpacks, and bags.
In addition to ski and snowboard gear, Bob's Sports Chalet also offers top-notch gear for other outdoor activities hiking, swimming, and skating. You can find this ski shop in Bristol.
Address: 91 Pine St, Bristol, CT 
10. New England Ski & Scuba – Vernon, CT
New England Ski & Scuba is a small ski and snowboard shop out in Vernon. They offer the newest designs in ski and snowboard gear, plus they have excellent customer service.
At New England Ski & Scuba, you can purchase men's skis, women's skis, kid's skis, ski bindings, ski boots, ski poles, ski jackets, ski goggles, face coverings, socks, and gloves.
On the snowboard side, you can get men's snowboards, women's snowboards, snowboard bindings, snowboard boots, and snowboard accessories. Seasonal ski leases and ski tune-ups are available too.
Address: 60 Windsor Ave, Vernon, CT
Renting Skis, Gear, Clothing & Accessories
Rentals are much cheaper than purchasing ski gear. If it's you're first season skiing, it may make more sense to go the ski rental route, instead of buying everything upfront. It can save you a lot of money if end up only hitting the slopes a handful of times.
There are plenty of ski shops that will rent ski and snowboard equipment at an affordable rate. In fact, almost every ski shop CT offers some form of rental service. You can even rent your ski and snowboard gear directly from the ski resort.
Ski Shops CT – Final Thoughts
Those are all the top Connecticut ski shops. Once you get your ski or snowboard gear, you're probably going to want to test it out on the slopes. Fortunately, there are a number of great places to go skiing in CT.