Antique Stores in CT – 13 Best Connecticut Antique Shops [2023]
As one of the oldest states in the county, Connecticut certainly has some of the best antique shops. You can find stores selling vintage collectibles in just about every town.
In fact, there are so many antique stores that the state's tourism board has organized them into an official "Antiques Trail." But which ones have the best inventory? I decided to find out.
Whether you're a serious antiquer looking for something specific or just browsing the shelves, these are the best antique stores in CT.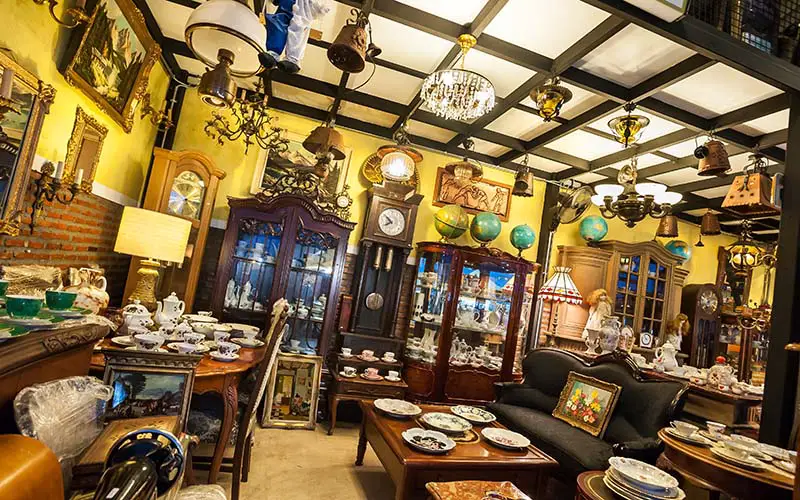 Top Antique Stores in Connecticut
1. Stratford Antique Center – Stratford
The Stratford Antique Center is one of the top antique shops in Connecticut. The building has 16,500 square feet of antiques and collectibles making it one of the largest antique malls in the region.
There are antiques on display from over 200 dealers, so you can find items like furniture, toys, glassware, statues, vinyl records, and comic books, among other things.
The staff here is super friendly as well. This is one of the Connecticut antique shops located right off I-95, so it's very easy to get to.
Location: 400 Honeyspot Rd, Stratford, CT
2. Key to the Past Antique & Design Center – East Haven
The Key to the Past Antique & Design Center is another one of the multi-dealer antique malls in Connecticut. They have over 5,000 square feet of high-quality antiques, including records, furniture, light, and art.
The inventory is always changing here, so you never know what you're going to find. Plus, the shop is well-maintained and the staff is very helpful.
Key to the Past Antique & Design Center also has a second location in Clinton, which is almost as big as its East Haven store.
Location: 37 Frontage Rd, East Haven, CT
3. The PAST Antiques Marketplace at Nature's Art Village – Oakdale
The PAST Antiques Marketplace at Nature's Art Village is an antique store in CT found near New London. The shop spans 14,000 square feet and has a wide variety of antiques, crafts, and collectibles.
There are over 90 antique dealers represented here so chances are good that you'll find something you want to take home to your antique collection.
You'll find items like jewelry, furniture, rare coins, framed art pieces, figurines, and other cool collectibles.
If you have kids who can't sit still while you're looking for antiques at The PAST Antiques Marketplace, you can bring them next door to The Dinosaur Place.
Location: 1630 Hartford-New London Turnpike, Oakdale, CT
4. Collinsville Antiques Co – New Hartford
Collinsville Antiques Co is another highly-rated antique shop in Connecticut. Located in New Hartford, this shop has over more than 22,000 square feet of showroom and over 100 different antique dealers.
They are one of the largest multi-dealer antique shops in all of New England, offering an interesting mix of antiques, jewelry, stained glass, musical instruments, and other collectibles.
The store is handicap-accessible and everything is on one floor. If you're looking to sell something, this is one of the shops that buy antiques as well.
Location: 283 Main St, New Hartford, CT
5. Antiques on the Farmington – Canton
Antiques on the Farmington is a popular spot for antiques shopping in northwestern Connecticut. It's a multi-dealer shop with more than 70 dealers spread across two floors of displays.
Some of the treasures that you can find here include vintage furniture, jewelry, collectibles, and tools in excellent condition. There's a solid selection of antiques at fairly reasonable prices.
This Connecticut antique shop is located in a historic building right next to the Farmington River.
Location: 10 Depot St, Canton, CT
6. Vintage Shops – East Windsor
Vintage Shops is one of Connecticut's top antique stores in the northern part of the state. You can find the store just south of the Connecticut-Massachussetts border in East Windsor.
This place is a hidden gem with an amazing atmosphere. You could easily spend a few hours exploring the many one-of-a-kind pieces here.
There are many vendors represented at the store each offering unique items like clocks, furniture, coins, home decor, linens, and vinyl records.
Location: 42 Bridge St, East Windsor, CT
7. Clinton Antique Center – Clinton
The Clinton Antique Center is a great antique shop in CT found in the shoreline town of Clinton. The store is family owned and operated featuring over 100 different antique dealers.
They have a great selection of different vintage toys, antiques, and collectibles. The shop has just about everything you can imagine, making for a nice eclectic product mix.
This store has over 6,000 square feet of retail space, so there's no shortage of inventory. This is a great place to search for rare antiques you can't find anywhere else. Just know that they are closed on Wednesdays.
Location: 78 E Main St, Clinton, CT
8. ANTIQ'S – Farmington
ANTIQ'S is a privately owned antique store in Farmington, CT. They own all of their merchandise outright, so you can be certain that you're dealing directly with the antique owner.
This is one of the smaller antique shops at only 3,000 square feet, but there are so many unique items to discover. They have a great selection of 18th and 19th-century furniture, lighting, pottery, rugs, art, cameras, toys, and instruments.
This Connecticut antique store is only open on weekends from 11 am to 4 pm, so I highly recommend you stop by ANTIQ'S if you're in the area.
Location: 1839 New Britain Ave, Farmington, CT
9. Fairfield County Antique & Design Center – Norwalk
The Fairfield County Antique & Design Center is another great place to go antique shopping in Connecticut. They're a multi-dealer mall with over 12,000 square feet of space.
The 35 dealers that operate here offer a wide array of furnishings, art, rugs, mirrors, jewelry, and vintage accessories. It's the perfect place to shop if you're interested in interior design.
It's also a great place to shop for unique antiques to add to your collection or for gifts. You can find this shop in Norwalk, CT.
Location: 39 Knight St, Norwalk, CT
10. MINE in Mystic – Mystic
There's so much history in Mystic, so naturally, there's an antique shop in town. MINE is the to-go place to shop for antiques in Mystic, CT.
They offer a wide range of affordable goods like tables, chairs, artwork, paintings, vintage jewelry, tools, records, dolls, and dishes.
The boutique is a gold mine for obscure items you can't get anywhere else, especially nautical antiques.
Location: 16 Stonington Rd, Mystic, CT
11. The Shops at Marlborough Barn – Marlborough
The Shops at Marlborough Barn is one more antique store in Connecticut. This is another multi-dealer antique center, so there's a wide range of antiques on sale.
They have a lot of cool items like furniture, toys, and jewelry that make for great one-of-a-kind gifts.
You'll find a mixture of antiques, collectibles, and home goods at The Shops at Marlborough Barn. Just know that they are closed on Mondays.
Location: 45 N Main St, Marlborough, CT
12. 2 Sisters Trading Post – Salem
2 Sisters Trading Post is one of the Connecticut antique stores located in New London County. They have a ton of inventory that's well-organized and fairly priced.
The shop carries antique furniture, collectibles, and household items, along with clothing and accessories.
The owners are very friendly and will help you find exactly what you need. You can visit them any day of the week except Wednesdays. The store is usually open from 10 am to 5 pm.
Location: 26 New London Rd, Salem, CT
13. Turnpike Antiques & Vintage – Berlin
Turnpike Antiques & Vintage is a well-known antique store in Berlin, Connecticut. As the name suggests, you can conveniently find the shop directly on the Berlin Turnpike.
They offer items like jewelry, books, dishware, furniture, and much more. Plus, they'll buy antiques for cash like coins, sports memorabilia, tools, clocks, and vinyl records.
The staff here is very knowledgeable and friendly. The shop is open every day except Monday from 10 am to 6 pm.
Location: 1660 Berlin Turnpike, Berlin, CT
Other Antique Shops in CT to Check Out
If you don't find want you're looking for at those antique stores, there are plenty of others to shop at. Here are some more antique shops in CT that you should check out:
Route 10 Trader Antiques and Treasures in Southington
The Trove in Old Saybrook
Essex Saybrook Antiques Village in Old Saybrook
Connecticut Antique Stores – Final Thoughts
Those are some of the best antique stores in Connecticut. Whatever collectibles you're hunting for, I'm confident that you'll find them at one of these antique stores in CT. If not, there are plenty of flea markets to shop at too.