8 Best Places to Go Jet Skiing in CT
Jet skiing is one of the most thrilling summer activities in Connecticut. But, you can't just ride your jet ski anywhere. There are only a handful of lakes and rivers in the state that allow jet skis.
This guide will cover everything you need to know about jet skiing in Connecticut, including where you can ride a jet ski and where to rent one.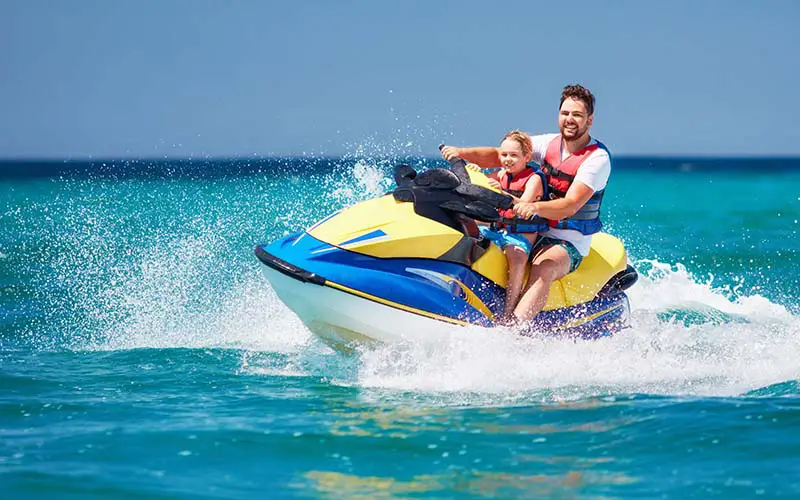 Top Places to Go Jet Skiing in Connecticut
1. Candlewood Lake – Danbury
Candlewood Lake is Connecticut's largest lake, stretching 8.4 square miles. It's widely regarded as the best place to go jet skiing in CT.
There are several boat launches and marinas at the lake making it easy to access the water for recreational activities like jet skiing, boating, tubing, waterskiing, swimming, and kayaking.
Just be aware that Candlewood like has a boating speed limit of 45 mph during the day and 25 mph at night. If you don't own a jet ski, there are several places that offer rentals and tours around the lake.
Location: 36 Hayestown Rd. Danbury, CT
2. Boardwalk Marina – Stratford
The Boardwalk Marina is located on the Stratford coastline. If you own jet skis or boats, it's a great spot to launch your vehicles into Long Island Sound for a fun day on the water.
These places also offer a number of jet ski and boat services like maintenance and repairs, which will keep you out on the water longer.
The Boardwalk Marina did offer rentals at one point, but that is no longer the case. Maybe that will change again in the future.
Location: 955 Ferry Blvd, Stratford, CT
3. Coventry Lake – Coventry
Coventry Lake is another great place to jet ski in Connecticut if you live in the northern part of the state. This sizable lake has a boat launch, where you can drop your jet skis into the water.
Just be cautious of your speed on the lake. Many residents have complained about watercraft safety on Coventry Lake in recent years.
Location: Coventry Lake, Coventry, CT
4. Lake Zoar – Southbury
Lake Zoar is a good place to take out your jetski in Southbury, Connecticut. This reservoir has several boat launches that facilitate all kinds of personal watercraft to enter the water.
You can enjoy an exhilarating jet skiing experience here or opt for more relaxing sports like kayaking or fishing. Either way, you'll have a ton of fun.
Most people on the lake live in the towns in the surrounding area, but visitors can enjoy the thrill of Lake Zoar as well.
Location: 210 Scout Rd, Southbury, CT
5. Gardner Lake State Park – Salem
Gardner Lake State Park is a fantastic spot to take out your jet skis in Connecticut if you live in the southeastern part of the state.
Located in Salem, this state park is one of my favorite places to enjoy a day out on the water. Jetskiers and other boaters are allowed out on the lake as long as they follow the local safety regulations.
Location: 208 Old Colchester Rd, Salem, CT
6. Lower Housatonic River – Derby
The Lower Housatonic River is the perfect destination for jetskiing in Connecticut. There's a ton of open water and cool islands to explore in the area.
You can even take your jet skis from the river into Long Island Sound. If you need to stop along the way, there are plenty of places to take a break as well.
Location: 686 Naugatuck Avenue, Milford, CT
7. Westbrook Power Sports – Westbrook, CT
If you live in Middlesex County, I recommend jet skiing in Westbrook. Westbrook Power Sports sells and rents jet skis to take out in the local waterways.
Whether you want to explore some of the nearby rivers or venture out into Long Island Sound, you'll have a great time either way.
Location: 16 Old Boston Post Rd, Westbrook, CT
8. Long Island Sound – Multiple Locations
Long Island Sound is one more place where you can jet ski in CT. If you want the maximum amount of adrenaline, this is where you're going to want to go jet skiing.
There are no speed limits or crazy regulations when you're out in the open water. You're able to go as fast as you want and jump as many waves as your heart desires.
Plus, there are dozens of boat launches scattered throughout the Connecticut coastline. You can drop your jet ski into the water from virtually anywhere.
Jet Ski Rentals in Connecticut
If you're looking for a business that can offer a jet ski rental, you'll have a few options. Two of the more popular places to rent a jet ski in Connecticut are Westbrook Power Sports in Westbrook and Invert Sports near Candlewood Lake.
Jet skiing is very similar to snowmobiling in CT, there aren't a lot of places that do rentals. However, there are several spots that sell them.
Jet Skiing CT – Final Thoughts
Those are the best places to go jet skiing in Connecticut. Jet skiing is a great way to get an adrenaline rush with the wind in your face. Plus, it's a ton of fun for the whole family.
If you have younger kids who aren't ready for jetskis, you can also check out some of the swimming lakes in Connecticut. Or if you have teenagers, you may want to check out the cliff jumping spots in CT.