Best Zoo in CT | 10 Connecticut Zoos to Visit in 2023
A trip to the zoo is a great daytime activity for kids of all ages. But, which zoos in Connecticut are the best? I recently visited a few of the top ones to find out.
This guide will cover everything you need to know about the top zoos and aquariums in Connecticut, along with some of their most popular attractions. So without further ado, these are the best zoos in CT.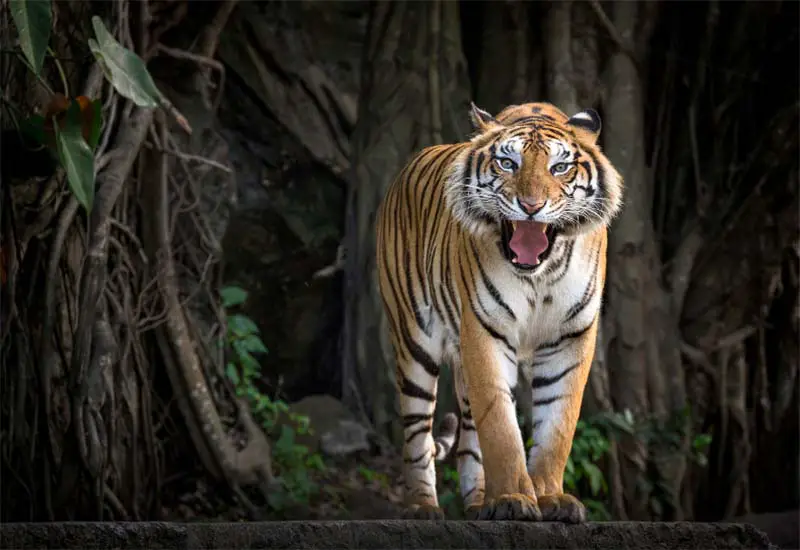 Top Zoos in Connecticut
1. Connecticut's Beardsley Zoo – Bridgeport, CT
Connecticut's Beardsley Zoo is the top zoo in CT. Found in Bridgeport, this zoo features a wide range of animal exhibits, including tigers, leopards, bald eagles, monkeys, snakes, and wolves. Over 300 animals are represented here, primarily from North and South America.
This zoo has been in business for over 100 years and is on a mission to educate students and families about wildlife from around the world. Tickets for the zoo are only $19 for adults and $15 for kids.
Location: 1875 Noble Ave, Bridgeport, CT
2. Mystic Aquarium – Mystic, CT
Mystic Aquarium technically isn't a zoo, but it's still one of the best places to see different species of wildlife in Connecticut. You can see seals, sea lions, Beluga whales, sting rays, and penguins. They even have an exhibit where you can touch sharks.
As the name suggests, Mystic Aquarium is located in Mystic, Connecticut on the shoreline. Tickets for the aquarium cost between $30-$40 depending on the day you visit.
Location: 55 Coogan Blvd, Mystic, CT
3. Riverside Reptiles Education Center – Enfield, CT
The Riverside Reptiles Education Center is CT's best zoo for reptiles. This indoor zoo features a number of reptile species, including chameleons, tortoises, alligators, and a wide variety of snakes.
They are open every day of the week except Monday, and tickets cost $16 a person. You can find the Riverside Reptiles Education Center in Enfield, making it the closest zoo if you live in northern Connecticut.
Location: 132 S Rd, Enfield, CT
4. Sharon Audubon Center – Sharon, CT
The Sharon Audubon Center is a wildlife sanctuary that houses, saves, and rehabilitates many unique species of birds. Some of the resident animals here include owls, hawks, eagles, falcons, ravens, vultures, and doves.
In addition to the bird exhibits, the Sharon Audubon Center also has 11 miles of gorgeous trails, where you can encounter animals like river otters, bobcats, beavers, and whitetail deer. You can visit them out in Sharon CT, which is on the Connecticut-New York border in Litchfield County.
Location: 325 Cornwall Bridge Rd, Sharon, CT
5. The Maritime Aquarium – Norwalk, CT
The Maritime Aquarium is known for its marine exhibits, but they also have few land-based animals. Some of the marquee sea exhibits at the Maritime Aquarium include seals, otters, sharks, sting rays, jellyfish, turtles, and various exotic fish.
On the land side, The Maritime Aquarium has a large meerkat exhibit, along with habitats for quail, lizards, skunks, porcupines, and tamarin monkeys. Tickets here cost $30 a person. You can visit them right off I-95 in Norwalk.
Location: 10 N Water St, Norwalk, CT
6. SeaQuest Connecticut – Trumbull, CT
SeaQuest Connecticut isn't officially a zoo, but it's a fun place to see different types of animals from the ocean, along with a handful of land animals. You can hand-feed sharks, stingrays, lizards, and birds while learning about their different ecosystems.
A few of the unique activities here include snorkeling with the sting rays and individual time with a wallaby (very similar to a kangaroo). You can experience some absolutely amazing interactions with rare animals here. Tickets at SeaQuest Connecticut only cost $20, but you can also purchase an annual pass for $40.
Location: 5065 Main St Ste 1106, Trumbull, CT
7. Silverman's Farm – Easton, CT
Silverman's Farm is a farmer's market and orchard in Easton, CT. But they also have one of the top petting zoos in Connecticut. The farm allows you to view, pet, and feed a variety of animals, like llamas, alpacas, sheep, goats, fallow deer, buffalo, emus, and long-horn cattle.
While you're here, you can also pick a variety of fruits, including apples, blueberries, peaches, and raspberries. The zoo's hours are dependent upon the weather, but they're typically open 7 days a week. Silverman's Farm does close for the winter, but it's a ton of fun for the whole family.
Location: 451 Sport Hill Rd, Easton, CT
8. Flamig Farm – West Simsbury, CT
Flamig Farm is home to another petting zoo in Connecticut. The animal parks are open from April until Mid November every year, and cost $7.50 a person (family passes are available as well).
A few of the animals that live on the farm include dogs, cats, chickens, pigs, geese, goats, rabbits, turkeys, ponies, donkeys, alpacas, horses, llamas, ducks, miniature horses, pigs, peacocks, emus, cows, sheep, guinea fowl, and pigeons. Since there is no time limit at the zoo, your kids will have plenty of opportunities to experience a cool interaction with one of the animals.
Location: 7 Shingle Mill Rd, West Simsbury, CT
9. Highwire Deer & Animal Farm – Woodbury, CT
Highwire Deer & Animal Farm is a small CT zoo out in Woodbury. There are a variety of animals here, including camels, zebras, kangaroos, mini cows, mini horses, mini donkeys, deer, alpacas, tortoises, birds, pigs, goats, and coati.
They also hold events where they bring in other animals as well. Prices for the zoo are super affordable at only $12 a person, making it one of the cheapest zoos in the state.
Location: 68 Park Rd, Woodbury, CT
10. Action Wildlife Foundation- Goshen, CT
The Action Wildlife Foundation is one of the CT zoos located in Litchfield County. The wildlife sanctuary is home to over 350 exotic animals from several different continents. You can feed many of the animals here as you navigate the large zoo in your car.
Plus, the Action Wildlife Foundation has a museum and a number of games that your kids will enjoy. Admission is $25 per person.
Location: 435 Torrington Rd, Goshen, CT
Best Zoo CT – Final Thoughts
Those are the best zoos CT. All of these zoos offer an excellent platform for your kids to learn while still having fun. And of course, they're a memorable experience for the whole family. If you want to learn more about the aquariums in Connecticut, I recommend you check out this article.