14 Best Malls in CT – Map of Shopping Malls by Town [2023]
Connecticut has some of the best shopping malls in the county. With over a dozen malls to choose from, there is never a shortage of shopping options in the state.
However, not all malls are created equal. Some malls have more brands and stores, while others have better prices. That's why we created this guide to help you navigate all of the best malls in CT.
We also created a map of all the top Connecticut shopping centers to help you find the one closest to you. You can find that map towards the bottom of this article.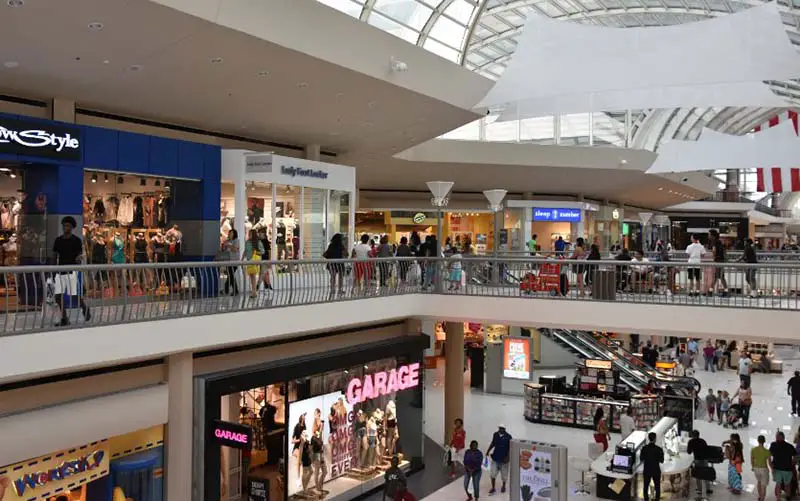 Best Malls in Connecticut
1. Westfarms – West Hartford
Many people consider Westfarms to be the best mall in CT. It's a lively shopping center that sells everything from luxury goods to casual brands (although it does lean more towards high-end brands).
You can shop at stores like Apple, Nordstrom, Macy's, LEGO, Coach, Brooks Brothers, H&M, Footlocker, Louis Vuitton, and Sephora to name a few. The mall is clean and modern, plus there are plenty of restaurants.
It's located right on the West Hartford-Farmington town line, and can easily be accessed from I-84. I live about an hour away from the Westfarms Mall, but this is still one of my favorite places to go shopping in Connecticut.
Address: 1500 New Britain Ave, West Hartford, CT
Read: Best Furniture Stores in Connecticut
2. The Shoppes at Buckland Hills – Manchester
The Shoppes at Buckland Hills is a great Connecticut mall, found in Manchester. The mall is full of mid-level retailers, like Forever 21, H&M, JCPenny, Macy's, Victoria's Secret, Express, and Barnes & Noble.
This shopping mall also has a large food court, along with a couple of individual restaurants. Buckland Hills is one of the best malls in northern Connecticut, for affordable, everyday brands. You can find them right off I-84.
Address: 194 Buckland Hills Dr, Manchester, CT
Read: 13 Best Connecticut Antique Shops
3. Danbury Fair – Danbury
Danbury Fair is another popular mall in Connecticut. This is a high-end mall with a ton of department stores and name-brand retailers.
You can shop for brands like Lululemon, Lucky Brand, Pacsun, Ulta Beauty, Urban Outfitters, American Eagle, Apple, Banana Republic, and The Children's Place.
If you get hungry while you shop, some of the dining options include Chipotle, Shake Shack, Starbucks, and The Cheesecake Factory. Like most malls in the state, Danbury Fair has plenty of parking.
Address: 7 Backus Ave, Danbury, CT
Read: 10 Best Vinyl Record Shops in Connecticut
4. Connecticut Post Mall – Milford
The Connecticut Post Mall is one of the top Connecticut malls found in the southern part of the state. It has stores like Aeropostale, Dick's Sporting Goods, Express, H&M, Hot Topic, Kay Jewelers, Sunglass Hut, Target, and Victoria's Secret.
Although this is currently the largest mall in Connecticut by space, it doesn't have the same number of stores as the previously mentioned shopping centers. Regardless, it's still a great place to go shopping in the Greater New Haven area.
Address: 1201 Boston Post Rd, Milford, CT
Read: Top Comic Book Stores in CT
5. The Promenade Shops at Evergreen Walk – South Windsor
The Promenade Shops at Evergreen Walk is an upscale outdoor shopping center in South Windsor. The location of Evergreen Walk isn't too far from the Buckland Hill Mall. In fact, they're only about a 5-minute drive from each other, which gives you access to two malls.
This place is pet-friendly and features stores like L.L. Bean, Apple, New Balance, Old Navy, Carhartt, Anthropologie, and the Banana Republic. The Munson's Chocolate store here is worth visiting as well.
Address: 501 Evergreen Way, South Windsor, CT
Read: Top Garden Centers in CT
6. Tanger Outlets Foxwoods – Mashantucket
The Tanger Outlets is one of the few outlet malls in Connecticut. Since it's an outlet mall, they offer great deals on name brands like Calvin Klein, Clarks, Famous Footwear, Forever 21, Guess, Michael Kors, Coach, Kate Spade, Levi's, Sketchers, Nike, Under Armour, and UGG.
If you're looking for discounts on high-end brands, this is the best place to go shopping in CT. The outlet is located at the Foxwoods Resort Casino out in Mashantucket, CT.
Address: 455 Trolley Line Blvd, Mashantucket, CT
Read: Best Flea Markets in CT
7. Blue Back Square – West Hartford
Blue Back Square is another top-notch CT mall found in West Hartford. It's an open-air shopping center with plenty of attractions, events, and dining options. There's even a movie theater.
Some of the shops here include Crate & Barrel, Barnes & Noble, and The Cheesecake Factory. The selection of stores is a bit limited, but the area is beautiful, making it a great spot to hang out or take a walk.
Address: 65 Memorial Rd, West Hartford, CT
Read: Top Farmers Markets in Connecticut
8. Westfield Trumbull Mall – Trumbull
The Westfield Trumbull Mall is one of the top indoor shopping centers in CT. The mall has over 100 stores, including Macy's, Finish Line, Victoria's Secret, Zales, Vans, Sketchers, Target, Pandora, Sephora, Michael Kors, JCPenny, Hollister, Gamestop, Aldo, and Forever 21.
For dining, you can eat at restaurants like Cinnabon, Haagan Dazs, Taco Bell, and Dunkin Donuts. You can find the Westfield Trumbull Mall in Trumbull, Connecticut.
Address: 5065 Main St, Trumbull, CT
Read: Top 10 Bike Shops in CT
9. Brass Mill Center – Waterbury
The Brass Mill Center is one of the few CT malls located out in Waterbury. This is a decent mall, but I wouldn't go out of my way to explore this place. It's mostly for locals of the area.
A few of the stores include the Burlington Coat Factory, Champs Sports, Dick's Sporting Goods, Famous Footwear, Footlocker, Hot Topic, JCPenny, and Petco. There's a decent selection of brands, and plenty of opportunity to find an outfit here.
Address: 495 Union St, Waterbury, CT 
Read: Best Snowboard and Ski Shops in Connecticut
10. Meriden Mall – Meriden
The Meriden Mall is one of the longest-standing shopping centers in CT (although it has fewer and fewer stores every year). It's not what it once was, but this mall is convenient if you live in the area.
You can still find some good clothing and department stores here, like Finish Line, TJ Maxx, Foot Locker, Bath & Body Works, Kay Jewelers, Michaels, and Dick's Sporting Goods. There's a food court as well.
Address: 470 Lewis Ave, Meriden, CT
11. Stamford Town Center – Stamford
Stamford Town Center is an amazing 3-level shopping mall in CT. It's the last major mall you'll encounter before you start getting into New York. They have a solid list of stores for men, women, teens, and kids.
Some of the shops at Stamford Town Center include Aldo, Banana Republic, Claire's, Express, Macy's, Vans, Victoria's Secret, and Aeropostale. They are open for business from 10 am to 8 pm on most days.
Address: 100 Greyrock Pl, Stamford, CT
12. The Shops at Farmington Valley – Canton
The Shops at Farmington Valley is a little-known outdoor shopping mall in Connecticut. While shopping here, you'll see stores like Chico's, Kohl's, Old Navy, Sephora, American Eagle Outfitters, and a Yankee Candle pop-up store.
It's a small mall, but there's a reason why it's highly rated. You can find The Shops at Farmington Valley in Canton, just west of Hartford.
Address: 110 Albany Turnpike, Canton, CT
13. Crystal Mall – Waterford
The Crystal Mall is one of the shopping malls in CT found near New London. The directory of stores here includes GNC, JCPenny, LensCrafters, Men's Wearhouse, Old Navy, Zumiez, Bed Bath & Beyond, Finish Line, and the Christmas Tree Shops.
There's also a Target located in the same plaza as the Crystal Mall. You can find this shopping mall in Waterford, right off I-95.
Address: 850 Hartford Turnpike, Waterford, CT
14. Enfield Square – Enfield
The Enfield Square Mall is the northernmost mall in the state. You can find it right on the Enfield-Springfield border, near Massachusetts. Some of the shops here include Target, Party City, Gamestop, and Bath & Body Works. There's a movie theater as well.
It's clear that a lot of the storefronts from the mall's heyday have closed and it doesn't seem like anything new is opening. The mall has such a great location, it would be great if they would add some stores.
Address: 90 Elm St, Enfield, CT
Map of Shopping Malls CT
If you're looking for the nearest shopping mall CT, check out the map below. All of the malls on this list are included on the map.
Best Shopping Mall CT – Final Thoughts
Those are all the best shopping malls in Connecticut. If you're looking to purchase merchandise from high-end brands, I highly recommend Westfarms or the Tanger Outlets.
However, if you're looking to buy more casual brands, the Buckland Hills Mall, Connecticut Post Mall, and the Danbury Fair Mall will provide a better shopping experience on a budget.