Whether you prefer fishing, swimming, kayaking, or riding jet skis, Connecticut has plenty of lakes to enjoy. However, not all of Connecticut's lakes are created equal.
The state's lakes come in many different shapes and sizes. So, depending on the types of activities you enjoy, one lake may be better for you than another. This guide will help you decide which lake in CT is best for you.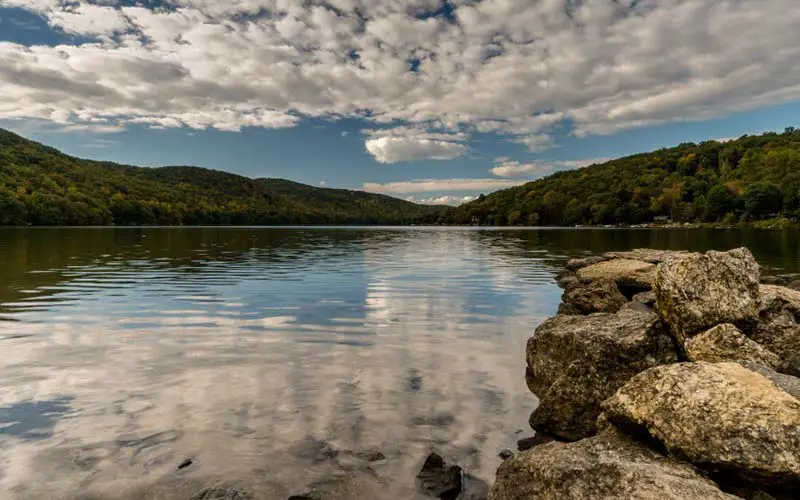 Top Lakes in Connecticut
1. Candlewood Lake – Danbury
Candlewood Lake is the largest lake in Connecticut. It stretches 8.4 square miles and is a popular spot for boating, swimming, tubing, waterskiing, and kayaking.
There are several boat launches and marinas at the lake making it easy to access the water for recreational activities. This lake is completely man-made, so there are beaches in each of the surrounding towns including Brookfield, Danbury, New Fairfield, Sherman, and New Milford.
Location: 36 Hayestown Rd. Danbury, CT
2. Mansfield Hollow Lake – Mansfield
Mansfield Hollow Lake is a popular lake in CT. Located near the Uconn campus, the lake encompasses 500 acres and is easily one of the most beautiful lakes in the state.
The lake was created by the Army Corps of Engineers in the early 1950s when a dam was built on the Natchaug River to siphon off the water. Because some of the water is used for the public water supply, swimming isn't allowed on the lake. However, boating and fishing are.
Location: Mansfield Center, CT
3. Bantam Lake – Morris
Bantam Lake is another one of the many lakes in Connecticut found in Litchfield County. It's the largest natural lake in Connecticut, spanning 947 acres.
The area is known for outdoor activities like boating, swimming, jet skiing, hiking, and ice skating during winter. The lake features two beaches as well, Morris Town Beach and Sandy Beach in Litchfield.
Location: East Shore Dr. Morris, CT
4. Bolton Lakes – Bolton
The Bolton Lakes are three separate freshwater lakes in central Connecticut, aptly named the Upper Bolton Lake, the Middle Bolton Lake, and the Lower Bolton Lake. The lakes extend from Bolton to Vernon.
The Lower Bolton Lake is the largest of the 3 with a surface area of about 175 acres and a maximum depth of 20 feet. There's a public boat launch and beach on the southern lake which facilitates kayaking, canoeing, sailing, swimming, and fishing.
Location: 17 Keeney Dr, Bolton, CT
5. Gardner Lake – Salem
Gardner Lake is located in Salem Connecticut, which is a town close to Norwich. The lake's surface area covers 528 acres and includes a popular beach, boat launch, and dock.
There's also a small island in the center of the lake called Minnie Island State Park. It's the smallest state park in Connecticut, making it a cool spot to check out if you're boating or kayaking.
Location: 208 Old Colchester Rd, Salem, CT
6. West Thompson Lake – Thompson
West Thompson Lake is a 200-acre body of water found in the northeastern corner of Connecticut. Like many other lakes in the state, West Thompson Lake was created by the United States Army Corps of Engineers after building a nearby dam.
The lake offers a number of things to do, including camping sites, hiking trails, picnic areas, a disc golf course, boating, hunting, and fishing.
Location: 400 Campground Dr, North Grosvenor Dale, CT
7. Saugatuck Reservoir – Redding
Saugatuck Reservoir is a fantastic Connecticut lake for fishing (although you need a special permit from the Aquarion Water Company to fish here). The lake is full of trout, bass, sunfish, bluegill, walleye, and pickerel.
Swimming isn't allowed in the reservoir, however, there are plenty of hiking trails in the park if you're looking to get some exercise in nature. The wildlife in the area is very active as well.
Location: 100-198 Newtown Turnpike, Redding, CT
8. Lake Zoar – Monroe
Lake Zoar is another fantastic fishing lake in Connecticut. This is one of the lakes that are stocked by the Connecticut Department of Environmental Protection. Some of the fish you'll find in the lake include smallmouth bass, largemouth bass, pike, perch, carp, black crappie, catfish, and rainbow trout.
Aside from fishing, you can also take your boat, jet ski, kayak, or canoe out on Lake Zoar. You're able to travel pretty far on the water since the lake is connected to the Housatonic River.
Location: 14 Roosevelt Dr. Rte 34, Monroe, CT
9. Lake Saltonstall – East Haven
Lake Saltonstall is a long narrow recreation lake located in East Haven. It's managed by the Regional Water Authority and is part of the public water supply, so you need to purchase a pass to use the park.
Although swimming isn't allowed, the lake allows boating, fishing, and kayaking. Plus, the area has a ton of easy hiking trails, which are perfect for families.
Location: Lake Saltonstall Recreation Area, East Haven, CT
10. Lake Wintergreen – Hamden
Lake Wintergreen is another one of the Connecticut lakes located close to New Haven. Again, this isn't a swimming lake, but visitors can canoe, fish, and hike.
The area has plenty of wildlife both on land and in the water, so it's a great spot to enjoy nature if you're looking to get out of the city for the day.
Location: 412 Main Street, Hamden, CT
11. Lake Waramaug State Park – Kent
Lake Waramaug State Park is one of the best parks for families in Connecticut. It's a great place to take your family and go swimming with your kids. Plus, they offer other activities like boating, fishing, and even camping.
In fact, Lake Waramaug is one of the best places to go camping in CT. The lake is especially beautiful to visit in the fall once the leaves start to change colors.
Location: 30 Lake Waramaug Rd, New Preston, CT
12. Burr Pond – Torrington
For residents of Torrington, Burr Pond is the most popular place to go swimming, fishing, kayaking, and boating. The pond is a massive man-made body of water spanning 85 acres.
Burr Pond State Park also has a beach, picnic tables, hiking trails, and a facility where you can rent canoes and kayaks. This is one of the most highly-reviewed lakes in Connecticut.
Location: 384 Burr Mountain Rd, Torrington, CT
13. Mashapaug Lake – Union
Mashapaug Lake is one of Connecticut's lakes found in the northern part of the state. The stretches across 297 acres in between the Nipmuck State Forest and Bigelow Hollow State Park.
The water in the lake is clean, so it's perfect for swimming and fishing (the lake is stocked with fish regularly). You're also able to take your boat, kayak, or jetski out on the water. Since Mashapaug Lake is located on the Connecticut-Massachusetts border, it's a popular destination for residents throughout New England.
Location: Bigelow Brook Road, Union, CT
14. Squantz Pond – New Fairfield
Squantz Pond can be found right next to Candlewood Lake in the Danbury area. In fact, the two lakes are actually connected. The main difference between the lakes is that the waters on Squantz Pond are a bit calmer because fewer motorized boats and jet skis venture into the area.
The pond features a number of fun activities including swimming, hiking, boating, fishing, picnicking, and even SCUBA diving. This is also one of the most popular places to kayak in Connecticut.
Location: 178 Short Woods Rd, New Fairfield, CT
15. Hop Brook Lake – Naugatuck
Hop Brook Lake Recreation area is a small yet popular lake in south-central Connecticut. It's a popular lake for nonmotorized watersports like kayaking and fishing, along with swimming.
There's also a beach and a picnic area with grills, which are perfect for a family BBQ. Hop Brook Lake and the surrounding park are completely free of charge. You can find this CT lake between Waterbury and Naugatuck.
Location: 4 Straits Tpke. Naugatuck, CT 
Other Connecticut Lakes
Aside from the lakes already mentioned, there are a number of other great lakes in Connecticut. Here are some more of CT's top lakes:
Lake Mohegan in Fairfield
Lake Hayward in East Haddam
Lake Lillinonah in Newtown
Highland Lake in Winsted
Nepaug Reservoir in Canton
Lakes CT – Final Thoughts
Those are some of the best ponds and lakes in CT. Regardless of whether you're fishing, swimming, kayaking, or boating, you're bound to have a ton of fun enjoying these Connecticut lakes. But if you just want to swim, I highly recommend you check out the article I wrote about swimming lakes in CT.