Fun Things to do in CT this Weekend (September 2023)
Regardless of the season, there are always a ton of events happening in Connecticut. That's why we put together this list of all the fun things to do in CT this weekend.
Whether it's activities for families, attractions for couples, things to do with a group of friends, or something to do alone, we've got you covered.
So without further ado, here's our updated list of Connecticut activities and events going on this weekend.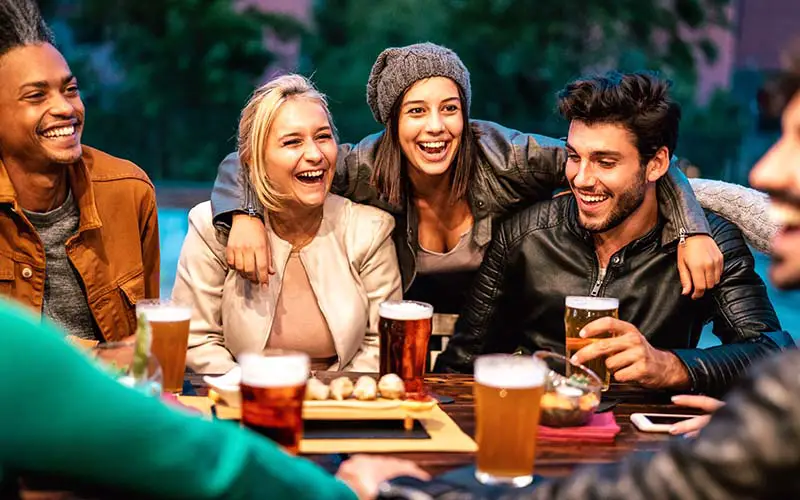 Top Things to do in CT this Weekend
1. Go to the Beach
If you're looking for fun things to do this weekend, why not go to the beach? Every coastline town in Connecticut has at least a couple of beaches to explore.
You can go swimming, kayaking, hiking, picnicking, or build sandcastles. Many CT beaches even have volleyball and bocce ball courts.
Ocean Beach Park in New London and Hammonasset Beach State Park in Madison are two of the more popular beached. But you can also visit one of the quieter, more relaxed beaches. Enjoy this weekend activity while the warm weather lasts!
2. See a Concert
Attending a concert is one of the more popular Connecticut activities to indulge in. You never know who has a show coming to town. Whether it's Taylor Swift, Carrie Underwood, Brantley Gilbert, or Journey, there's always an event to attend.
Although a few events do happen during the week, the biggest shows are normally scheduled for the weekend. So, there's no need to take time off from work to see your favorite artist.
Concerts are held at venues around the state, including the XL Center in Hartford, the Mohegan Sun Arena, the Oakdale Theatre, and the Palace Theater in Waterbury. You can find a full list of upcoming concerts and events in CT here.
3. Follow the Connecticut Wine Trail
Connecticut is one of the fastest-growing wine regions in the United State, and many CT wineries offer discounted wine-tasting events on the weekends.
The vineyards in CT offer a wide variety of wine styles, so there's something for everyone regardless of your palette.
It's certainly something you'll want to check out if you enjoy wine and live in Connecticut. But if you don't like wine, many breweries in Connecticut offer discounted tastings on the weekends as well.
4. Head to an Aquarium
Visiting one of the state's many aquariums is another fun thing to do in Connecticut. If you have kids, you need to visit both the Mystic Aquarium and the Maritime Aquarium in Norwalk, CT.
There is an array of attractions at these places, including penguins, seals, sea lions, Beluga whales, sting rays, jellyfish, and several other varieties of fish species.
You can also participate in hands-on activities like touching non-threatening sharks during your visit. Connecticut has a number of zoos that are open year-round as well.
These are the perfect CT attractions for families looking for fun things to do in Connecticut this weekend.
5. Visit a Trampoline Park
Going to a trampoline park is one more great activity to do with your family on the weekend. It's a fun place to take your kids to burn some energy, without having to spend too much money.
There are several major trampoline parks in Connecticut distributed across the state, each with its own set of unique obstacles and games.
Whether it's for a birthday party or a rainy day, this is one thing to do in CT that's always a ton of fun.
6. Go to a Comedy Club
Looking to have some laughs this weekend, why not head to a comedy club? Comedians like Jerry Seinfeld, Chris Rock, Kevin Hart, and Dane Cook all have performed at comedy clubs in CT.
Tickets for shows are usually relatively cheap, and most of the big-name talent performs on Friday, Saturday, and Sunday nights.
Plus, if you're willing to go out on a Thursday night, you may be able to snag tickets at a discount compared to the prices on the weekend.
7. Attend a Museum
Visiting a museum is an often looked over weekend activity. CT has a number of excellent museums and art exhibits that are worth a visit.
Planning a trip to the New England Air Museum, Mark Twain House & Museum, Yale University Art Gallery, or Gillette Castle State Park are all great weekend activities.
You can jump on guided tours or explore each museum yourself. Either way, you'll have a ton of fun and learn a lot in the process.
If you're looking for things to do in Connecticut, museums are a great option. Connecticut's museums are open daily, so you can plan a visit today, tomorrow, or whenever's convenient.
8. Head to the Bar or Club
If you're looking for things to do in CT tonight, bars and clubs are always open. The nightlife scene in CT isn't as lively as in places like New York or Miami, but it's still a fun time on the weekend.
Many nightclubs in CT also host fun events and themed nights, so there's usually something cool going on that's worth checking out.
If you're looking to go out for a night in Connecticut, I recommend checking out these articles we put together detailing the bar and nightclub scene in CT.
9. Ride Go Karts
Go-kart racing is a ton of fun for the whole family. There are many places that offer karting in CT, but Supercharged in Montville is one of the best.
This is one of Connecticut's activities that is often forgotten about. It's something you can do with your kids, with your friends, or even by yourself.
Regardless of your age, there's no question that riding go-kart riding is one of the best things to do in CT this weekend. I highly recommend this event.
10. Try Axe Throwing
Axe throwing is one of the more unconventional weekend events on this list, but it's also one of the most fun things to do in CT.
For those not familiar, participants throw axes at targets trying to get high scores. It's a great activity for a date night or even with the kids.
Although relatively new in CT, axe throwing is becoming more popular. Visitors will quickly find it to be addicting.
Next time you're looking for things to do, add axe throwing to your list of Connecticut weekend events.
Other Popular Weekend Activities & Attractions in Connecticut
Those are some of our top picks for things to do in Connecticut this weekend. If none of the attractions on the event calendar spark your interest, check out this complete list of things to do in Connecticut. That article details over 50 activities you can do in Connecticut year-round.
Here's a look at some of the other things you could be doing in Connecticut this weekend:
Bowling
Spas
Mohegan Sun & Foxwoods Resort Casino
Shopping
Trying new restaurants
Upcoming Weekend Events in Connecticut – Final Thoughts
That's our list of top events happening in CT this weekend. Regardless of which weekend event you decide to attend, make sure you stay safe.
Enjoy your weekend and have fun, there is no shortage of things to do.