9 Best Places to Go Axe Throwing in CT
Axe throwing is a relatively new thing to do in Connecticut, but it's becoming more popular. It's a great activity for a date night or even with the kids.
But don't worry, there is no axe-throwing experience required to participate in the fun. So, let's take a look at some of the best places to go axe throwing in CT.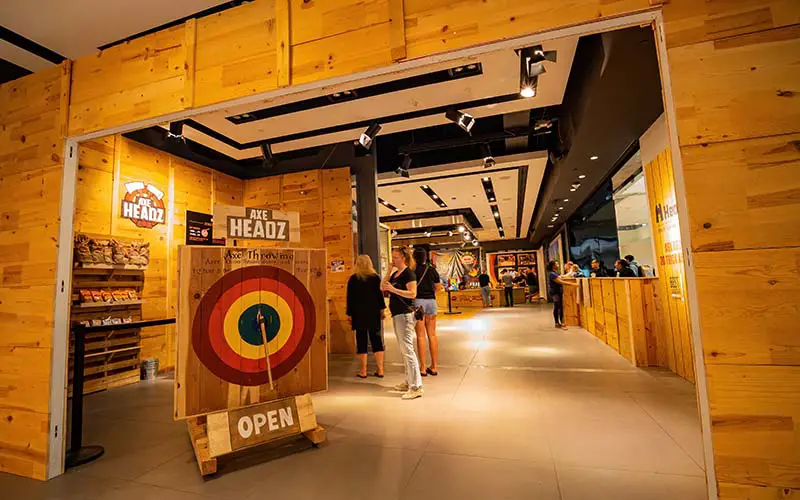 Top Places to Go Axe Throwing in Connecticut
1. Montana Nights Axe Throwing – Multiple Locations
Montana Nights Axe Throwing is a highly-reviewed axe-throwing bar in Connecticut. They have multiple locations throughout the state, including Orange, Newington, and Southington.
In addition to axe throwing, Montana Nights also offers games like pool and darts, along with food and drinks. Although they do sell alcohol, kids are allowed to throw if they're at least 10 and have a parent with them.
Address: 80 Fenn Rd, Newington, CT
2. Stumpy's Hatchet House – Manchester
Stumpy's Hatchet House is one of the most popular places to go axe throwing in Connecticut. They have plenty of axe pits, so they're great for parties and social gatherings.
Stumpy's serves beer and wine, plus they allow you to bring your own food. Axe-throwing sessions last anywhere from 1 to 2 hours and they have a competitive league too. This is an indoor hatchet-throwing venue, so you don't have to worry about the weather.
Address: 8 Progress Dr Suite 2, Manchester, CT
3. Blue Ox Axe Throwing – Multiple Locations
Blue Ox Axe Throwing has two locations in Connecticut, one in Wallingford and another in Bridgeport. The staff at this place is super friendly, making it perfect for a night out with friends.
They also take safety very seriously here, walking everyone through proper ax-throwing techniques before you start. Plus, a trained axe master will remain near your pit for the duration of your event to ensure the best experience possible.
Address: 21B North Plains Industrial Rd., Wallingford, CT
4. Odin's Keep Axe House – Enfield
Odin's Keep Axe House is another Connecticut axe-throwing spot in the northern part of the state. Located in Enfield, they offer both private and social axe pits (private pits are reserved for larger groups).
The price is very affordable here at $27 a person for a 75-minute experience. Odin's Keep Axe House takes reservations but you can walk in as well.
Address: 630 Enfield St, Enfield, CT
5. Axe It – Wethersfield
Axe It is an indoor axe throwing range in Wethersfield. They describe their axe-throwing experience as being similar to darts, but with axes.
All axe throwers here must wear closed-toed shoes before they can start throwing hatchets, which is pretty standard across the industry. This spot also allows guests to BYOB.
Address: 898 Silas Deane Hwy Rear Entrance, Wethersfield, CT
6. Litchfield County Axe House – Thomaston
Litchfield County Axe House is the top place for throwing axes if you live in the northwestern part of the state. It's a great time for people of all ages.
The staff and axe masters here are very helpful and will give you advice as you learn to throw a hatchet. If you want to bring the fun to an event you're hosting, Litchfield County Axe House has a mobile axe-throwing trailer available for rent as well.
Address: 437 S Main St, Thomaston, CT
7. The Axe Lounge – Oakdale
The Axe Lounge is CT's top axe-throwing spot in New London county. Located at Supercharged Indoor Karting in Oakdale, this place takes axe throwing into the future by offering interactive games and projected targets.
Lane rentals are for 1 hour and cost about $25 a person. Although they do take walk-ins, The Axe Lounge does encourage you to reserve a spot in advance.
Address: 1 Sachatello Industrial Dr, Oakdale, CT
8. Brass City Raceway & Axe Throwing – Waterbury
Brass City Raceway is another one of Connecticut's go-kart places that also has axe throwing. They offer hatchet throwing in 1 or 1.5-hour time durations for anyone ages 10 and up.
It's a great place to have fun for the day with your kids since they have other activities like batting cages and racing. You can find them in Waterbury.
Address: 130 Scott Rd, Waterbury, CT
9. Oxford Axe Throwing – Oxford
Oxford Axe Throwing is a small axe-throwing destination near New Haven. They offer discounts to new throwers, so it's an excellent place to visit if it's your first time throwing axes.
Whether you take your family or your friends, this place is always a fun night out. Just be aware that they are closed on Mondays and Tuesdays.
Address: 248 Oxford Rd, Oxford, CT
Axe Throwing CT – Final Thoughts
Those are the top places to go ax throwing in Connecticut. If you've never tried it, I highly recommend visiting an axe-throwing spot with a group of friends. Few recreational activities compare to throwing an axe at a target.
If you're looking for other cool recreational activities, you'll want to check these articles about escape rooms, bowling, and mini-golf in Connecticut.