Wineries in CT – 18 Best Vineyards in Connecticut [2023 Update]
If you love wine, you'll be happy to know that there are plenty of amazing wineries in Connecticut. In fact, some of the best wineries in the country are found in the state.
That's why I visited all of the most popular wineries and vineyards in CT to see which ones are the best. After a few weekends of wine tasting, I've determined that these are the best places to drink wine in CT.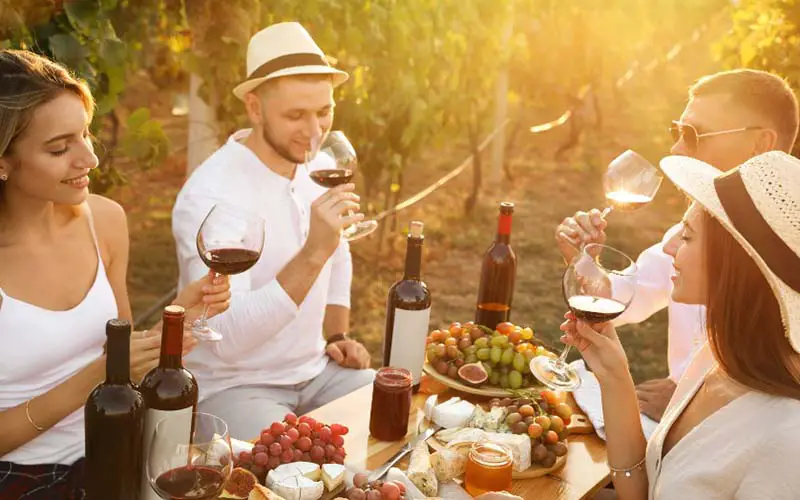 Top Wineries in Connecticut
1. Hopkins Vineyard
Hopkins Vineyard is one of the best wineries in CT. Located in Litchfield County, this winery overlooks Lake Lake Waramaug, which offers a gorgeous view you can toast to.
The farm has been producing award-winning white, red, and sparkling wines for over 40 years. Plus, they often host wine-tasting events and weddings. There's even a popular wine bar on the property.
Location: 25 Hopkins Rd, Warren, CT
2. Gouveia Vineyards
Gouveia Vineyards is a highly-rated winery in CT, found in Wallingford. This farm is situated on 140 acres of land, which is home to 26 acres of vines. They grow 17 varieties of grapes, all of which are picked by hand.
The vineyard offers a wide variety of white and red wines, which are aged in oak barrels to enhance the flavor. I highly recommend you check out their hilltop tasting room or hop on one of their guided vineyard tours.
Location: 1339 Whirlwind Hill Rd, Wallingford, CT
3. Bishop's Orchards Farm Market & Winery
Bishop's Orchards is another excellent winery in Connecticut. This spot is known for its award-winning fruit wines and hard ciders, which are put on display at its farmers market (they host tastings every day from 11 am – 6 pm).
The specialty fruit wines here are created on-site by Keith Bishop, who is both the owner and a 5th-generation winemaker. The wine produced here has a similar taste to blush wines.
Location: 1355 Boston Post Rd, Guilford, CT
4. Brignole Vineyards
Brignole Vineyards is one of the few vineyards that make wine in Hartford County. This winery has been making its own wine for over 15 years, producing over 20 varieties.
Brignole Vineyards has a wine for every palate, offering red, white, and rose, both by the glass and by the bottle. They also offer cheese plates that pair perfectly with the wine. Aside from wine tastings, the vineyard is a popular place for bridal showers, baby showers, and corporate events as well.
Location: 103 Hartford Ave, East Granby, CT
5. Chamard Vineyards Bistro
Chamard Vineyards Bistro is one of CT's wineries that also doubles as a restaurant. The 40-acre property is located just a few miles from Long Island Sound, so wines benefit from the moderate temperatures.
Many of the handcrafted wines here are award-winning, plus their seafood menu is among the best in the state. There is both indoor and outdoor seating available on this beautiful estate, depending on the season.
Location: 115 Cow Hill Rd, Clinton, CT
6. Paradise Hills Vineyard & Winery
Paradise Hills Vineyard & Winery is one of the family-owned and operated wine vineyards in Connecticut. The Ruggiero Family is dedicated to the art of winemaking, so there's no separation between what takes place in vineyards and what happens in the winery.
The view here is amazing, especially during the wine flights that feature live music. Paradise Hills Vineyard & Winery is also part of the Connecticut Wine Trail, which tours all the local vineyards and wineries in the state.
Location: 15 Windswept Hill Rd, Wallingford, CT 
7. Stonington Vineyards
Stonington Vineyards is one of the Connecticut wineries located in New London County. This vineyard is another member of the wine trail in Connecticut, offering members of its wine club some amazing deals.
Stonington Vineyards has a variety of wines, including white, chardonnay, and rose. It's also one of the wineries that focus on quality instead of quantity. They produce about 6,000-7000 cases of wine per year and sell most of it directly from their tasting room.
If you want to try the exquisite wines here, I highly recommend you visit in person. Although, you can order some bottles online as well.
Location: 523 Taugwonk Rd, Stonington, CT
8. Jones Family Farms
Jones Family Farms is one of the top CT wineries found in Fairfield County. Located in Shelton, their wine selection includes white wines, red wines, rose wines, fruit wines, and dessert wines.
There is no outside food allowed inside the winery, but they do offer some light snacks to pair with your glass of wine. Aside from delicious wines, Jones Family Farms is also known for its blueberry, strawberry, and pumpkin-picking orchards.
Location: 606 Walnut Tree Hill Rd, Shelton, CT
9. Sharpe Hill Vineyard
Sharpe Hill Vineyard is one of Connecticut's wineries found in Windham County. This vineyard has won over 450 medals at International tastings, so you can be certain that the wine is good.
There's a solid selection of both red and white wines, along with gourmet cheese boxes. Although it's a bit out of the way, visiting this vineyard is always a great experience. The staff is super friendly as well.
Location: 108 Wade Rd, Pomfret, CT
10. Maugle Sierra Vineyards
Maugle Sierra Vineyards is a Connecticut winery located between Norwich and New London. This place is known for its premium Connecticut and New England-grown wines, which are served on a beautiful wine patio.
The wine tastings here are a ton of fun and include entertainment in the form of live music. Just know that they are closed Tuesday through Thursday.
Location: 825 Colonel Ledyard Hwy, Ledyard, CT
11. Taylor Brooke Winery
Taylor Brooke Winery is a popular CT winery found up north in Woodstock. The winery is open year-round and offers guided wine tastings and wine flights. You're also able to order wine by the bottle or by the glass. For food, there's a food truck that comes several times a week.
Although they have resident wine dogs, this isn't one of the wineries that allow you to bring your pets. However, families with kids are allowed, assuming they're supervised. Taylor Brooke Winery is a great place to drink wine on the weekends as they're only open on Fridays, Saturdays, and Sundays.
Location: 848 CT-171, Woodstock, CT
12. Sunset Meadow Vineyards
Sunset Meadow Vineyards is another popular place to drink wine in Connecticut. This is one of the wineries found in Litchfield County that offers on-site wine tastings and events.
There is no restaurant at the vineyard, however, they do sell cheese pairings in the wine-tasting room, along with meats, spreads, and crackers.
Location: 599 Old Middle St, Goshen, CT
13. Rose Vineyards
Rose Vineyards is a top vineyard in CT located in the Greater New Haven area. This is one of the oldest family-run farms in the country and features a fantastic hilltop view.
The winery offers wine tastings in the lounge for only $15, which includes three wines from their extensive wine portfolio. It's also one of the few vineyards that have a seasonal menu with a full working kitchen. You can host private events on their wine patio and wine cellar as well.
Location: 2 Valley Rd, North Branford, CT
14. Land of Nod Vineyard & Winery
Land of Nod Vineyard & Winery is one of the lesser-known vineyards in CT. It's a family-run farm with over 200 acres of land in the rolling hills of Litchfield County.
The staff at Land of Nod are always friendly, plus the wines are very affordable. This is a great place to visit if you like your wine on the sweeter side.
Location: 99 Lower Rd, East Canaan, CT
15. Saltwater Farm Vineyard
Saltwater Farm Vineyard is an excellent winery to visit if you live in the Mystic area. This farm uses French wine-making techniques to create a portfolio of flavorful, small-production wines.
There are no tastings available at this vineyard, however, you can order wine by the glass or by the bottle. There is also no restaurant, but guests are able to bring their own food. Make sure you call before visiting because this is a popular wedding venue on the weekends.
Location: 349 Elm St, Stonington, CT
16. Connecticut Valley Winery
Connecticut Valley Winery is a small local winery found in New Hartford. This vineyard has won 25 medals at the Big E Northeast Gold Wine Competition, along with numerous other awards (they were the number 1 ranked Tripadvisor vineyard in Connecticut as well).
The winery has a good menu of both white and red specialty wines. It's the perfect spot to enjoy some tasty wines in a laid-back atmosphere.
Location: 1480 Litchfield Turnpike, New Hartford, CT
17. Priam Vineyards
Priam Vineyards is a fantastic winery in the center of the state. This was actually the first winery in New England to be completely solar-powered, plus they are vegan certified.
The winery tasting bar and wine patio at Priam Vineyards are open year-round. This is also a popular local spot for weddings in Connecticut as well.
Location: 11 Shailor Hill Rd, Colchester, CT
18. Preston Ridge Vineyard
Preston Ridge Vineyard is one more place to find unique wines in Connecticut. Located in New London County, this spot has both public and private tasting events at an affordable price. This is also another big spot for weddings in the state.
Wine tastings are held year-round, as the farm has plenty of outdoor fire pits to warm up guests. If you enjoy this vineyard's wines, you can also order bottles online.
Location: 100 Miller Rd, Preston, CT, United States
Vineyard & Winery CT Map
If you're looking for the nearest winery CT, check out the map below. Every major vineyard and winery in the state can be found on the map.
CT Wineries – Final Thoughts
Whether you're looking for a countryside winery or vineyard with a view or just a cool wine bar in CT, any of the places on this list will suffice.
If you're looking for a spot that offers beer, I recommend you check out the article we recently published reviewing the best breweries in CT.