Golf Courses in CT – Best Places to Golf in Connecticut [2023]
Although Connecticut is small in size, there are over 150 golf courses in the state. But with that many options, it can be overwhelming to decide where to play.
Over the course of a few years, I've been able to set up tee times at many of the top local golf courses in Connecticut. After a lifetime of playing golf in the state, I'm certain that these are the best places to play golf in CT.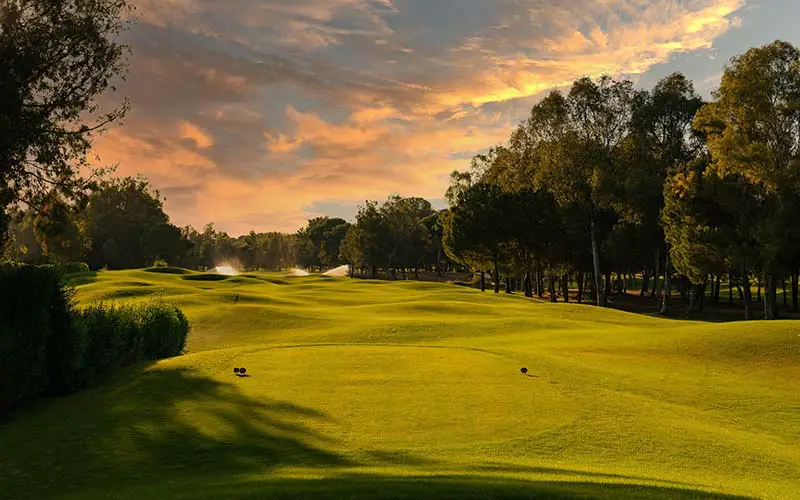 Top Golf Courses in Connecticut (Public & Private)
1. Tamarack Country Club – Greenwich
Tamarack Country Club is one of the best places to go golfing in Connecticut. Membership at this private Greenwich golf course is on the expensive side, but it's well-maintained and has an excellent clubhouse.
The course is beautiful and should be your go-to place to golf if you live in southern Connecticut. The staff at this country club are always super friendly and attentive as well.
Address: 55 Locust Rd #2522, Greenwich, CT
2. TPC River Highlands – Cromwell
TPC River Highlands is another great place to golf in CT. This award-winning golf course spans 148 acres and features great terrain from the tee to the greens. The fairways are amazing as well.
The course is owned, operated, and licensed by the PGA Tour, so you can expect best-in-class service, along with a relatively challenging course. When you play 18 holes here, you'll never be disappointed.
Address: 1 Golf Club Rd, Cromwell, CT
3. Manchester Country Club – Manchester
Manchester Country Club is a lesser-known golf course in Connecticut. It's one of those courses that's always kept in immaculate shape, plus the pace of play is very good.
This country club has fair rates and a solid team at the pro shop. They are very helpful regardless of what level of golfer you are. The course hosts occasional golf tournaments as well.
Address: 305 S Main St, Manchester, CT
4. Rockledge Golf Club – West Hartford
Rockledge Golf Club is a public golf course in West Hartford. This 18-hole championship course is a par 72 and features two practice greens, a driving range, and a practice sand bunker.
The tees, fairways, and greens all play well, plus the staff is courteous. The price to play at this municipal course is very affordable, especially considering its high rating and rave reviews.
Address: 289 S Main St, West Hartford, CT
5. Brooklawn Country Club – Fairfield
Brooklawn Country Club is one of many courses found in Fairfield. It was one of the first members of the United States Golf Association and is very family-friendly.
This is one of the private Connecticut golf courses, so it doesn't get overcrowded. The course is always in good shape and the staff is professional.
Address: 500 Algonquin Rd, Fairfield, CT
6. Yale Golf Course – New Haven
Yale Golf Course is a golf club run by Yale University in New Haven. The course is superb and offers a relatively challenging front 9 holes. The greens are very difficult to gauge, so your putting skills will be tested.
This isn't the cheapest golf course for guests, but it's certainly worth playing if you live in the area. The views alone are worth the cost of admission. Plus, you can say that you've played one of the top courses in the country.
Address: 200 Conrad Dr, New Haven, CT
7. River Ridge Golf Course – Griswald
River Ridge Golf Course is a popular golf course in CT for people living in New London County. It's located just 20 minutes from both Foxwoods Resort Casino and Mohegan Sun Casino and offers extremely affordable rates (18 holes with a golf cart is only $53).
The course has a great layout and is moderately challenging. The greens are fast but are still player-friendly. I highly recommend checking out this par-72 course if you plan on traveling to the area.
Address: 259 Preston Rd, Griswold, CT 
8. Richter Park Golf Course – Danbury
Richter Park Golf Course is one of the more popular golf courses in the Danbury area. This public course is a par 71 that offers scenic views on rolling, wooded terrain. There's plenty of water in play as well, but it's not too difficult for the average player.
In addition to the 18 holes, you can also grab a bucket of golf balls and practice your swing at the driving range. Out of all the public courses in the state, this is certainly one of the best-serviced courses.
Address: 100 Aunt Hack Rd, Danbury, CT
9. The Stanwich Club – Greenwich
The Stanwich Club is another great place to go golfing in CT. Located in Greenwich, the grounds on the course are perfectly maintained and provide ideal conditions. Each hole presents a different challenge, which is very desirable to experienced golfers.
This Connecticut golf course is a good option for anyone who lives in the Greenwich-Stamford area or anyone who frequents the region for business.
Address: 888 North Street, Greenwich, CT
10. Goodwin Park Golf Course – Hartford
Goodwin Park Golf Course offers a great place to golf in Hartford, Connecticut. Both the south (18 holes) and north (9 holes) courses here have open fairways, which makes the game fun for golfers of all skill levels.
This is also one of the golf courses in the state that has a sizeable practice area. You can hit balls on the driving range and the putting greens before your tee time. Rates at the course are affordable too, regardless of whether you're walking or renting a cart.
Address: 1130 Maple Ave, Hartford, CT
11. Country Club of Waterbury – Waterbury
The Country Club of Waterbury is a top-rated place to golf in west-central Connecticut. The course is in fantastic shape with sufficiently difficult holes that feature fast greens.
Their practice area has a putting green, a driving range, and a chipping area. This CT golf course also has an amazing restaurant where you can grab some food when you're done golfing for the day.
Address: 1 Oronoke Rd, Waterbury, CT
12. Topstone Golf Course – South Windsor
Topstone Golf Course is one of Connecticut's hidden gems. It has great fairways with rolling hills and phenomenal greens, making it the best public golf course in the state.
Regardless of the weather (be it rain or heat) the grounds crew always have the course ready for play in a matter of hours. This is one of my favorite golf courses in Connecticut.
Address: 516 Griffin Rd # A, South Windsor, CT
13. Great River Golf Club – Milford
Great River Golf Club is a solid place to play golf in Milford. This Connecticut golf club offers an enjoyable golf experience with well-maintained fairways and greens, along with a number of water hazards.
The course plays well but it is challenging in spots. If you're not a low handicapper, you may struggle a bit. Experienced golfers will thrive here.
Address: 130 Coram Ln, Milford, CT
14. Lyman Orchards Golf Club – Middlefield
Lyman Orchards Golf Club is one more spot to golf in Connecticut if you live in the central part of the state. The golf club has 3 different courses, all with beautiful fairways and smooth greens.
All of the courses feature bunkers, but the more difficult course (Jones Course) also mixes in water hazards and sloped greens.
Address: 70 Lyman Rd, Middlefield, CT
15. The Tradition Golf Club at Oak Lane – Woodbridge
The Tradition Golf Club at Oak Lane is one of the golf courses in CT located in the New Haven area. The golf club offers a mildly challenging course with solid conditions.
Just make sure you show up at your scheduled time. The staff puts a heavy emphasis on making sure each round of golf starts on time.
Address: 1027 Racebrook Rd, Woodbridge, CT
Other Excellent Courses to Play Golf in Connecticut
Aside from the CT golf courses already mentioned, there are countless other high-quality golf clubs in the state. Here are a few other courses that Connecticut golfers can enjoy:
Ellington Ridge Country Club in Ellington
Fairview Farm Golf Course in Harwinton
Wee Burn Country Club in Darien
Lake of Isles in North Stonington
Keney Park Golf Course in Windsor
All of the courses provide excellent conditions, so I recommend visiting the closest one so you don't have to travel across the state to play a round of golf.
Golf CT – Final Thoughts
Those are some of the best golf clubs in Connecticut. All of them play well in my experience, but each course offers different amenities. Whether you're using a caddy or renting a cart, you'll enjoy each one of these courses.
If you just purchase a new golf club (whether it be drivers, wedges, irons, or putters) or want to try out a new brand of golf balls, I recommend you also check out this article about the best driving ranges in Connecticut. Driving ranges offer an affordable opportunity to improve your game before you get on the course.