Best Places for Horseback Riding in CT [Updated 2023]
If you've ever dreamed about horseback riding, you'll be happy to know that there are plenty of places where you can ride horses in Connecticut. In fact, many of these horseback riding facilities even offer affordable lessons.
One of my family members recently got into horseback riding, which required me to do some serious research on the subject. So, I decided it made sense to publish this article about the best places for horseback riding in CT.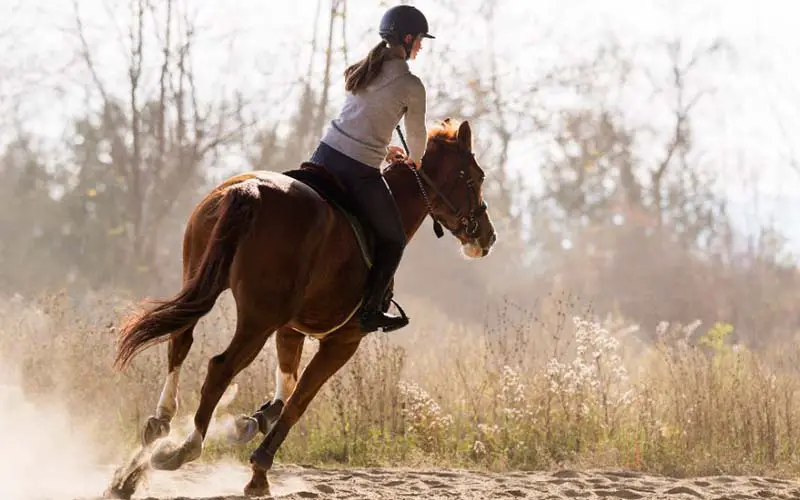 Top Places for Horseback Riding in CT
1. Gold Rush Farms – Easton, CT
Gold Rush Farms owns 130 acres of horseback riding trails in Fairfield County, CT. Their private wooded trail system is exclusive to customers. They offer relaxing trail rides, horse riding lessons, and pony rides for kids.
A 45-minute guided trail ride costs $50 a person, while a 90-minute ride costs $90. There are summer camp options as well. Gold Rush Farms also offers services for purchasing, leasing, or training a horse you already own.
Location: 5 Silver Hill Rd, Easton, CT
2. Blue Spruce Farm – Monroe, CT
Blue Spruce Farm is another top place for horseback riding in Connecticut. This small, rural riding facility in Monroe is family-friendly and offers horseback riding lessons, therapeutic riding for special needs kids, group events, summer camps, and traditional trail riding. The horses are gentle and well-trained, which is perfect for beginners.
The trails at Blue Spruce Farm are beautiful, and some of them even wade through serene ponds and shrubbery. They even host campfires after all of their events. Whether you're looking to learn English or Western styles of riding, Blue Spruce Farm is an excellent place to learn in Connecticut.
Location: 626 Wheeler Rd, Monroe, CT
3. Lee's Riding Stable at Windfield Morgan Farm – Litchfield, CT
Lee's Riding Stable is an excellent place for CT horseback riding. Located on Windfield Morgan Farm, which encompasses 100 rolling acres of land, the stable has been raising horses since 1976.
The horses here are well-mannered, and the trail guides are highly experienced. If you're looking to take a horseback riding lesson, Lee's offers group, private, and semi-private classes. 1-hour classes cost $60 a person, and both indoor and outdoor rings are available. You can find Lee's Riding Stable in Litchfield, CT.
Location: 57 E Litchfield Rd, Litchfield, CT
4. Stirrup Fun Stables – Lebanon, CT
Stirrup Fun Stables is a rescue horse facility in Lebanon, CT. They have a ton of horses, many of them rescued from the "Help a Horse" event. In addition to rescuing horses, they also offer lessons on their 6 trails (some trails may be closed depending on the weather). The trails are open year-round and anyone over the age of 8 can book a ride.
Lessons cost $40 for an hour, but they also offer an 8-week program for $300. Anyone over the age of 6 can get on the saddle and take a lesson at Stirrup Fun Stables. This is a very accessible place to try horse riding in CT.
Location: 1211 Exeter Rd, Lebanon, CT
5. Bit by Bit Stable – Uncasville, CT
Bit by Bit Stable is a lesson, training, and horse boarding facility located in Uncasville, CT. This family-oriented facility has 45 acres of trails available, and teaches everyone, from children to adults. It doesn't matter if you're a beginner or advanced rider, you'll learn a lot at Bit by Bit Stable.
They have 20 horses to choose from that you can take out and tour the trail. Lessons are given 4 days a week and include private, semi-private, and group options. All of their classes have high ratings.
Location: 132 Moxley Rd, Uncasville, CT
6. Standing Stones Farm – Ledyard, CT
Standing Stones Farm is a horseback riding facility found in Ledyard, Connecticut. If you're looking to upgrade your equestrian skills, this is the place to do it. The head horse trainer here is Jordan Vincent LaPlaca, who has won a USDF gold medal.
Standing Stones Farm holds clinics for experienced riders and jockeys throughout the year, but they also train race horses at a very high level. If you're looking for a place to train your horse, this is one of the best places to do it in CT.
Location: 313A Shewville Rd, Ledyard, CT
Best Horseback Riding Trails in Connecticut
These are Connecticut's best horseback riding facilities. Every facility offers a different set of amenities and trails. Whatever horseback-riding place you decide to visit, I'm confident that you'll enjoy your time horseback riding in CT.