10 Best Trampoline Parks in CT [2023 Update]
Whether it's for a birthday party, a rainy day, or simply to burn off some energy, trampoline parks are a great place to take your kids. Fortunately, there are plenty of great trampoline parks in CT.
Over the past year, I've visited all of the most popular trampoline parks in the state, so I figured it made sense to make a list of the top ones. So without further ado, these are the best trampoline parks in CT.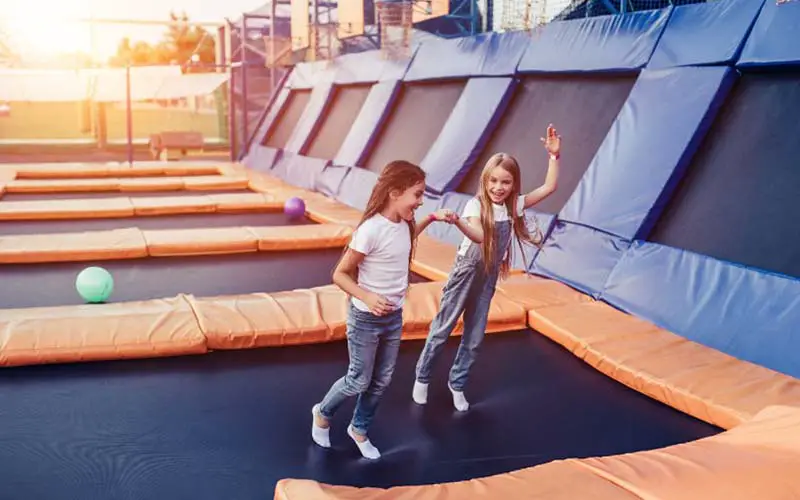 Top Trampoline Parks in CT
1. Rockin' Jump Trampoline Park – Trumbull
Rockin' Jump Trampoline Park is one of the best trampoline parks in Connecticut. You can find this indoor adventure center in Trumbull, right next to the Trumbull Sports Zone. General admission tickets here cost $27 for 2-hours of jumping. Plus, there's a small discount for children 4 and under).
They have a wide variety of indoor attractions in their trampoline park, including a balance beam, basket hoop, dodgeball area, rock climbing wall, and vertical ramps. And of course, Rockin' Jump Trampoline Park also has an open jump arena.
Location: 25 Trefoil Dr, Trumbull, CT
2. Flight Adventure Park – Manchester
Flight Adventure Park is another top trampoline park in CT. This is one of the larger indoor trampoline parks in the state, with 35,000 square feet of trampolines. You can have a ton of fun at this place.
They have a number of cool attractions, like air slam basketball, an arcade, and a ninja warrior course. There's also a separate section for toddlers, so you don't have to worry about them bumping into any of the bigger kids. A 60-minute open-jump session here costs $19, while a 2-hour jump is $29.
Location: 145 Spencer St, Manchester, CT 
3. Jumpz Trampoline Sports – Danbury (formerly Bounce)
Jumpz Trampoline Sports (formerly Bounce), is a popular CT trampoline park in Danbury. They have wall-to-wall trampolines and a number of fun games, including volleyball, dodgeball, swings, diving boards, and tightropes.
But this indoor amusement park has more than just trampolines. Jumpz also has laser tag and an arcade, making it the perfect place for birthday parties. Pricing for Jumpz Trampoline Sports starts at $15 a person for an hour, while 2 hours is $30.
Location: 21 Prindle Ln, Danbury, CT
4. Funz Trampoline Park – Hamden
Funz Trampoline Park is another one of the top CT trampoline parks. This 50,000-square-foot facility features a ton of cool sections, like foam pits, spider walls, soccer fields, and rock climbing walls. There's a ton to do for kids of all ages.
There's a second Funz location in Waterbury as well, and they have a completely different set of trampoline activities available. Tickets a Funz in Hamden cost $17 for an hour or $27 for two.
Location 1: 1245 Dixwell Ave, Hamden, CT
Location 2: 950 Wolcott St, Waterbury, CT
5. Urban Air Trampoline and Adventure Park – Orange
Urban Air Trampoline and Adventure Park is a massive indoor amusement park in Orange, CT. They have a number of attractions aside from the trampolines, like bumper cars, laser tag, bowling, rock climbing, a trapeze, and a tube playground.
The Drop Zone attraction is really cool too. It's a giant inflatable airbag that allows kids to practice flips, spins, and other air tricks. Tickets for Urban Air cost $25 each, but there is no time limit (although the park does reserve the right to limit you to 2 hours if it's busy). Urban Air has a second location in Manchester as well, but it's a bit smaller.
Location: 260 Bull Hill Ln, Orange, CT
6. Sky Zone Trampoline Park – Norwalk
Sky Zone is another one of CT's trampoline parks, this time located in Norwalk. The trampoline park has plenty of attractions, including the freestyle jump, foam pit, dodgeball, warped wall, ninja warrior course, and ultimate volleyball. The Glow event on Friday and Saturday nights is also really fun.
Tickets at Skyzone cost $34.99 for a 90-minute pass or $54.99 for an all-day pass. They also hold events, fitness programs, and classes for kids. Just make sure you sign the waiver before attending.
Location: 360 Dr Martin Luther King Jr Dr, Norwalk, CT
7. Extreme Air Indoor Trampoline Park – Cheshire
Extreme Air Indoor Trampoline Park is one of the Connecticut trampoline parks found in the central part of the state. They have some fun attractions like the high jump, battle beams, dodgeball, and a rock wall.
Extreme Air has a unique parent penthouse that overlooks the park so you don't have to go downstairs to check on your kids. For food, snacks are available at the concession bar downstairs. Tickets for this park cost $20 for an hour or $28 for two.
Location: 540 W Johnson Ave, Cheshire, CT
8. Fun In Trampoline Park – Middletown
Fun In Trampoline Park is one of the lesser-known trampoline parks in CT. It's located in Middletown on South Main Street, in the same plaza as Denny's.
The park features a range of fun activities, including dodgeball, basketball, foam pits, a ninja course, a rock wall, and VR go-karting. They have a cool 3-story playground as well. Prices for Fun In Trampoline Park start at $18 for an hour, while 2 hours cost $29.
Location: 653 S Main St, Middletown, CT
9. Supercharged – Montville
Supercharged is a popular go-kart racing place in Montville, however, they do have an extensive trampoline section with attractions like trampoline dodgeball, trampoline soc-air, a ninja course, and an open jump court.
A 1-hour pass is only $15, making this one of the cheapest trampoline parks in the state. However, if you want to see what you can win at the arcade, that will cost extra. The same goes for go-karting, and axe-throwing. As a side note, if you get hungry bouncing around all day, the pizza here is pretty good too.
Location: 1 Sachatello Industrial Dr, Oakdale, CT 
10. Funcity Trampoline Park – New Britain
Funcity is a Connecticut trampoline park located in New Britain. It's operated by the same company that owns Funz Trampoline Park in Hamden and Waterbury, so they have very similar attractions. The only difference is it's closer for anyone that lives in northern CT.
Location: 50 E Main St, New Britain, CT 
Get Air Trampoline Park – Stamford (Closed)
Get Air is another good trampoline park for families, found in Stamford. However, they are now closed. It's possible another trampoline place will replace Get Air Trampoline Park in the future, but that has yet to be determined.
Location: 11 Riverbend Dr S, Stamford, CT
Best Trampoline Park CT – Final Thoughts
Those are all of Connecticut's top trampoline parks. If you're looking for a fun place to take your kids to get some exercise, any of these parks are perfect. As a bonus, many of the trampoline parks CT also have other cool things to do beyond just trampolines.