Best Pizza in CT – 15 Connecticut Pizzerias to Try [2023 Update]
There are dozens of amazing pizza restaurants in Connecticut, making it difficult to choose just one. Whether you prefer deep-dish pizza, New York-style pizza, or thin-crust pizza, you'll have plenty of options in CT.
Having lived in Connecticut for most of my life, I've eaten at most of the pizza restaurants in the state. So, I decided to put together a list of the best places to eat pizza in CT. Here are my top 15.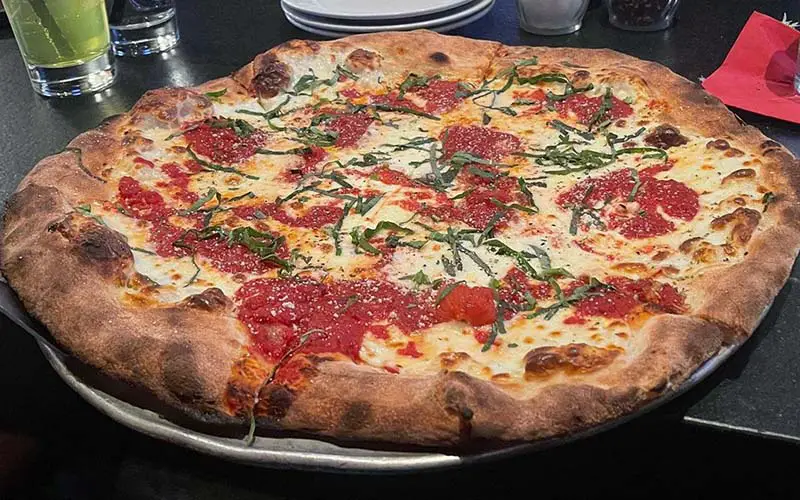 Top Places to Eat Pizza in Connecticut
1. Frank Pepe Pizzeria Napoletana – New Haven
Frank Pepe Pizzeria Napoletana is widely regarded as one the best spot to order pizza in Connecticut. First opening in 1925, Frank Pepe Pizzeria has locations in West Hartford, Fairfield, Danbury, and Manchester, but the restaurant in New Haven is the original.
The pies here come in a variety of flavors, including the original tomato pie, Margherita, mozzarella & pepperoni, mozzarella & sausage, and white clam. This is truly authentic New Haven pizza.
Location: 157 Wooster St, New Haven, CT
2. Colony Grill – Stamford
Colony Grill is a popular pizza place in Stamford. For nearly 90 years, this iconic pizzeria has been serving thin-crust bar pie in the local area. The slices are small and don't have too much cheese or sauce, but they pack some serious flavor.
Some of the popular pizzas on the menu include cheese, meatballs, sausage, pepperoni, onion, and hot oil (the hot oil is spicy). They offer pizza salad and breakfast pizza on the menu as well. In addition to its Stamford location, Colony Grill also has restaurants in Milford, Fairfield, and Norwalk.
Location: 172 Myrtle Ave, Stamford, CT 
3. Mulberry Street Pizza – Manchester
Mulberry Street Pizza is one of the best places to grab pizza in Manchester, CT. If you live in northern Connecticut, you need to stop by this pizzeria.
You can build your own pizza or order one of the many New York-style brick oven pizzas off the menu. Some of the top sellers include Hawaiian pizza, Italian pizza, and White Castle cheeseburger pizza. Just know that Mulberry Street Pizza is closed on Mondays
Location: 981 Main St, Manchester, CT
4. Krust Pizza Bar – Middletown
Krust is one of the top pizza places in central Connecticut. Located in Middletown, this Connecticut pizzeria serves delicious wood-fired pizzas, along with small plates and craft beers.
The menu at Kurst Pizza Bar features both white and red pies that can be cooked with a variety of toppings, including meat, veggie, buffalo chicken, mushroom, and cheese.
Location: 686 Main St, Middletown, CT 
5. Domenick & Pia Downtown Pizzeria – Waterbury
Domenick & Pia Downtown Pizzeria serves a fantastic Connecticut pizza. Found in Waterbury, this place allows you to order a full pie or pizza by the slice.
They have a very simple menu of New York-style pizzas, offering toppings like cheese, pepperoni, sausage, meatball, anchovies, bacon, and broccoli. The pizzas here are hot, fresh, and affordable, making Domenick & Pia one of the premier pizza parlors in Waterbury.
Location: 3 Brook St, Waterbury, CT
6. Angelina's Pizza – Hartford
Angelina's Pizza is one of the best places to order pizza in Harford. They serve pies with huge slices in 16 different flavors, along with tasty grinders, wings, and calzones.
The menu features several specialty pizzas like chicken ranch, shrimp scampi, marinated veggie, bacon cheeseburger, and tomato & basil, but you can also build your own pizza for just $12.99.
Location: 41 Prospect Ave, Hartford, CT
7. Mystic Pizza – Mystic
Mystic Pizza is the go-to spot to order pizza in Mystic, CT. This is the pizza shop that inspired the 1988 film "Mystic Pizza," so there will always be a distinct nostalgic atmosphere when dining here.
Some of the specialty pies here include seafood delight, Texas chicken, meatza, Hawaiian, vegetarian delight, Margherita, and the house special. You can also build your own pizza. Small pies cost about $11, while large pies are $18.
Location: 56 W Main St, Mystic, CT 
8. Zuppardi's Apizza – West Haven / Ansonia / Derby
Zuppardi's Apizza is another one of the Connecticut pizzerias found in the greater New Haven area. This family-run pizza shop has been at its current location in West Haven for over 85 years.
The menu features small, medium, and large pizza pies in a number of flavors, like plain, mozzarella, meatball, bacon, tuna, chicken, ricotta, and eggplant. I would argue that the sausage pizza is the best option here.
Location: 179 Union Ave, West Haven, CT
9. E&D Pizza Company – Avon
E&D Pizza Company is one of Connecticut's top pizzerias found in the greater Hartford area. The restaurant specializes in thin-crust pizzas, that are hand-made with premium ingredients.
Some of the specialty pies available here include Neapolitan tomato, Margarita, chicken, bacon & ranch, and Philly cheese steak. They have gluten-free pizzas as well. E&D Pizza Company can be found in Avon offering both takeout and delivery.
Location: 200 W Main St, Avon, CT
10. Sally's Apizza – New Haven
Sally's Apizza is home to one of the highest-reviewed pizzas in Connecticut. Known for its old-school coal-fired thin-crust pizza, this restaurant is located just down the road from the famous Frank Pepe Pizzeria.
The chefs here hand-craft authentic New Haven pizza using original family recipes dating back to 1938. Some of the toppings available include mozzarella, parmesan, pepperoni, sausage, meatball, bacon, fresh clams, and garlic to name a few. You can order a plain tomato sauce pie as well.
Location: 237 Wooster St, New Haven, CT
11. Tony's Pizza – Willimantic
Tony's Pizza is one more highly-rated pizzeria in CT. This old-school pizza parlor has been serving slices in Willimantic for nearly 50 years, offering dine-in, takeout, and delivery.
The menu features 20 different pizza toppings, including mozzarella, feta, jalapeño, pepperoni, ham, sausage, salami, and pineapple. This restaurant has great appetizers, pasta, calzones, grinders, and desserts as well.
Location: 117 Main St, Willimantic, CT
12. Casa Bianca Pizza – West Haven
Casa Bianca Pizza is one of the pizza restaurants in CT with multiple locations. You can find them in West Haven, New Haven, and Ansonia serving a variety of gourmet pies.
A few of the pizza toppings on the menu here include pepperoni, hamburger, green peppers, chicken, steak, artichoke, garlic, sausage, mushroom, and shrimp. The service at Casa Bianca Pizza is fast and the staff is always friendly.
Location: 217 Campbell Ave, West Haven, CT
13. Modern Apizza – New Haven
Modern Apizza is another one of CT's top pizzerias found in New Haven. This Italian spot serves classic brick-oven, thin-crust pizzas that simply taste amazing.
You can choose between a plain, mozzarella, or an American cheese pie, then add toppings like onion, pepper, meatball, sausage, spinach, pepperoni, bacon, and mushroom. Aside from the pizza, they also have really good garlic bread.
Location: 874 State St, New Haven, CT
14. George's Pizza & Restaurant – Unionville
George's Pizza & Restaurant is another pizzeria in Connecticut that offers thin-crust pies. The restaurant has a very relaxed atmosphere and the service is phenomenal.
The menu features traditional pizza flavors like roasted peppers, meatball, pepperoni, and vegetable but they also have unique specialty pizzas. Some of the specialty pies include baked ziti, clam, Greek, Mexican taco, three cheese pesto, and chicken parmigiana.
Location: 9 School St, Unionville, CT
15. Pellicci's – Stamford
Pellicci's serves one of the better pizzas in CT if you live near the Connecticut-New York border. You're able to order a variety of pies including pepperoni, hot peppers, extra cheese, mushrooms, sausage, anchovies, and artichoke.
Besides pizza, this old-school Italian eatery also has great entrees, making it one of the premier Italian restaurants in Connecticut.
Location: 96 Stillwater Ave, Stamford, CT, United States
Other Great Pizzas in CT
There are plenty of other great pizzerias in CT. Here are a few honorable mentions.
BAR in New Haven
Ernie's Pizzeria in New Haven
Little City Pizza in Avon
New England Pizza & Restaurant in Vernon
Famous Pizza House in Norwalk
Crown Pizza of Waterford
BAR is a personal favorite of mine. Not only is it a great pizza restaurant, but it's also one of the best bars in CT.
Best Pizza CT – Final Thoughts
Those are the best pizzerias in Connecticut. New Haven is considered the pizza capital of the world, so it's no surprise that there are so many great pizza restaurants in that area. However, you don't have to travel very far to find excellent pizza near your home.