14 Best Pumpkin Patches in CT (Pumpkin Picking Map 2023)
Picking pumpkins at a pumpkin patch is a fall tradition in Connecticut. Everyone wants to get their hands on the best pumpkin before Halloween, but which orchards are the best? I decided to find out.
I made a list of all the most popular pumpkin patches in Connecticut, along with a map so you can easily find the one closest to you. So without further ado, these are the best pumpkin patches in CT. (You can view the pumpkin patch map towards the bottom of this page).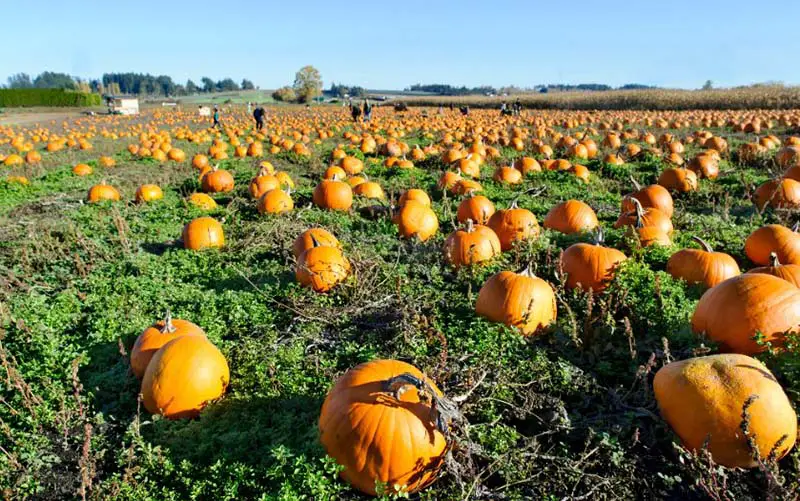 Best Pumpkin Patches in Connecticut
1. Jones Family Farms
Jones Family Farm is a great place to pick pumpkins in southern Connecticut. The farm is located in Shelton and features a corn maze, hay rides, farm animals, autumn squash, apple picking, and pumpkin picking. It's a great place to enjoy Connecticut's fall foliage as the leaves start to fall in September and October.
Location: 606 Walnut Tree Hill Rd, Shelton, CT
2. Blue Jay Orchards
Blue Jay Orchards is a popular farmers market and pumpkin patch in CT found near Danbury. They have a field of high-quality pumpkins that range from decorative mini-pumpkins to jumbo pumpkins. But, Blue Jay Orchards offers more than just pumpkins, gourds, and squash. They also offer top-notch apple picking. The orchard spans over 120 acres and encompasses 8,000 trees, which produce more than 20 varieties of apples.
Location: 125 Plumtrees Rd, Bethel, CT
3. Lyman Orchards Farm
Lyman Orchards Farm is another pumpkin patch in Connecticut. They let you pick your own pumpkin on their giant 200-acre fruit field overlooking the Connecticut River Valley. This is scenic New England at its best. There are many pumpkin varieties available, but the two main ones grown here are sugar and carving pumpkins. Lyman Orchards offers fall corn mazes and apple picking as well.
Location: 32 Reeds Gap Rd, Middlefield, CT
4. Foster Farm
Foster Farm is a CT pumpkin patch found in South Windsor. The Farm has all types of attractions for kids, like corn mazes, playgrounds, farm animals, and concessions. You can pick up a pumpkin at Foster Farms, but they are known for their mums too.
Location: 90 Foster St, South Windsor, CT 
5. The Pickin' Patch
The Pickin' Patch is a little-known Connecticut pumpkin patch on the Simsbury-Avon border. This patch grows a number of different types of pumpkins in all shapes, sizes, and colors. You're able to fill your wagon or wheelbarrow as you walk the field looking for your favorite pumpkin to turn into a Jack-o'-lantern for Halloween. This is one of the best places to pick up a pumpkin if you live in northwestern Connecticut.
Location: 279 Nod Rd, Avon, CT 
6. Pumpkintown USA
Pumpkintown USA is a Connecticut pumpkin patch with a popular pumpkin exhibit. With over 100 Pumpkinhead people and their pets, this is one of Connecticut's best non-scary Fall attractions. But aside from that, Pumpkintown USA also sells pumpkins, locally handcrafted goods, fall decorations, and fresh-baked apple cider donuts.
Location: 93 E High St, East Hampton, CT
7. Bishop's Orchards Farm Market & Winery
Bishop's Orchards Farm Market & Winery is one of the CT pumpkin patches found in the southern part of the state. Their orchard produces perfect, sphere-shaped pumpkins that are ready for Halloween. You can also pick up corn stalks, mums, gourds, squash, and Indian corn here too. Plus, they hold events, like hay mazes and scarecrow making.
Location: 1355 Boston Post Rd, Guilford, CT
8. Jesse Lee Pumpkin Patch
Jesse Lee Pumpkin Patch is a great place to pick up a pumpkin in CT. Their pumpkin patch is open throughout the month of October. Every pumpkin picked here directly benefits the Navajo Nation by providing nearly 700 seasonal jobs. Whether you're decorating your pumpkin or baking pumpkin seeds, this is an excellent place to prepare for Fall in Connecticut.
Location: 207 Main St, Ridgefield, CT
9. Whittle's Willow Spring Farm
Whittle's Willow Spring Farm is another good spot to look for your perfect pumpkin in Connecticut. They also have a farm stand that offers a wide array of vegetables and fruits at an affordable price. It's one of the few pumpkin patches in New London County, so this is the place to go if you live in the southeastern part of the state.
Location: 1030 Noank Ledyard Rd, Mystic, CT
10. Angevine Farm – Pumpkin Patch and Harvest Barn
Angevine Farm is one more place to pick pumpkins in CT. This scenic pumpkin patch can be found in Litchfield County on the western edge of Connecticut. It's an excellent spot to find your Halloween pumpkin this fall if you live in the area. You can also cut down your own Christmas tree here as well.
Location: 40 Angevine Rd, Warren, CT
11. Silverman's Farm
Silverman's Farm is one of the more well-known pumpkin patches in Connecticut. You can pick a wide range of fruit at Silverman's Farm throughout the year, including peaches, blueberries, raspberries, apples, and pumpkins. Their fresh baked apple pies, donuts, and ciders are really good too. You can find this farm in Easton, Connecticut.
Location: 451 Sport Hill Rd, Easton, CT
12. Castle Hill Farm
Castle Hill Farm has an awesome fall festival where you can pick pumpkins in Connecticut. This place is great for families since they have a 7-acre corn maze, pick-you-own-pumpkin patch, hayrides, farm animal exhibits (goats & ducks), live music, and a food truck. All of the fall events here are great.
Location: 1 Sugar Ln, Newtown, CT 
13. Warrup's Farm
Warrup's Farm is a good spot to find CT pumpkins in the Danbury area. You're able to get a pumpkin here during all weekends in October, between the hours of 10 am and 5 pm. This is one of the lesser-known farms for pumpkin picking, so your chances of finding your perfect pumpkin are greater compared to other farms.
Location: 11 John Read Rd, Redding, CT
14. Sam Bridge Nursery & Greenhouses
Sam Bridge Nursery & Greenhouses is one of the top Connecticut pumpkin patches found in Greenwich. This is one of the farms that offer free hay rides during the fall season, so take advantage of that if you're bringing your family. This is a super convenient spot to search for a pumpkin if you live in the Greenwich area.
Location: 437 North Street, Greenwich, CT
Where to Pick Pumpkins in Connecticut (Map)
If you're looking for a pumpkin patch CT, check out the map below. These are the top places to pick a pumpkin in Connecticut. This map will help you find the pumpkin farm closest to you.
Best Pumpkin Patch CT – Final Thoughts
I hope you enjoyed this guide to pumpkin patches in Connecticut. Whether you want to make a Jack-o'-lantern, bake pumpkin pie, or roast your pumpkinseeds, these farms are a ton of fun for the entire family.
Many of the farms on this list also have other fun fall activities to offer as well, like corn mazes and hay rides (but, not all farms have extra activities). If you're going to be out picking pumpkins, I recommend you check out the article here about the best corn mazes in Connecticut.
You may also want to check out this article about where to find a Christmas tree in CT since the holidays are right around the corner.
And if you want to grow your own pumpkins next year, check out this article about the top garden centers and nurseries in Connecticut.