Hiking in CT – 15 Best Hiking Trails in Connecticut
Although Connecticut is known for its suburbs, it also has some beautiful hiking trails where you can take in nature. In fact, there are dozens of amazing state parks in nature preserves to explore in CT.
In this article, I'll let you know where the top hiking spots are located in the state, so you can find the ones closest to you. I even included a map of the most popular Connecticut hiking trails towards the bottom of this page. So without further ado, these are the best places to hike in CT.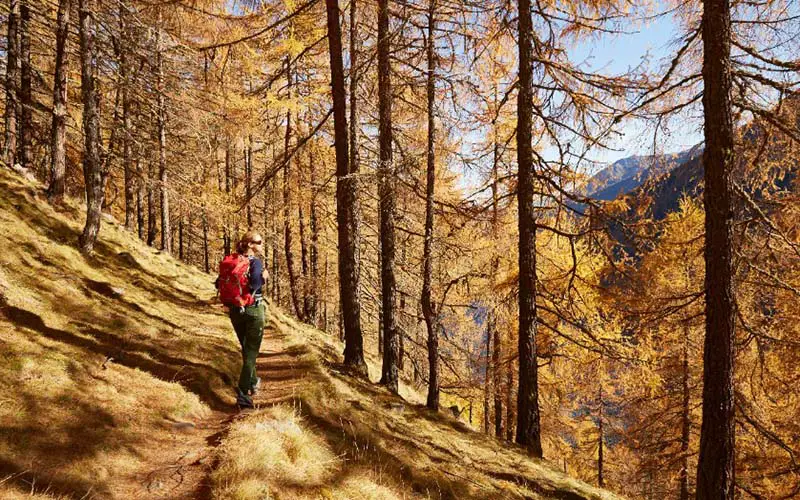 Top Places to Hike in CT
1. Sleeping Giant State Park – Hamden
Sleeping Giant State Park is home to one of the best hiking trails in CT. This park got its name because of the two miles of mountaintop trails that resemble a sleeping man.
The state park features 1.5 miles of marked trails that lead to an observation tower at the top of Mt. Carmel. The peak has an elevation of 736 ft, so you'll be able to enjoy views of Connecticut's skyline that extend from Long Island Sound to New Haven.
Location: 200 Mt Carmel Ave, Hamden, CT
2. West Hartford Reservoir – West Hartford
West Hartford Reservoir is a great place to hike near Hartford, Connecticut. The trails are relatively flat with only a handful of small hills, so it's very beginner-friendly.
Many of the trails are paved as well, so the paths are good for running, walking, and cycling. There are several loops that range from 2 miles to about 3.5 miles. Plus, you get a nice view of the 6 large reservoirs on the side of the trails.
Location: West Hartford, CT
3. Mianus River Park – Stamford
Mianus River Park is one of the top Connecticut hiking trails in Stamford. This 400-acre forest is sandwiched between Greenwich and Stamford and has a variety of trails available to choose from for all different skill levels of hikers.
The trails range from 2.5 to 4.5 miles long and expand past a number of natural obstacles like the Mianus River, ponds, and rock formations. They even host monthly group hikes.
Location: Merriebrook Ln, Stamford, CT
4. White Memorial Conservation Center – Litchfield
The White Memorial Conservation Center is one of the best places to go hiking in Litchfield, Connecticut. It has over 40 miles of maintained trails that can be used for hiking, biking, horseback riding, cross-country skiing, and snowshoeing.
The difficulty level of the trails is easy to moderate, and they're free to use. There's also a cool natural museum on the property that's worth a visit.
Location: 80 Whitehall Rd, Litchfield, CT
5. Ragged Mountain Memorial Preserve – Berlin
Ragged Mountain Memorial Preserve is one of my favorite places to go hiking in CT. When you hike to the top of this traprock mountain, you'll be able to take in some beautiful scenic views from the cliffs overlooking the reservoir.
The mountain has plenty of easy hiking trails for beginners, but it's also home to some of the best rock climbing in Connecticut. This is one of the many hikes found in central Connecticut.
Location: Ragged Mountain Rd, Berlin, CT
6. Hammonasset Beach State Park – Madison
Hammonasset Beach State Park is a great place to hike in the New Haven area. Located in Madison, this coastal public recreation area has 2 miles of beachfront property on Long Island Sound.
There are a number of cool trails and footpaths to check out, all with a view of the ocean. Plus, you can take a walk along the boardwalk. The park allows for camping as well.
Location: 1288 Boston Post Rd, Madison, CT
7. Bear Mountain Trail – Salisbury
Bear Mountain is another top-notch hiking trail in CT. At 2,316 feet, Bear Mountain is the highest mountain that sits entirely in Connecticut, so there's a decent elevation gain during your hike.
The mountain presents a moderately-challenging hike that takes about 3 hours to complete. It's also a popular spot for both backpacking and camping. This hike is located in the northwest corner of the state, near the New York-Connecticut border.
Location: Bear Mountain, Salisbury, CT
8. Farm River State Park – East Haven
Farm River State Park has a great hiking trail in East Haven. The trail is short (you can complete it in about 30 minutes) but it offers some great views of the area.
The park doesn't get very crowded, so this is an excellent place to peacefully hike by yourself without distractions.
Location: 121 Mansfield Grove Rd, East Haven, CT
9. Bluff Point State Park Trail – Groton
Bluff Point State Park Trail is a popular Connecticut hiking trail in near Mystic and New London. The 3-and-a-half-mile loop takes about an hour to complete and is very beginner-friendly.
There are plenty of smaller trails at the state park that branch off toward the water and offer scenic views. Aside from hiking, you also can bike here too.
Location: 55 Depot Rd, Groton, CT
10. Bigelow Hollow State Park – Union
Bigelow Hollow State Park is another great place to hike in Connecticut. Located in Windham County, the state park spans 516 acres and borders the Nipmuck State Forest.
The park has a ton of loop trails that you can hike and bike, but there is also a large lake which is perfect for kayaking. Just be aware that there is a parking fee for out-of-state vehicles.
Location: 298 Bigelow Hollow Rd, Union, CT 
11. Wadsworth Falls State Park – Middletown
Wadsworth Falls State Park is one of the more scenic hikes in CT. This state park has a number of easy trails that lead to a large waterfall.
The loops take about 1.5 hours to hike, plus there are fishing, biking, and picnicking sites available. There are multiple parking areas here at the waterfall and the park's pond.
Location: 721 Wadsworth St, Middletown, CT
12. Silver Sands State Park – Milford
Silver Sands State Park is a fantastic place to go hiking in Connecticut if you live in the greater New Haven area. The trail is a 2-mile stretch of beach that extends out to Charles Island during low tide.
Not only is this a popular hiking trail, but it's also a great spot for bird-watching. Silver Sands State Park doubles as a Natural Area Preserve for nesting birds.
Location: 1 Silver Sands Pkwy, Milford, CT
13. Talcott Mountain State Park – Simsbury
Talcott Mountain State Park is one of the many highly-rated hikes in Connecticut. The mountain's peak is about a quarter-mile high, where you can find a cool mountaintop lookout tower.
The trails here are well-maintained and don't take too long to walk. It's relatively steep at the beginning, but the trails eventually level out. Once you get to the top, you'll enjoy a nice panoramic view of the state. This is a solid moderate-level hike.
Location: Summit Ridge Dr, Simsbury, CT
14. Mine Hill Preserve – Roxbury
Mine Hill Preserve is home to one more excellent hiking trail in Connecticut. It's an interesting place to visit with many historical buildings, quarries, and mines, alongside 4 miles of hiking trails.
The nature preserve has multiple loops. The main loop is 3.5 miles long and features moderately difficult terrain like steep rocks. There's also a smaller 2-mile loop and a reservoir loop that are a bit easier.
Location: Mine Hill Preserve, Roxbury, CT
15. Pachaug State Forest – Voluntown
Pachaug State Forest is home to several additional hiking trails found in Connecticut's state parks. This is the largest forest in Connecticut, so it's easy to get lost in the trails. You could easily hike for hours without running into anyone else.
In addition to hiking, Pachaug State Forest is also perfect for biking, horseback riding, and camping. You can find the state park on the Connecticut-Rhode Island border near Norwich.
Map of Connecticut Hiking Trails
Here's a map of the best places to hike CT. Hikers from all around the state can easily find a trail nearby.
Best Trails and Hikes in Connecticut – Final Thoughts
Those are all of the top places to hike in Connecticut. Whether you prefer to hike in the woods or on the beach I'm certain that you'll enjoy these CT hiking trails. If you're looking for a route that's a bit more challenging, I recommend you check out the article I wrote about the best mountains in CT. Or if you prefer biking, check out this post about the top bike trails in Connecticut.