River Tubing in CT: Best Water Tubing Spots for 2023
Whether you're looking to go river tubing, towed tubing on a lake, or hit a tube ride at the water park, you're in luck. There are plenty of places to go tubing in CT.
However, not all tubing places are created equal. So, we recently put together a list of all the top tubing parks in the state. So, let's dive in.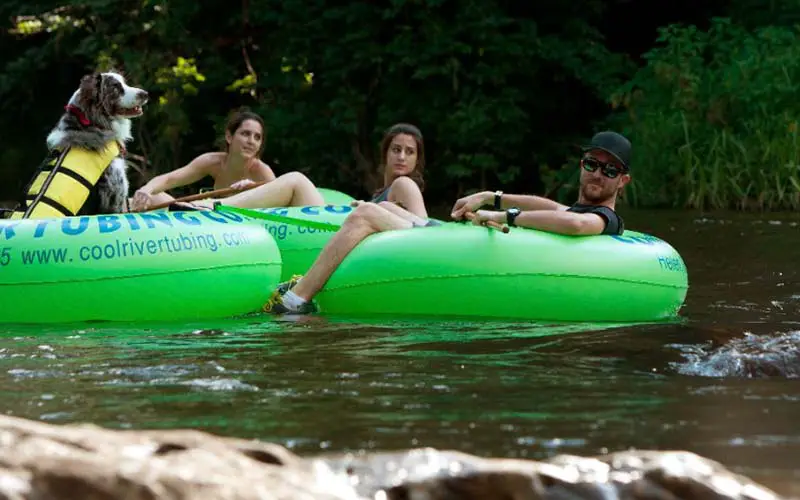 River Tubing in Connecticut
Farmington River Tubing
Farmington River Tubing is the top tubing place in CT. You get to ride 2.5 miles down the Farmington River passing through 3 different sets of rapids. It's a ton of fun trying to float your way through the white water.
They supply the tubes, so all you have to bring is a pair of clothes you're comfortable swimming in, and ideally some type of shoes. It costs $25 per person for a ticket at Farmington River Tubing, making this the best place to go river tubing in Connecticut.
Address: 92 Main Street, New Hartford, CT
Water Tubing in CT
Technically, Farmington River Tubing is the only place to go river tubing in CT, but there are a couple of places that offer tube rides. Below, I've listed a few water parks and watersport lakes that allow you to ride tubes in CT.
If you're looking for a cool experience on the river, I recommend you check out the article we write about white water rafting in CT.
Connecticut Watersports
Connecticut Watersports is a company out in Litchfield CT, that offers water activities like tubing, waterskiing, wakeboarding, and banana boat rides. It costs $240/Hour to rent out the boat, but you can take up to 8 people with you.
This is one of the most fun places to go water tubing in CT because you have a number of options when it comes to what equipment you want to use. You'll also be able to go faster on a lake than you can on a river since a boat is pulling you. You can visit Connecticut Watersports on Bantam Lake.
Address: 407 E Shore Rd, Morris, CT
Lakeside Watersports
Lakeside Watersports is another company that offers water tubing in Connecticut, in addition to wake surfing, waterskiing, and kneeboarding. Speed boats pull you along in the water, so you're able to get some serious speed on these inflatable tubes.
While tubing, you can ride alone or with your friends, it's your choice. It costs $200/hour (not including gas) to rent the boats, but you can bring up to 10 people with you. You can find Lakeside Watersports on Candlewood Lake, which is Connecticut's largest lake.
Address: 227 Candlewood Lake Rd, Brookfield, CT
Lake Compounce
Lake Compounce is known as an amusement park in Southington, but they also have a large waterpark with plenty of tube rides. The park has multi-passenger tube rides and single-person racing rides that you can go on as many times as you want.
Ticket for Lake Compounce cost $60 a person, but season passes for $100 (although the tubing rides are only open in the summer). It's not the same as tubing in a river or on a lake, but Lake Compounce is always plenty of fun.
Address: 185 Enterprise Dr, Southington, CT
Tubing CT – Final Thoughts
If you want to go tubing in a river, Farmington River Tubing is going to be your only option in CT. However, I would argue that lake tubing, can be just as fun as riding a tube in a river. It's a bit more expensive than the river, but you can have a larger group.
In the winter, there's also the option of snow tubing in Connecticut.