Boardwalks offer a great opportunity to go for a relaxing walk on the beach or even get some cool pictures for Instagram. And fortunately, Connecticut has plenty of boardwalks.
I recently took a trip to all of the most popular boardwalks in CT to see which ones are the best. Here's what I found.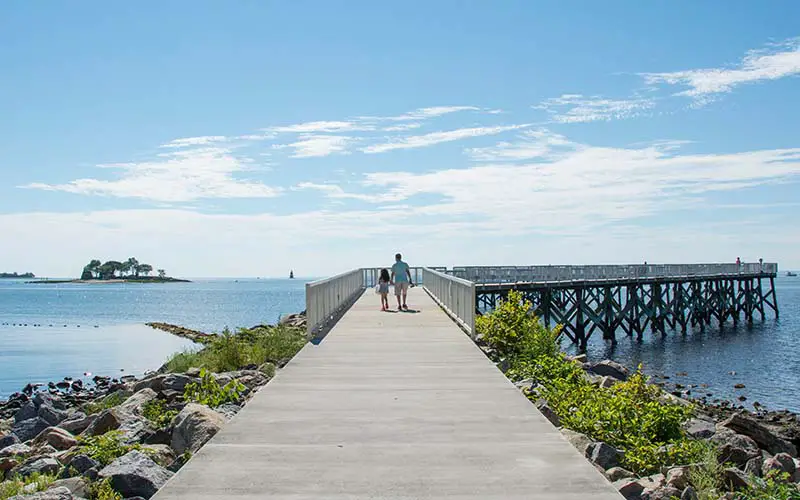 Best Boardwalks in Connecticut
1. Ocean Beach Park – New London
Ocean Beach Park is home to what is considered the best boardwalk in Connecticut. Located in New London, this boardwalk is wide and runs parallel to the beach, offering some great ocean views.
There are also a few shops, an arcade, and even an amusement park on this boardwalk. There is no shortage of attractions at Ocean Beach State Park.
Location: 98 Neptune Ave, New London, CT
2. Silver Sands State Park – Milford
Silver Sands State Park is the home to a beautiful boardwalk in CT. This one extends from the parking lot to the beach, giving you an amazing view of the marshlands below.
There's also a second boardwalk that runs parallel to the shoreline for about a mile. You can easily spend an hour walking back and further.
This beach also has a cool land bridge that connects Silver Sands Beach to Charles Island during low tide. It's definitely worth checking out if you're looking for a scenic place to go for a walk.
Location: 1 Silver Sands Pkwy, Milford, CT
3. Walnut Beach – Milford
Walnut Beach has another nice boardwalk out in Milford, Connecticut. This board walk is actually a pier that extends out into Long Island Sound.
At the end of the pier, you'll find a nice observation spot to look out into the ocean. You can also fish or go for a walk on this boardwalk.
Walnut Beach is located right next to Silver Sands State Park, so you can check out both boardwalks at the same time.
Location: 113 E Broadway, Milford, CT
4. Harkness Memorial State Park – Waterford
Harkness Memorial State Park has an amazing boardwalk that overlooks the ocean. The property also has a number of gorgeous botanical gardens and a historical mansion.
This state park is a popular place for weddings and photoshoots. If you're looking for a boardwalk with views, Harkness Memorial State Park is the place to be.
Location: 275 Great Neck Rd, Waterford, CT
5. White Memorial Conservation Center – Litchfield
The White Memorial Conservation Center is a little-known nature museum. The Connecticut boardwalk here wades through the grasslands and backwoods of picturesque Litchfield County.
If you live in northern Connecticut, this is going to be the closest boardwalk to you. There's no ocean, but it still has a terrific view.
Location: 80 Whitehall Rd, Litchfield, CT
6. Rocky Neck State Park – East Lyme
Rocky Neck State Park is another boardwalk destination in Connecticut. The park has a long boardwalk that runs down the entire length of the beach.
It's perfect for long walks on the coastline or simply aiding in rolling your cooler from your car to the beach.
Location: 228 W Main St, Niantic, CT
7. Poquonnock River Boardwalk – Groton
The Poquonnock River Boardwalk is a hidden gem. This is a long walkway that runs alongside the Poquonnock River in Groton.
You'll get a workout walking this boardwalk from end to end, plus the views are top-notch.
Location: Poquonock Bridge Boardwalk, Groton, CT
8. Niantic Bay Boardwalk – Niantic
Niantic Bay Boardwalk is one of Connecticut's boardwalks in New London County. This curved boardwalk offers the perfect opportunity to take a relaxing stroll by the ocean.
It runs from Niantic Beach to Hole In The Wall Beach, which is one of the quieter beaches in Connecticut.
Location: 30 Main St, Niantic, CT
9. Hammonasset Beach State Park – Madison
Hammonasset Beach State Park is Connecticut's largest shoreline park, stretching over 2 miles. This makes it the perfect place to go for long scenic walks on the beach.
The boardwalk doesn't stretch the entire length of the beach, but you can walk on the sand once the boardwalk ends.
Location: 1288 Boston Post Rd, Madison, CT
10. Simsbury Land Trust – Simsbury
The Simsbury Land Trust has another great boardwalk to visit. The hiking trail at the park leads to a beautiful 150-foot wooden boardwalk, which goes over the bog.
It's one of the few bogs in Connecticut, so you'll see plenty of unique plants and animals. This CT boardwalk is located in Simsbury, so you won't have to travel far to see this one if you live in the northern part of the state.
Location: 10 Phelps Ln, Simsbury, CT 
Other Connecticut Boardwalks
Aside from the boardwalks already mentioned, there are a few other small ones in the state to check out. Here are some other boardwalks in CT to explore and enjoy:
Captain's Cove Seaport in Bridgeport
Audobon Center in Milford
Calf Pasture Beach in Norwalk
Savin Rock in West Haven
Boardwalks CT – Final Thoughts
Those are CT's most popular boardwalks. Some have more visitors than others, but you'll see plenty of people walking and taking pictures of each one. I recommend planning a visit to each boardwalk independently so you can see them all.
If you're looking for other cool places to visit in Connecticut, check out these articles about the waterfalls and lighthouses found on CT's coastline.