5 Best Clubs in CT – Top Connecticut Nightclubs by City [2023]
Anyone who has been going out to bars and clubs in Connecticut knows that the nightlife scene isn't as lively as in places like New York, Las Vegas, or Miami. But if you know where to go, there are still a few nightclubs in the state that are a ton of fun.
If you're new to Connecticut nightlife, you'll want to make sure you go to the right venue. Going to a club that's dead will completely ruin your night. That's why this guide will only cover nightclubs that are actually good. These are the best clubs in CT.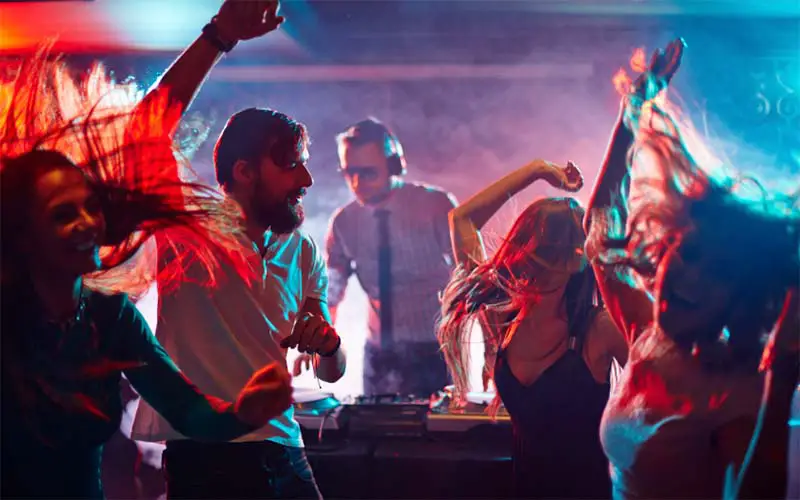 Best Nightclubs in Connecticut
1. Toad's Place – New Haven, CT
Toad's Place is widely considered the best club in CT. During the week, it's a concert venue, but on the weekend they throw their "Original Saturday Night Dance Party." This is a huge event that attracts hundreds of college students from around the state. Every Saturday night this place is completely packed.
On most nights Toad's is an 18+ club, but you can still buy drinks if you're over 21. Anyone over 21 gets a wristband at the door, which will allow you to enter the bar areas. The club primarily attracts a younger crowd, but you can still go if you're a bit older.
If you're looking to dance, you'll be happy to know there's a large dance floor in the center of the nightclub. But there are also other sections where you can sit down and chill. Toad's requires that you pay a cover charge at the door, but it's usually only $10 or $15. You can find this venue in New Haven, right next to Yale University.
(I know the video below is old, but the club is still the same. I just couldn't find a better video that captures the entire club).
Location: 300 York St, New Haven, CT
2. BAR – New Haven, CT
BAR is another top club in Connecticut found in New Haven. From 4 pm to 9 pm, BAR is a very lively brewery with TVs, pool tables, beer, and excellent pizza, but it turns into a dance club at 9:30 pm (Friday and Saturday only).
It's a 21+ nightclub, but BAR still attracts a relatively young crowd. They usually play indie rock, along with some modern hits. There is a cover charge here, but it's only about $10 a person.
The club has a very casual dress code, but there are some things you can't wear. For example, work boots, sweat pants, shorts, tank tops, and overly baggy clothing are all unacceptable attire. Overall, this is a solid Connecticut club to visit on a Friday or Saturday night with your friends.
Location: 254 Crown St, New Haven, CT
3. Shrine Nightclub at Foxwoods – Mashantucket, CT
Shrine Nightclub is a popular club located at Foxwoods Resort Casino. This 21,000-square-foot nightclub & lounge has hosted tons of performances from top DJs like Steve Aoki, Zedd, and Snoop Dogg.
Shrine is the closest thing we have in Connecticut to the mega-clubs of New York, so expect the prices to be higher. Not just for admission, but for drinks and bottle service as well. That's the price you have to pay for access to the best DJs in Connecticut.
The club is open Tuesday, Friday, Saturday, and Sunday, but the best parties are usually on the weekend. Shrine Nightclub does enforce an upscale dress code, so it's best to dress up a little bit to get past the bouncers. You can expect to hear plenty of EDM music here.
Location: 240 Fox Tower Dr, Mashantucket, CT
4. Avalon Night Club at Mohegan Sun – Uncasville, CT
Avalon Nightclub is similar to Shrine. It's a high-tech venue located inside a casino (this time Mohegan Sun). It's a popular spot for bachelorette parties, birthdays, and corporate events.
Just like Shrine, the bottle service and cocktail menus at Avaline are going to be on the expensive side compared to the smaller nightclubs and bars in Connecticut. But what it lacks in affordability it makes up for in DJ talent.
There is a dress code at Avalon Night Club, which is described as upscale chic. That means collared shirts and dress shoes are preferred for men, while a dress or a fancy outfit is preferred for women.
The nightclub is only open on Fridays and Saturdays. You can get in for free until 10 pm on Friday, but after that, it's a $10 admission fee (you can also get free entry if you sign up for their guest list). On Saturdays, the cover charge is $10 until 10 pm, and then $20 after that.
Location: 1 Mohegan Sun Blvd, Uncasville, CT
5. Club Vandome – New Haven, CT
Club Vandome is another CT club found in New Haven, just a few blocks away from Toad's Place. This is a 21+ nightclub that features a variety of DJs on Friday, Saturday, and Sunday nights.
The club has a solid selection of music and a good vibe. I would definitely consider this a dance club, as you'll see plenty of people letting loose on the huge dance floor. They also hold themed nights and a number of events.
Aside from the main room, Club Vandome also has private VIP rooms and a hookah patio. The crowd here is usually a bit older, but it's still a ton of fun. This is one of the dance clubs that always has a great atmosphere.
Location: 102 Hamilton St, New Haven, CT, USA
Other Nightclubs in CT
There are a few other nightclubs that I've seen mentioned on other websites online, however, they aren't really worth your time. Some of them are solid venues, but they can't really be considered a traditional "nightclub." They are more of a restaurant that doubles as a decent bar.
Some of the venues that fall into this category are the Cadillac Ranch Restaurant in Southington and the Shish Kebab House of Afghanistan in West Hartford. Both are highly-rated bars but don't go there expecting a nightclub. There are also clubs like Partners Cafe in New Haven, which is a popular gay bar.
If you're looking to party in Connecticut, I recommend that you stick with the clubs on this list. These are going to be the CT nightclubs that offer the best nightlife experience.
Bars – A Better Alternative to CT Nightclubs (especially in Hartford)
You may be wondering if there are any clubs in Hartford. Unfortunately, the nightlife scene in Hartford is severely lacking in the nightclub department. However, there are some solid bars in Hartford, and in the surrounding towns.
The same goes for the rest of the state. Outside of New Haven and the two casinos, there aren't many CT clubs. You'll be better off checking out the bars. If you're looking for a decent bar nearby, I recommend checking out the article I recently wrote about the best bars in Connecticut.
Best Clubs CT – Final Thoughts
There you have it. These are Connecticut's best clubs. There aren't many clubs CT, but if you stick to the venues mentioned in this article you'll have a great time out with your friends.