Beaches in CT – 15 Best Connecticut Beaches [2023 Update]
Whether you want to swim in the ocean or play in the sand, there are plenty of awesome beaches in Connecticut. In fact, there are over 30 of them. But with so many options, it can be difficult to decide which beach is actually worth visiting.
Over the past summer, I visited all of the most popular beaches in the state to see which ones are the best. After seeing all of them firsthand, I'm confident that these are the best beaches in CT.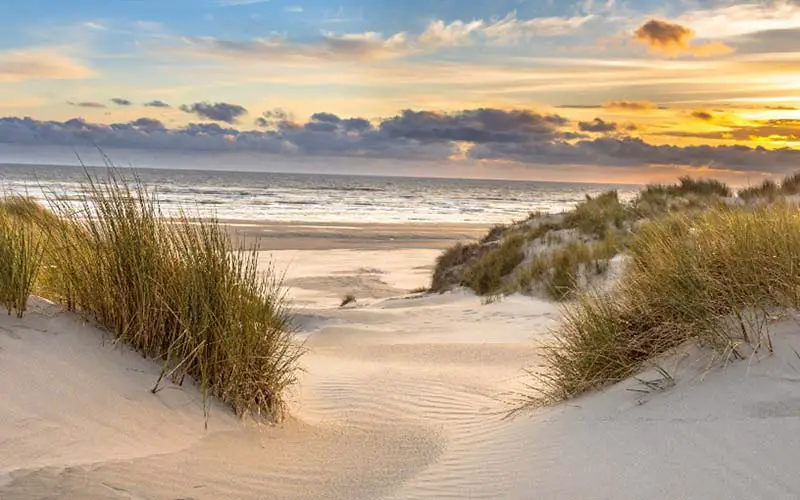 Top Beaches in Connecticut
1. Ocean Beach Park – New London
Ocean Beach Park is one of the most popular beaches in Connecticut. Located in New London, this beach has soft sand and some of the largest waves in the state.
In addition to the beach itself, this place has an Olympic-sized swimming pool, water slides, mini golf, a playground, an arcade, and an amusement park. Admission to the beach is cheap, but you also have to pay for parking and for access to the carnival rides.
Address: 98 Neptune Ave, New London, CT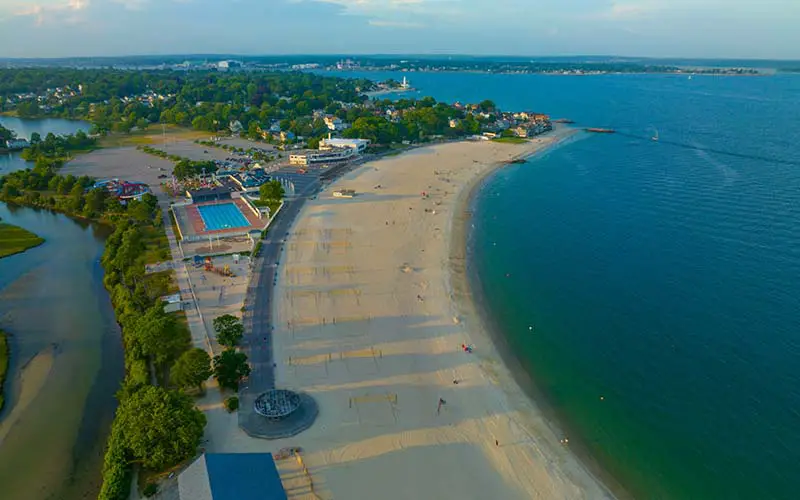 2. Jennings Beach – Fairfield
Jennings Beach is a great place to go swimming in Fairfield. The beach is sandy, plus it has great views of Long Island Sound. It's perfect for families with small kids who want to play in the sand and jump around in the water without getting knocked over by large waves.
The beach has bathroom facilities, volleyball poles, and even a skatepark. Jennings Beach is open year-round, but once the water gets too cold for swimming in the winter, it turns into an off-leash dog park.
Address: 880 S Benson Rd, Fairfield, CT
3. Sherwood Island State Park – Westport
Sherwood Island State Park is Connecticut's oldest state park. It has an excellent pet-friendly beach with a picnic area, a pavilion, a jetty for saltwater fishing, showers, bathrooms, and a food concession stand.
The waves here are small, so it's great for smaller kids. Just make sure that you wear water shoes since there are a lot of sharp sea shells and rocks on the beach. There is also a permanent alcohol ban at Sherwood Island State Park.
Address: Sherwood Island Connector, Westport, CT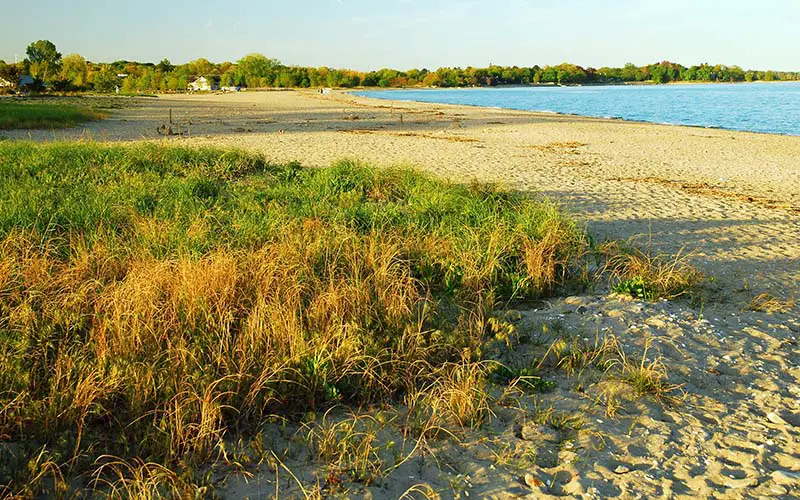 4. Cove Island – Stamford
Cove Island is one of Connecticut's top beaches in Stamford. The park has a ton of recreational facilities including hiking trails, biking paths, BBQ grills, softball fields, an open lawn area, a tennis court, a basketball court, a picnic area, and two beaches.
This beach can get crowded with swimmers on weekends during the summer, but it's not too bad if you visit during the week. The sandy beaches of Cove Island are also home to over 309 species of birds and 50 species of butterflies.
Address: 1125 Cove Rd, Stamford, CT
5. Hammonasset Beach State Park – Madison
Hammonasset Beach State Park is a fantastic Connecticut beach located in Madison. This beach is completely free for Connecticut residents (you must have a CT license plate) and has activities like swimming, saltwater fishing, camping, biking, picnicking, and enjoying the sun.
All of the facilities on the beach have been newly renovated, including the boardwalk. This is Connecticut's largest shoreline park, with over 2 miles of beach, making it perfect for long walks on the beach when you're done swimming for the day.
Address: 1288 Boston Post Rd, Madison, CT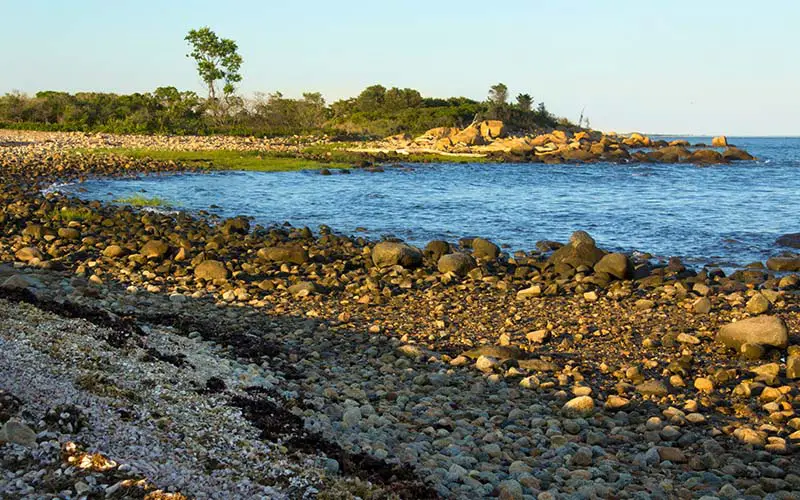 6. McCook Point Park / Hole In The Wall Beach – East Lyme
McCook Point Park is home to a great beach in East Lyme, Connecticut. This small sandy beach has a grassy lawn area, picnic tables, a playscape, bocce ball courts, restrooms, and free Wi-Fi. For parking, you can either purchase a day pass or a season pass if you live in the area.
Right next to McCook Point Beach is Hole In The Wall Beach (the two beaches are within walking distance). There are fewer attractions at this beach, but it's still great for swimming. There are occasionally lifeguards on duty here, but you must swim at your own risk when they aren't working.
Address: McCook Point Park, Niantic, CT
7. Silver Sands State Park – Milford
Silver Sands Beach in Milford is a popular beach in the Greater New Haven area. It does get a bit crowded, so you'll want to get here early in the day. The beach has a number of activities for both kids and adults, including swimming, collecting sea shells, and walking on the boardwalk.
There's also a cool land bridge that connects Silver Sands Beach to Charles Island. This beach is completely free to enter, and there are no parking fees. The only downside is that the bathrooms leave much to be desired and that the tide can rise quickly.
Address: 1 Silver Sands Pkwy, Milford, CT 
8. Jacobs Beach – Guilford
Jacobs Beach is another great beach in Connecticut. Found in Guilford, this public beach has a playground, a picnic area with BBQ grills, a pavilion, a volleyball court, a basketball court, and a bathhouse.
There is also a small boat launch dock where you launch kayaks, canoes, and paddleboards. This is one of the quieter beaches in Connecticut, so you won't have to worry about it being overcrowded.
Address: 140 Seaside Ave, Guilford, CT
9. Lighthouse Point Park – New Haven
Lighthouse Point Park is one of the best beaches in New Haven. It has a carousel, a splash playground for kids, hiking trails, and a lighthouse. There's also a picnic area for BBQs, which is useful if you don't want to get sand in your food.
Although pets aren't allowed on the beach, this is still one of the top places to access the ocean in the state. Just know that there's a $20 parking fee at the beach, however, New Haven residents get in free.
Address: 2 Lighthouse Rd, New Haven, CT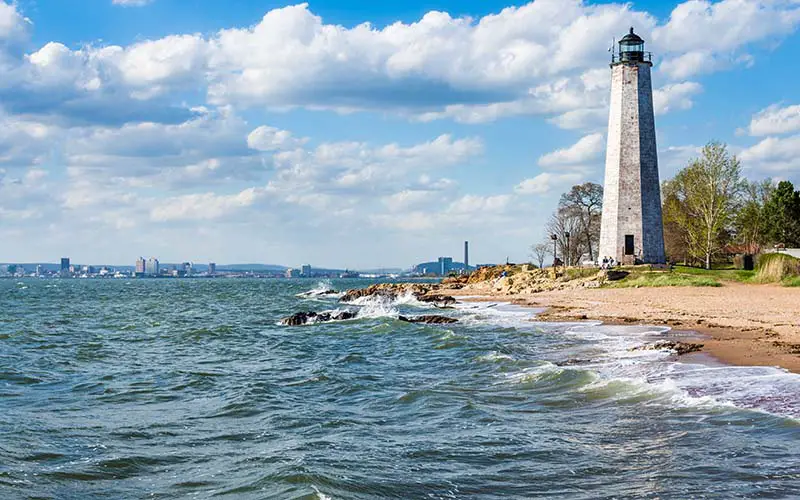 10. Compo Beach – Westport
Compo Beach is one more beach in CT located in Westport. The beach is super clean and is part of a 29-acre park that has a boardwalk, a concession stand, a playground, volleyball courts, a skatepark, lockers, and bathroom facilities.
Compo Beach is also located next to a Marina, where you can launch boats into Long Island Sound. This is one of the more picturesque beaches in New England, especially around sunset.
Address: Compo Beach, Westport, CT
11. Eastern Point Beach – Groton
Eastern Point Beach is a family-friendly beach located in Groton, Connecticut. The beach offers families a fun swimming spot where the water isn't too deep.
The park also has basketball and volleyball courts, a playground, a snack bar, and picnic tables. Plus, you can enjoy scenic views of the New London Lighthouse in Long Island Sound from the beach.
Address: 1 Beach Pond Rd, Groton, CT
12. Calf Pasture Beach – Norwalk
Calf Pasture Beach is another one of the top CT beaches found in Fairfield County. This is a calm beach with a beautiful sandy coastline, but there are also baseball fields, basketball courts, a splash pad for kids, volleyball courts, and a playground.
Sometimes the beach holds special events as well, like free concerts. Just be aware that there are additional parking fees for non-resident vehicles.
Address: Calf Pasture Beach Rd, Norwalk, CT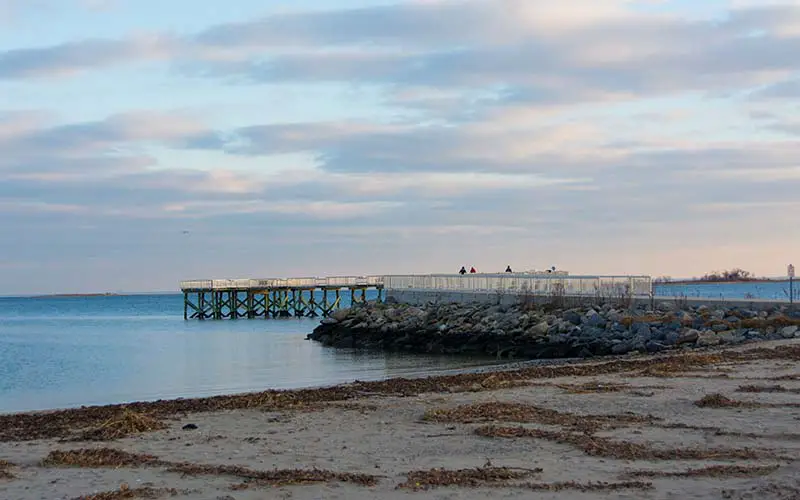 13. Esker Point Beach – Groton
Esker Point Beach is another one of the Connecticut beaches in Groton. This man-made beach is small (it's only 600 feet long) but it's a great place to go swimming for the day.
Aside from saltwater swimming, the park features fun amenities for families like beach volleyball courts, a watercraft launching area, shaded picnic areas, bathrooms, and an outdoor shower. This is also one of the few beaches that offer free parking to both residents and non-residents.
Address: 900 Groton Long Point Rd, Groton, CT 
14. Short Beach – Stratford
Short Beach is one of the smaller, lesser-known beaches in the state of Connecticut. The beach doesn't have the cleanest water, but there are plenty of other things to do here besides swimming.
Other activities for visitors at Short Beach include fishing, baseball, basketball, tennis, volleyball, a calisthenics course, and a playground. There's also a nice golf course next to the beach.
Address: Short Beach, Stratford, CT
15. Waterford Beach Park – Waterford
Waterford Beach Park is the final CT beach on this list. This beach is super accessible and very clean. There are plenty of activities here including fishing, swimming, sunbathing, and picnicking.
There are occasional live music performances and food trucks on the beach as well. This beach is located right next to Ocean Beach in New London, but it's cheaper and much less crowded.
Address: 317 Great Neck Rd, Waterford, CT 
Other Notable Connecticut Beaches
Aside from the beaches already mentioned, there are a few other notable beaches in the state. If you have the chance, you'll want to check out these beaches as well:
West (or East) Beach at Rocky Neck State Park in Niantic
Harveys Beach in Old Saybrook
Clinton Town Beach in Clinton
Bradley Point Park Beach in West Haven
Pear Tree Point Beach in Darien
Sea Bluff Beach in West Haven
If you live near the Connecticut-Rhode Island border, I also highly recommend that you check out Misquamicut State Beach in Rhode Island. This beach is located right over the state border and it has larger waves than any of the Connecticut beaches (the waves are bigger because they aren't blocked by Long Island).
Connecticut Beach Map
Here's a map of all the top CT beaches. Every beach on this list can be found on the map below.
Best Beach CT – Final Thoughts
Those are the best beaches CT. Whether you live in Connecticut or are just visiting, I'm confident that you'll enjoy these amazing beaches.
If you're on vacation and want to stay close to the beach, I recommend that you check out this article about beachfront hotels in Connecticut.
If you're local, check out these articles listing the best beaches by town: