Best Places to go Roller Skating in CT [2023 Update]
Roller skating is a ton of fun for the whole family, but many skating rinks have closed in recent years. Today, only a handful of them remain in Connecticut.
In light of the recent closures, we decided to put out an updated list of the best places to go roller skating in CT. So without further ado, these are the top Connecticut roller skating rinks.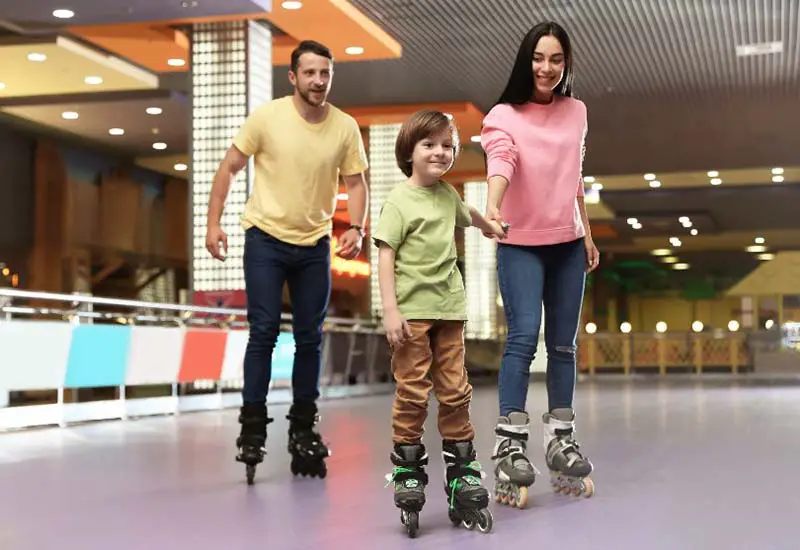 Best Roller Skating Rinks in Connecticut
Ron-A-Roll Indoor Roller Skating Center – Vernon, CT
Ron-A-Roll Indoor Roller Skating Center is a popular spot to go roller skating in Connecticut. They offer public skating sessions, along with skating lessons and birthday party events.
The 14,000-square-foot rink offers adult skate sessions too if you want to improve your skills. Just make sure you sign the waivers before you start skating. You can find Ron-A-Roll off of I-84 in Vernon.
Location: 85 S Frontage Rd, Vernon, CT
Roller Magic – Waterbury, CT
Roller Magic is one of the best roller skating rinks in Connecticut. It has a great atmosphere, making it a ton of fun for the whole family. Admission costs $13, plus you can choose between renting traditional skates or rollerblade skates (you can bring you're own as well).
In addition to the wooden roller-skating rink, there is also a DJ, an arcade, and a snack bar. Party packages are available at Roller Magic too.
Location: 60 Harvester Rd, Waterbury, CT
Skate Inn – Plainfield, CT
Skate Inn is another top Connecticut roller skating rink, this time found in Plainfield. This family-owned skating rink offers public skate sessions, skating lessons, and birthday parties for kids.
Open skating costs $10 a person, plus you can order food. Just know that Skate Inn is closed Monday, Tuesday, and Wednesday.
Location: 992 Norwich Rd, Plainfield, CT
Interskate 91 South – Hadley, Ma
There are only 3 roller rinks open in CT right now, so I also included one of the rinks in southern Massachusetts. Interskate 91 South can be found in Wilbraham, which is about 10 minutes from the Connecticut border.
Like the other roller skating rinks, they offer public skating, birthday parties, and skating lessons. Interskate 91 also has other family-friendly activities, like laser tag and playgrounds. There's a summer camp as well.
Location: 2043 Boston Rd, Wilbraham, MA
Connecticut Skating Rinks that Have Closed
There have been a few inline skating places that have closed in CT within the past few years. Here are a few of the more popular roller rinks that are no longer in business.
Middletown Roller Skating Rink – Middletown, CT
Middletown Roller Skating Rink is one of the skating arenas that closed in the state. At the time of writing, their website is still up, which can be confusing considering they haven't been open in a few months.
The rollerskating rink used to offer private parties, lessons, and open skating. Admission was $8 a person, and it cost $3 to rent skates (rollerblades were available too).
Location: 547 Main St, Middletown, CT 
Galaxy Roller Rink – Groton, CT
Galaxy Roller Rink is another excellent skating place for families that closed. This CT roller rink shut down and 2018, but was built in 1955. Needless to say, it was a bit old. But it's still sad to see one of the longest-standing roller rinks in Connecticut shut down.
Location: 210 Bridge St, Groton, CT
Do You Need Your Own Skates?
Most skating places in CT allow you to bring your own skates, assuming that they pass inspection. They need to make sure that skaters aren't going to damage the wood floors. But if you don't have your own pair, every place allows you to rent.
Roller Skating Rinks in CT – Final Thoughts
Although many roller skating rinks in CT have shut down in recent years in favor of ice skating rinks, the ones left are still a ton of fun. But if you're looking for a place to try out your new pair of roller skates, Connecticut's skate parks are always a good option.