Best Places for Rock Climbing in CT (Indoor and Outdoor)
Whether you want to tackle a difficult rock face or test your skills at an indoor facility, there are plenty of places to go rock climbing in Connecticut. However, with so many choices it can be difficult to decide where to go.
That's why we put together a list of all the best places to go rock climbing in CT. This article will cover all of the top indoor and outdoor rock-climbing spots in the state. We'll also cover which one is better based on your age and experience level. So, let's dive in.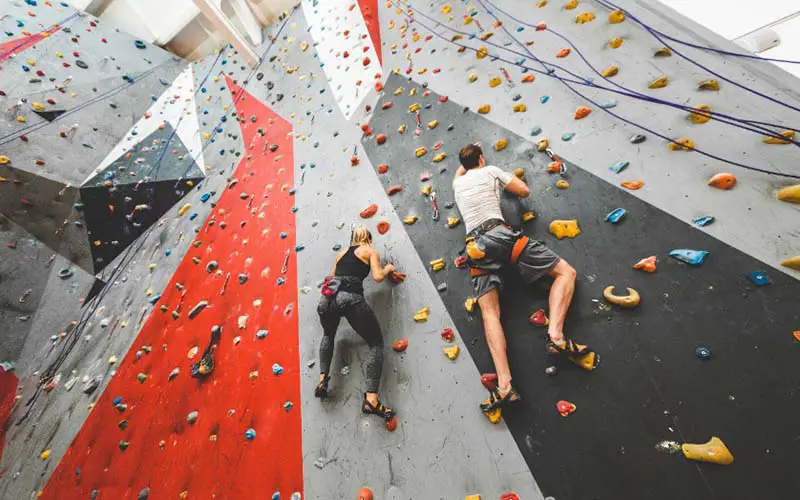 Best Gyms for Indoor Rock Climbing in CT
1. Central Rock Gym – Glastonbury
Central Rock Gym is a popular indoor rock climbing gym in Connecticut. This gym has 23,000 square feet of climbing terrain, a 40 ft lead climbing wall, and 4,000 square feet of bouldering (rock climbing without ropes and harnesses).
Rock climbing here costs $26 for the day, although harnesses and rock climbing shoes cost extra. In addition to traditional rock climbing, Central Rock Gym also has youth programs and fitness classes.
Location: 259 Eastern Blvd, Glastonbury, CT
2. Prime Climb – Wallingford
Prime Climb is another great spot to go rock climbing in Connecticut. Whether you're a new climber or a veteran of the sport, this place welcomes climbers of all ages and ability levels.
The facility has 14,000 square feet of climbing walls, 35 rope stations, and over 60 bouldering routes. A day climbing pass with gear only costs $28 at Prime Climb, but you can also get a membership for discounted rates.
Location: 340 Quinnipiac St, Wallingford, CT
3. Rock Climb Fairfield – Fairfield
Rock Climb Fairfield is one of Connecticut's largest indoor climbing gyms, with a 4-story lead wall and hundreds of rope routes and boulder problems. They also offer a wide range of clinics and classes to help you improve your skills.
A day pass at Rock Climb Fairfield costs $25, but you can also hire an instructor for just $45. They offer training on outdoor rock formations during the off-season as well, so you can learn the basics of traditional rock climbing like how to repel, belay, and anchor.
Location: 85 Mill Plain Rd building t, Fairfield, CT
4. Stone Age Rock Gym – Manchester
Stone Age Rock Gym is one more rock climbing gym in CT. This gym offers climbing courses for both new and advanced climbers. An indoor climbing day pass here costs $26 for adults, plus another $8 for equipment rentals.
In addition to the indoor climbing facilities, Stone Age Rock Gym also offers outdoor climbing courses. Their 8-hour guided trips are the most popular, but you can also do a 3-day top rope and lead climbing course.
Location: 195 Adams St, Manchester, CT
5. BETA Climbing + Fitness – Stamford
BETA Climbing and Fitness is another one of the rock climbing spots in southern Connecticut. This gym has over 20,000 square feet of climbing terrain, over 100 rope routes, over 140 boulder problems, and 10 auto belays.
There's also a traditional gym area if you get tired of the rock walls. Day passes here cost $26 (not including equipment), but you can also take a number of climbing and fitness programs.
Location: 45 Harbor Dr, Stamford, CT
6. City Climb Gym – New Haven
City Climb Gym is a Connecticut rock climbing gym in New Haven. This spot offers 3 types of classes to climbers, including introduction classes, belaying classes, and lead climbing classes.
Adults can get a membership here or a day passes for $16 (plus $8 for gear). Kids get a discounted rate of $11. City Climb Gym does events like birthday parties as well.
Location: 342 Winchester Ave, New Haven, CT
7. Farmington Valley YMCA – Granby
If you have a YMCA membership and want to do some CT rock climbing, then check out the Farmington Valley YMCA in Granby.
This is a great place for youth to learn climbing safety and even join their local competitive climbing team, the Mountain Lions. There's a monthly fee, but it covers twice-a-week practices and coaching.
Location: 97 Salmon Brook St, Granby, CT
Other Rock Climbing Places in Connecticut
Aside from the spots already mentioned, there are a few other places to go indoor rock climbing in CT. All of these places have a rock wall:
The Climb Zone at Chelsea Piers
The rock wall at the Easton Community Center
The indoor rock climbing wall at Nomads Adventure Quest
Top Mountains for Outdoor Rock Climbing in Connecticut
Indoor rock climbing can only take you so far. If you're looking for more challenging climbs, you're going to want to start rock climbing outdoors. An outdoor crag will always provide a more diverse set of holds. Here are a few spots to check out in Connecticut.
Ragged Mountain
Ross Rocks at Ross Pond State Park
Rankin's Roof at Orenaug State Park
Tobys Rock Mountain
100 Acre Wood
Bouldering & Rock Climbing CT – Final Thoughts
That's our list of the best places to go rock climbing Connecticut. Whether you're an experienced climber or a beginner who wants to get into sport climbing, any of these spots are a great option.