13 Best Museums in CT [2023 Update]
As one of the oldest states in the country, Connecticut has a unique history. So, naturally, Connecticut has a ton of museums.
Whether you're interested in art, vintage airplanes, science, or history, there's a Connecticut museum for you. These are the best museums in CT.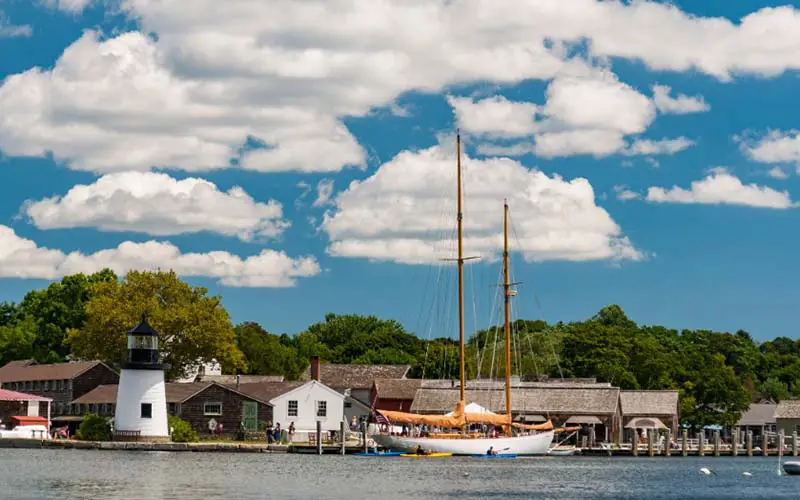 Top Museums in Connecticut
1. Connecticut Science Center – Hartford
The Connecticut Science Center is one of the most popular museums in the state. They have over 165 hands-on exhibits, a 3D digital theater, several educational labs, and daily events.
This museum is great for all ages, including both kids and adults. All of the exhibits are extremely engaging and range from physics and sports to geology and space. There's also a cool butterfly museum and mummy exhibit as well. Prices range from $18 to $25 for the day.
Location: 250 Columbus Blvd, Hartford, CT
2. Mystic Seaport Museum – Mystic
The Mystic Seaport Museum is the country's largest maritime museum. The museum is home to over 500 historic sailing ships and boats, along with a working shipyard, a recreated New England coastal village, and several awesome exhibit buildings.
The museum is both indoors and outdoors, so you can imagine the scale of this place. There are so many things to do here that it could take more than one trip to see everything. They even offer traditional blacksmithing and boat-building classes. Tickets cost between $19 and $27.
Location: 75 Greenmanville Ave, Mystic, CT
3. New England Air Museum – East Granby
The New England Air Museum is one of my favorite museums in the state of Connecticut. They have over 100 aircraft on display, ranging from early flying machines to modern supersonic jets.
Many of the cockpits on these planes are open, so you can sit inside and explore. Plus, there's a fun flight simulator for older kids and adults. The staff at the New England Air Museum are super knowledgeable, and tickets cost between $13 and $21.
Location: 36 Perimeter Rd, Windsor Locks, CT
4. Dinosaur State Park – Rocky Hill
Dinosaur State Park is a state-owned natural history preserve for dinosaur tracks. Sprawling out over 80 acres, it's one of the largest dinosaur track sites in North America.
You'll discover a vast display of early Jurassic fossil tracks that are estimated to have been made 200 million years ago.
This is a great place to visit with your family since they have many hands-on activities, displays, and interactive programs for kids. Visitors can find this attraction in Rocky Hill, CT.
5. Yale University Art Gallery – New Haven
The Yale University Art Gallery is one of the top art museums in Connecticut. Founded in 1832, this is the oldest university art museum in the United States. They have nearly 300,000 art pieces from around the globe.
There are a ton of different artists and exhibitions represented here, so it's easy to get lost in the gallery. One of the best parts about the Yale University Art Gallery is that it's one of the free museums in CT.
Location: 1111 Chapel St, New Haven, CT
6. The Mark Twain House & Museum – Hartford
The Mark Twain House & Museum is another excellent museum in CT. This is the restored version of Mark Twain's home, where he lived from 1874 to 1891 and wrote some of his most famous works, like Adventures of Huckleberry Finn and The Adventures of Tom Sawyer.
Both the tour of the house and the museum are super informative. I highly recommend that every Mark Twain fan check it out. The museum is open 7 days a week, and tickets cost $24 per person.
Location: 351 Farmington Ave, Hartford, CT
7. Wadsworth Atheneum Museum of Art – Hartford
The Wadsworth Atheneum Museum of Art in Hartford, Connecticut is the oldest continuously-operating public art museum in the country. This art and history museum has a collection of nearly 50,000 pieces of both European and American art.
The collection of classic and contemporary art here is truly impressive and worth the $15 price tag for admission (student tickets are only $5). The Wadsworth Atheneum Museum of Art hosts events and guided tours as well.
Location: 600 Main St, Hartford, CT
8. Connecticut Trolley Museum – East Windsor
The Connecticut Trolley Museum is the oldest museum in the United States that's dedicated to electric railroading. They have over 70 pieces of vintage rail equipment dating back to the 1800s, including a variety of passenger and freight trolley cars, elevated railway cars, and locomotives.
This is one of the cheaper museums in Connecticut, costing only about $10. Just know that they are only open from April through December. The Trolley Museum also holds special Christmas events around the holidays where they take you out on one of the trolleys through a light show.
Location: 58 N Rd #9606, East Windsor, CT
9. Mashantucket Pequot Museum & Research Center – Ledyard
The Mashantucket Pequot Museum & Research Center is a 308,000-square-foot complex, that covers Native American history, with life-sized exhibits and a 16th-century village. The gallery also has a 320-seat auditorium, a restaurant, and a museum gift shop.
The films and interactive exhibits at the museum bring the story of the Mashantucket Pequot Tribal Nation to life. Admission costs between $13 and $22.
Location: 110 Pequot Trail, Ledyard, CT
10. The Children's Museum – West Hartford
The Children's Museum is one of Connecticut's top museums for kids. It's geared towards younger kids between the ages of 2 and 8, but there's still plenty to do if you're kids are a bit older.
The museum has a number of attractions that provoke lifelong learning, including workshops, multi-sensory exhibits, wildlife sanctuaries, and interactive mazes. Two of the most popular exhibits are the dinosaur room and the butterfly sanctuary. The museum's admission costs $15 a person.
Location: 180 Mohegan Dr, West Hartford, CT
11. New Britain Museum of American Art – New Britain
The New Britain Museum of American Art is one of the many Connecticut museums that focuses on art. The museum was founded in 1903, making it the first museum in the United States solely dedicated to American art.
The gallery contains more than 8,400 paintings, sculptures, photographs, and videos, so there's plenty to do and see. Tickets cost $15 for adults, while children under 18 are free.
Location: 56 Lexington St, New Britain, CT
12. Yale Center for British Art – New Haven
Connecticut's Yale Center for British Art is home to the most extensive collection of British art outside the United Kingdom. The collection includes 2,000 paintings, 250 sculptures, 40,000 prints, 20,000 drawings, and 35,000 rare books and manuscripts dating back to the fifteenth century.
Similar to the Yale University Art Gallery, admission to the Yale Center for British Art is completely free and open to the public.
Location: 1080 Chapel St, New Haven, CT
13. Florence Griswold Museum – Old Lyme, CT
The Florence Griswold Museum is one more museum in Connecticut. Located in Old Lyme, this place has a number of exhibits for kids and adults about the Old Lyme Art Colony.
Both the architecture and art here are beautiful and worth a visit. Admission to the museum is cheap, at about $10 a person.
Location: 96 Lyme St, Old Lyme, CT
Free CT Museums
There are only a few free museums in Connecticut, most notably the Yale University Art Gallery and Yale Center for British Art.
However, as part of a state program in the summer of 2021 and 2022, other museums in Connecticut offered free admission. It has yet to be seen if this will carry over into future years, but it's unlikely.
Connecticut Museums – Final Thoughts
Those are the top museums in the state of Connecticut. All of these museums and galleries are a fantastic experience for the whole family. Each of the artifacts and collections at these museums really brings Connecticut's history to life.