Lighthouses in CT – 12 Best Connecticut Lighthouses to Visit
There are several dozen lighthouses in Connecticut, some of which you can even tour. But which ones are the best? I decided to find out.
I took a trip to all of the most popular lighthouses in CT to see which ones are actually worth visiting. So without further ado, these are the best Connecticut lighthouses.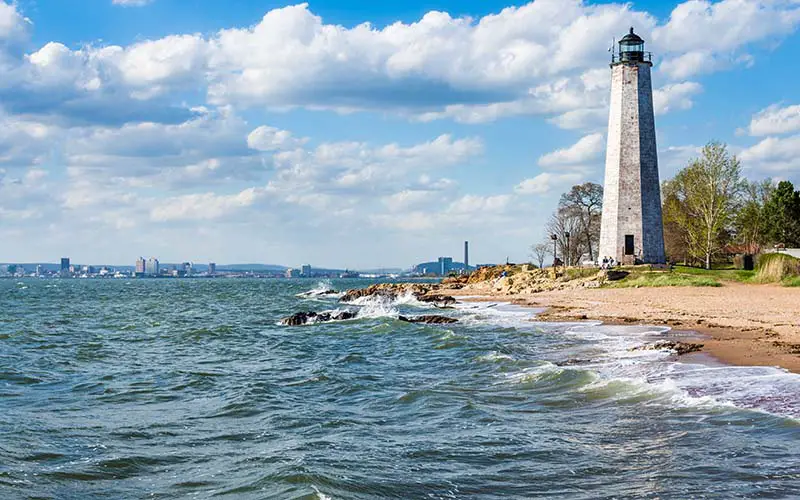 Top Connecticut Lighthouses
1. New Haven Harbor Lighthouse – New Haven
The New Haven Harbor Lighthouse is probably the most photographed lighthouse in Connecticut. It's located right on the beach, so it's easily accessible if you want to visit.
It's also known as Five Mile Point Lighthouse since it's only 5 miles away from downtown New Haven. The lighthouse itself is 80 feet tall and was built in 1845.
Although it's now retired, the views of the area are amazing. Whether you're visiting the lighthouse or going down to the beach, this is certainly one of Connecticut's top lighthouses.
2. Fayerweather Island Light – Bridgeport
The Fayerweather Island Light is another popular lighthouse in CT. It's also known as Black Rock Harbor Light to locals since it's located at the entrance to Black Rock Harbor.
The views from this lighthouse are amazing. I would even argue that it's home to one of the best sunsets in the state. It's definitely a must-see attraction if you're visiting CT.
Just make sure you wear sneakers since you have to walk about 15 minutes on the rock jetty to get to the lighthouse. But regardless of the walk, this is one of the most beautiful lighthouses in Connecticut.
3. The Stonington Lighthouse – Stonington
The Stonington Lighthouse is one of the few lighthouses that you can actually go inside. This historic lighthouse was built in 1840 but has been converted into a museum after it was taken out of service in 1889.
It's small compared to the other lighthouses on this list, but it's one of the best examples of a mid-19th-century stone lighthouse in New England.
You can find The Stonington Lighthouse located right on the edge of Connecticut's border with Rhode Island. Just know that there is a small entrance fee.
4. Greens Ledge Light – Norwalk
The Greens Ledge Lighthouse is an offshore lighthouse found near Norwalk. Opening in 1902, it's one of the few sparkplug lighthouses still active in the United States. It still helps ships navigate Long Island Sound to this day.
Since it's located about a mile off the coast, it's a difficult lighthouse to visit. Most people view it far from afar, but it is possible to take a kayak or boat up to the edge of the lighthouse.
This Connecticut lighthouse was recently painted so it looks more stunning than ever. You'll easily spot it out in the distance by looking for its bright red coat.
5. New London Ledge Lighthouse – New London
The New London Ledge Lighthouse is a unique lighthouse off the coast of New London. It looks like a house just sitting in the middle of the ocean.
It was built in 1909 and is one of the newer lighthouses in the state. You can even take tours run by the Ledge Light Foundation during the summer months.
This is another Connecticut lighthouse that's perfect for photography. You won't find too many places like this in the country.
6. New London Harbor Lighthouse – New London
There's also a second CT lighthouse in New London, called the New London Harbor Lighthouse. This one looks more like a traditional lighthouse and is accessible from the mainland.
Opening in 1760, the New London Harbor Lighthouse is the seventh-oldest lighthouse in the United States. Plus, it's the tallest lighthouse in Connecticut with its tower standing 90 feet in the air.
The lighthouse is located on private land so it can be difficult to get close. But you can get a clear view by parking on the side of the road.
7. Latimer Reef Lighthouse – Long Island Sound
Latimer Reef Lighthouse is located in the middle of the Long Island Sound, so there's a debate about whether it's technically a Connecticut lighthouse or a New York lighthouse. But for the purposes of this list, we'll call it a CT lighthouse.
The lighthouse was opened in 1804 and is visible from the shore. You'll spot it by looking for a white tower with a red stripe in the distance.
Latimer Reef Lighthouse sits on a rocky island but is not open to the public. The coast guard still uses it for navigational purposes, so you can only view the lighthouse from the shore or while on a boat.
8. Saybrook Breakwater Lighthouse – Old Saybrook
Saybrook Breakwater Lighthouse is one of CT's most impressive lighthouses. It was one of the first cylindrical cast-iron lighthouses built in the state.
This is actually the lighthouse that is pictured on the "Preserve the Sound" Connecticut license plates. There's a long rock jetty that leads out to the lighthouse, which gives it a unique look.
Since the lighthouse is located in a private area with houses, it can be difficult to get to. It's best to take a boat or a kayak out on Long Island Sound if you want to get a closer look.
Location: Old Saybrook, CT
9. Penfield Reef Lighthouse – Fairfield
Penfield Reef Lighthouse is an island lighthouse found off the coast of Fairfield, Connecticut. It's a gorgeous lighthouse that was completed in 1874 and stands 51 feet tall.
It's located on a small rocky island and features a two-story keeper's quarters. There is also a pier and a boat landing on the tiny island.
The tower marks a submerged reef that extends from Fairfield Beach. Because it's located out in the water, this is one of the lighthouses that's only accessible by boat. However, you can view the lighthouse from the shore.
10. Stratford Shoal Lighthouse – Long Island Sound
The Stratford Shoal Lighthouse is another one of the Connecticut lighthouses located in Long Island Sound between CT and NY. There's some debate about what state it belongs to, but I consider it part of Connecticut, especially considering its name.
First opening in 1877, the lighthouse stands only 35 feet tall, making it one of the smaller lighthouses in the region. There's also an adjacent dwelling on the property for lighthouse operators.
Although it's not open to the public, the waters around the Stratford Shoal Light are amazing for fishing. It's one of the best fishing spots in Long Island Sound.
11. Lynde Point Lighthouse – Old Saybrook
Lynde Point Lighthouse is a beautiful lighthouse located at the mouth of the Connecticut River in Old Saybrook. It's a classic white lighthouse with a 35-foot tower.
It was built in 1803, so there's plenty of history to go along with this Connecticut monument. There have been many different property keepers residing over Lynde Point throughout the years.
Since the lighthouse is located on private property, you won't be able to tour the facility. However, you can get an unobstructed view by standing on the beach nearby or by taking a boat out on the water.
Location: Old Saybrook, CT
12. Southwest Ledge Light – New Haven
The Southwest Ledge Light is another one of the Connecticut lighthouses found in New Haven. It's an active lighthouse that marks the entrance to New Haven Harbor.
The tower is 45 feet tall and was built in 1877. It is one of the many lighthouses in the state of Connecticut that are part of the National Register of Historic Places.
Since it's a small lighthouse on the sea, many people in Connecticut forget about its existence. It's often overshadowed by the much larger New Haven Harbor lighthouse. But it's still worth a visit if you sail by.
Other Lighthouses in Connecticut
Aside from the lighthouses already mentioned, there are several other cool lighthouses in Connecticut. Here are some more CT lighthouses to check out:
Sheffield Island Light in Norwalk
Avery Point Lighthouse in Groton
Stamford Harbor Ledge Lighthouse in Stamford
Lighthouses CT – Final Thoughts
Those are the top lighthouses in Connecticut. Visiting a lighthouse is one of the best activities for families to try in Connecticut.
There's a lot of history too, making it a great educational activity for your kids. Best of all, many lighthouses in the state are free to visit.