15 Best Bed and Breakfasts in CT [2023 Update]
If you're looking for a relaxing getaway in Connecticut, you're going to want to check out one of the many amazing bed and breakfasts in the state.
These classic New England B&B's come in a variety of shapes and sizes ranging from romantic cottages to historic inns on the coastline. Here's our list of the best bed and breakfasts in CT.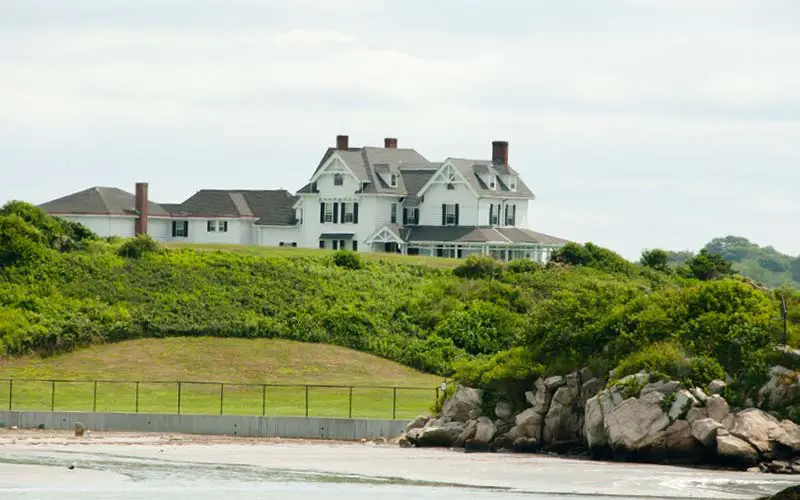 Top Bed and Breakfasts in Connecticut
1. Mayflower Inn & Spa – Washington
The Mayflower Inn & Spa is one of the top-rated bed and breakfasts in Connecticut. This boutique inn offers a full-service spa complete with an outdoor sauna and meditation classes.
Some of the other amenities on the property include an indoor pool, a fitness center, a hot tub, and an on-site restaurant. You can find The Mayflower Inn & Spa in the rolling hills of Litchfield County.
Location: 118 Woodbury Rd, CT-47, Washington, CT
2. Westbrook Inn Bed and Breakfast – Westbrook
The Westbrook Inn Bed and Breakfast is a popular place to stay in Connecticut. This shoreline B&B has that classic New England charm, along with updated amenities.
The vintage inn features 10 guest rooms, plus they supply you with things to do like kayaks, beach towels, and bikes. Travelers here can enjoy the hot homemade breakfast that is served every morning, but there are a ton of restaurants in the area as well.
Location: 976 Boston Post Rd, Westbrook, CT 
3. Inn at Harbor Hill Marina – Niantic
The Inn at Harbor Hill Marina is another great bed and breakfast in CT. This Connecticut B&B has 16 sea-facing rooms that are accented with modern amenities. Some of the rooms even come equipped with a private balcony and deck where you can feel the ocean breezes coming in.
This is a great bed and breakfast to visit if you have a yacht since they offer boat slips on the nearby marina. If you're into boating or fishing, this is definitely a boutique hotel you want to check into.
Location: 60 Grand St, Niantic, CT 
4. Stonecroft Country Inn – Ledyard
The Stonecroft Country Inn is an excellent place to book a room if you want to stay at a bed and breakfast near Foxwoods and Mohegan Sun. It's a quiet countryside estate that still gives you close access to all of the attractions in the city.
Some of the rooms at this hotel feature a whirlpool tub, a gas fireplace, and free high-speed internet. The rooms aren't the cheapest at this hotel, but you'll certainly enjoy your stay.
Location: 515 Pumpkin Hill Rd, Ledyard, CT
5. Mansion At Bald Hill – Woodstock
The Mansion At Bald Hill is one of Connecticut's bed and breakfast inns found in the northeastern part of the state. This elegant bed & breakfast is a historic landmark that has been converted into a secluded spot for weekend getaways.
The Mansion is also a very popular place to hold weddings and big events. The property is absolutely gorgeous and well worth booking a room.
Location: 29 Plaine Hill Rd, Woodstock, CT
6. The Whaler's Inn – Mystic
The Whaler's Inn is a bed and breakfast in Connecticut found in Mystic. This B&B is located right next to Mystic Harbor and is made up of five adjacent buildings and forty-five custom rooms and suites.
The property has been renovated many times over the years, so the amenities are relatively modern. They also have a really good on-site restaurant called "The Shipwright's Daughter." Both the food and wine at the restaurant are amazing.
Location: 20 E Main St, Mystic, CT
7. The Griswold Inn – Essex
Opening in 1776, The Griswold Inn is one of the oldest continuously operated inns in the United States. With that being said, the property's 33 unique rooms have been updated with a number of modern amenities.
Some of the amenities you'll find at this bed and breakfast include historic dining rooms, an art exhibit, a tap room, and a wine bar. If you're looking for a memorable bed and breakfast experience, you'll definitely want to check out The Griswald Inn.
Location: 36 Main St, Essex, CT 
8. Copper Beech Inn – Ivoryton
The Copper Beach Inn is an award-winning CT bed and breakfast found in Ivoryton. The country inn is made up of 22 guest rooms and suites spread out through the main house, the carriage house, and the comstock house.
Each room features various antiques, oriental rugs, and luxury upholstery. The on-site restaurant here is one of the best in the area, plus there are plenty of activities within a short drive.
Location: 46 Main St, Ivoryton, CT
9. Scranton Seahorse Inn – Madison
The Scranton Seahorse Inn is a unique Connecticut bed and breakfast. Located on the shoreline in Madison, this B&B only has 7 guest rooms, but 3 of them have a jacuzzi (one even has a fireplace).
There are plenty of things to do near this hotel, including great shopping outlets, fantastic restaurants, and excellent beaches.
Location: 818 Boston Post Rd, Madison, CT
10. Riverwind Inn Bed & Breakfast – Deep River
Riverwind Inn Bed & Breakfast is one more bed and breakfast inn in southern Connecticut. Located in Deep River, this spot offers comfortable lodging and excellent food, which makes for a memorable stay.
Some of the facilities and amenities here include delicious gourmet breakfasts, cozy beds, and easy access to destinations like Mystic Aquarium, Chamard Vineyards, the Connecticut River Museum, and the two Connecticut casinos.
Location: 209 Main St, Deep River, CT
11. Winvian Farm – Morris
Winvian Farm is another Connecticut bed and breakfast inn that features an all-inclusive spa. But the most impressive features of this property are the 18 distinctive cottages spread across 113 acres of beautiful natural scenery.
Each cottage is uniquely designed because they used 15 different architects to build the property. Every room has access to 5-star amenities, making for an unforgettable experience. This B&B is perfect for a long and relaxing weekend getaway in the foothills of the Berkshires.
Location: 155 Alain White Rd, Morris, CT 
12. Simsbury 1820 House – Simsbury
The Simsbury 1820 House is a highly-rated bed and breakfast near Hartford, Connecticut. Located in Simsbury, this restored country inn features 32 uniquely designed guest rooms with colonial architecture, beautiful gardens, and rustic wood floors.
The inn offers guests a free continental breakfast, Wi-Fi, daily newspapers, and access to the pool and health club at their sister property. Pet-friendly rooms are available at this hotel as well.
Location: 731 Hopmeadow St, Simsbury, CT
13. Saybrook Point Resort & Marina – Old Saybrook
Saybrook Point Resort & Marina is a luxury beach hotel in Connecticut. This bed and breakfast has a number of lavish suites that overlook the ocean. You can even park your yacht in their marina.
The resort features several onsite restaurants, a marina bar, a luxurious spa, and pools that are open year-round. Plus, this B&B is dog-friendly.
Location: 2 Bridge St, Old Saybrook, CT
14. Steamboat Inn – Mystic
The Steamboat Inn is another one of the Connecticut bed and breakfasts found in Mystic. This romantic bed and breakfast overlooks the Mystic River in the historic downtown district, so the view is amazing.
It features 11 guest rooms, which come with a number of cool amenities including complimentary breakfast, a wide variety of craft beers, wines, and unique bourbons, and easy access to the city of Mystic.
Location: 73 Steamboat Wharf, Mystic, CT
15. The Bevin House Bed & Breakfast – East Hampton
The Bevin House Bed & Breakfast is a fantastic place to stay in central Connecticut. This three-story Victorian mansion offers a one-of-a-kind experience that you can't find anywhere else. Plus, the entire property is fenced in for added privacy.
There are tons of things to do in the surrounding area, including checking out the local wineries, breweries, and restaurants (of course they offer complimentary breakfast as well). You'll also be within driving distance of Foxwoods Resort Casino and Mohegan Sun.
Location: 26 Barton Hill Rd, East Hampton, CT
Other Bed and Breakfast Inns in Connecticut
If you're looking for a cool place to stay for a few days, there are some other excellent bed and breakfasts in the state of Connecticut as well. Here are a few honorable mentions:
Captain Stannard House Bed and Breakfast Country Inn in Westbrook
Boardman House in East Haddam
Manor House Inn in Norfolk
Best Bed and Breakfast CT – Final Thoughts
Those are the best B&Bs in the state. If you're looking for top-notch accommodation in Connecticut, you won't be disappointed with any of these bed and breakfasts.
They all offer much more than just a bed and some breakfast as many of them have Wi-Fi, free parking, and a long list of cool things to see and do during your stay. Not to mention the warm hospitality.