Connecticut is home to some incredible aquariums. So, if you've ever wondered what a shark, whale, or penguin looks like up close, you have the perfect opportunity to find out.
I recently visited all of the top-rated aquariums and zoos in Connecticut to see which ones are the best. This article will cover everything you need to know about the aquariums in CT, including ticket prices and what animal exhibits they have.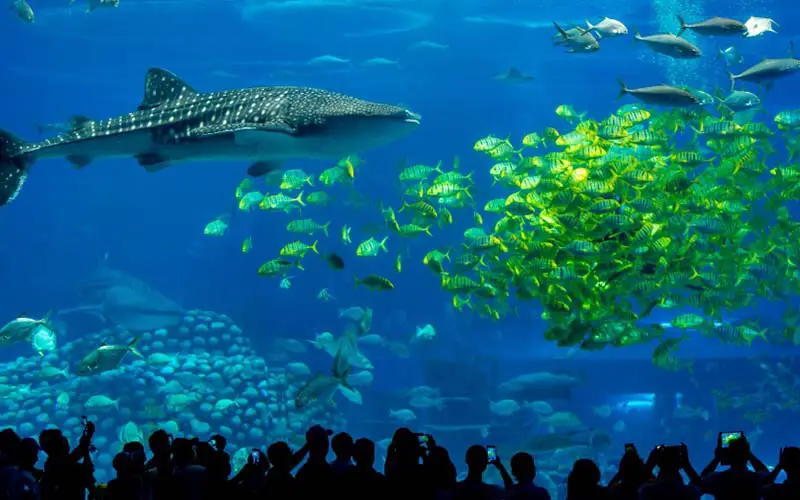 Top Aquariums in Connecticut
1. Mystic Aquarium – Stonington, CT
Mystic Aquarium is one of the most popular aquariums in Connecticut. It's home to a number of sea creatures including, African penguins, seals, sea lions, Beluga whales, sting rays, jellyfish, and several other varieties of fish species. The aquarium even has an exhibit where you can touch non-threatening sharks.
They also have a number of programs where you can go behind the scenes with the animal trainers for a day to get a more hands-on experience. The undersea VR explorer experience is worthwhile as well.
Tickets for Mystic Aquarium cost between $30-$40 depending on the day you visit, but you can also get massive discounts if you join the membership program.
Address: 55 Coogan Blvd, Mystic, CT
2. Maritime Aquarium – Norwalk, CT
The Maritime Aquarium is another excellent aquarium in CT. They have 75 live exhibits which feature close to 7,000 animals of 363 different species. Some of the sea animals at the aquarium include harbor seals, river otters, sharks, sea turtles, sting rays, octopuses, jellyfish, and various species of exotic fish.
The aquarium also has several land animals as well, like their popular meerkat exhibit. But you can also see habitats for lizards, skunks, porcupines, quail, and tamarin monkeys during your visit.
There are tons of cool activities and attractions available for kids at the Maritime Aquarium, including feeding the rays, a 4D theater, and virtual reality experiences. Tickets for the aquarium cost $20 for children under 12 and $30 for adults.
Address: 10 N Water St, Norwalk, CT 
3. SeaQuest Connecticut – Trumbull, CT
SeaQuest Connecticut is the third and final aquarium in Connecticut. Some of the aquarium's animal exhibits include sharks, stingrays, lizards, turtles, and birds. They also help with the research and conservation of endangered species by housing axolotls, two-toed sloths, and Asian small-clawed otters.
This Connecticut aquarium has a number of unique activities, like snorkeling with the sting rays, reef sharks, and tropical fish, feeding the caimans, and spending individual time with a wallaby (very similar to a kangaroo). There's even a talking parrot.
You can learn about and have some unforgettable interactions with many rare animals at SeaQuest Connecticut. Tickets at the aquarium cost $20 for adults and $14 for kids, but you can also purchase an annual pass for $40.
Address: 5065 Main St Ste 1106, Trumbull, CT
Connecticut Aquariums – Final Thoughts
These are the best aquariums CT. Regardless of which one of Connecticut's aquariums you visit you're guaranteed to have a fun time. All of these aquariums are great for events like birthday parties.
If you want to view some other wildlife outside of the Connecticut aquariums, there are plenty of other places to visit as well. I recommend you check out this article I recently published about the best zoos in CT to see what other animal exhibits are available in the state.