Swimming Lakes in CT – Top 12 Places to Swim in Connecticut
Although there are plenty of beaches in Connecticut, the state also has a ton of awesome swimming lakes. However, not every lake allows swimming, so it pays to know where to go.
That's why I put together this guide to the best swimming lakes in CT. By the end of this article, you'll know exactly where to visit to swim in Connecticut. I made sure to include lakes from every part of the state, so you can find a place to swim regardless of where you live.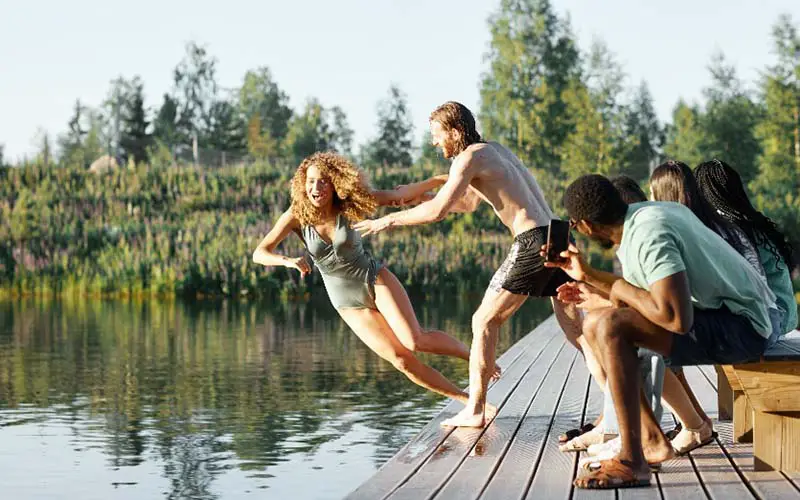 Swimming Lakes in Connecticut
1. Burr Pond State Park – Torrington
Burr Pond State Park is a great swimming lake in CT. The pond is huge and offers a variety of outdoor activities including hiking, kayaking, fishing, and swimming.
The park also has a beach and plenty of picnic tables, which are perfect for setting up a BBQ with your family when your kids are finished swimming for the day. You can find Burr Pond in Torrington.
Address: 384 Burr Mountain Rd, Torrington, CT
2. Lake Waramaug State Park – Kent
Lake Waramaug State Park is another one of the Connecticut swimming holes in Litchfield County. The water in the lake is clean, making it ideal for swimming in the summer.
Aside from swimming, this lake also features plenty of other things to do as well. Some of those activities include camping, picnicking, fishing, kayaking, canoeing, hiking, field sports, and mountain biking.
Address: 30 Lake Waramaug Rd, New Preston, CT
3. Brownstone Adventure Sports Park – Portland
Brownstone Adventure Sports Park is another great place to swim in Connecticut. Not only does the park have a large swimming lake, but it also has other water activities like a water obstacle course, ziplining, and cliff jumping.
Since it's an amusement park, there is a fee to swim here, however, it's still pretty cheap for what you're getting. This Connecticut swimming lake can be found in Portland, near the Connecticut River.
Address: Lake Lillinonah, Newtown, CT
4. Candlewood Lake – Danbury
Candlewood Lake is one of the most popular swimming lakes in Connecticut. As the largest lake in the state, Candlewood Lake stretches 8.4 square miles in the Danbury area.
It's one of the best places for watersports like boating, swimming, tubing, waterskiing, and kayaking. Plus, there are several beaches in each of the surrounding towns, so you're kids will be able to play in the sand while on the shore.
Address: 36 Hayestown Rd. Danbury, CT
5. Squantz Pond – New Fairfield
Squantz Pond is another great lake to swim at in Connecticut. In fact, this massive body of water is located directly next to Candlewood Lake.
Squantz pond offers a number of fun activities including swimming, hiking, boating, fishing, picnicking, jet skiing, and even SCUBA diving. This is also one of the top spots to go kayaking in CT.
Address: 178 Short Woods Rd, New Fairfield, CT
6. Broad Brook Reservoir – East Windsor
Broad Brook Reservoir is a fantastic swimming lake in Connecticut if you live in Hartford County. The reservoir is divided into two sections, a shallow end with tons of lifeguards and a deep end with a dock, diving board, and waterslide.
The park also has a beach, a concession stand, basketball courts, tennis courts, and baseball fields. This is one of my favorite lakes to swim at in the state.
Address: 27 Reservoir Ave, Broad Brook, CT
7. Lake Mohegan Recreational Area – Fairfield
Lake Mohegan Recreational Area is one of Connecticut's top swimming lakes in the southern part of the state. This freshwater lake has several roped-off sections, each with different depths of water. It's a very family-friendly place to swim, with plenty of lifeguards on duty.
In addition to the lake, there's a sandy beach and a splash pad as well. Just be aware that there's very little shade in the area, so sunscreen and beach umbrellas are a must.
Address: 960 Morehouse Hwy, Fairfield, CT
8. Hop Brook Lake – Naugatuck
Hop Brook Lake is one of the top-rated swimming lakes in the Naugatuck-Waterbury area. It's a very popular spot among Danbury residents for nonmotorized watersports like swimming and kayaking, along with fishing.
The lake also has a beach and a picnic area with grills, which are perfect for hosting a classic New England BBQ in the summer. This is one of the lakes in the state that's completely free to swim at, so you can visit as many times as you like.
Address: 4 Straits Tpke. Naugatuck, CT 
9. Stratton Brook State Park – Simsbury
Stratton Brook State Park is another one of the top swimming areas in the state. Whether you plan on swimming, sunbathing, fishing, or playing in the sand, you're going to enjoy this lake.
In addition to the water, the lake also has a nice area with picnic tables, as well as some solid hiking and bike trails.
Address: 149 Farms Village Rd, Simsbury, CT
10. Lower Bolton Lake – Bolton
There are three freshwater lakes that extend from Bolton to Vernon, but the best one of the bunch is the Lower Bolton Lake. This is one of the lakes that allow swimming, but also has a boat launch for sailing and kayaking.
The lake is relatively large with a surface area of about 175 acres and a maximum depth of 20 feet. However, the water isn't nearly that deep when you're close to the shore. Fishing is allowed at this Connecticut lake as well.
Address: 17 Keeney Dr, Bolton, CT
11. Gardner Lake State Park – Salem
Gardner Lake is one of the swimming areas in Connecticut that's located inside a state park. This lake is well-maintained and allows for a variety of water activities like swimming, jet skiing, and fishing.
Although the water is too cold for swimming in the fall, the view at this lake is amazing once the leaves start to change colors. Gardner Lake State Park also has a nearby campground.
Address: 208 Old Colchester Rd, Salem, CT
12. Bantam Lake – Morris, CT
Bantam Lake is the final Connecticut swimming hole on this list. It's the largest natural lake in the state of Connecticut, stretching out over 947 acres.
The recreational area is known for a number of outdoor activities like boating, swimming, jet skiing, and hiking. The lake features two beaches as well (Morris Town Beach and Sandy Beach in Litchfield), however, there is an entrance fee to swim here.
Address: East Shore Dr. Morris, CT
Other Lakes in Connecticut for Swimming
Aside from the Connecticut swimming lakes already mentioned, there are a few other decent lakes in CT. Here are a few additional lakes in Connecticut that allow swimming:
Indian Well State Park in Shelton
Crystal Lake in Ellington
Day Pond State Park in Colchester
Swimming Lakes CT – Final Thoughts
Those are the top lakes in Connecticut for swimming. Many of these CT lakes are free to swim at, making them perfect day trips for families searching for nearby events.
If you want to take your boat out or go fishing, I recommend you check out this article about the best lakes in Connecticut. That article covers some of the other lakes in the state more in-depth.