Best Mountains in CT (Complete List)
Whether you're looking for a scenic hiking trail or a place to go rock climbing, Connecticut has some of the most beautiful mountains in the country. But, which ones are the best? I decided to visit all of Connecticut's most popular mountains to find out.
After a few weeks of hiking on mountain trails around the state, I've determined that these are the best mountains in CT. (I also included a map of every mountain in CT towards the bottom of this page, so you can find the one closest to you).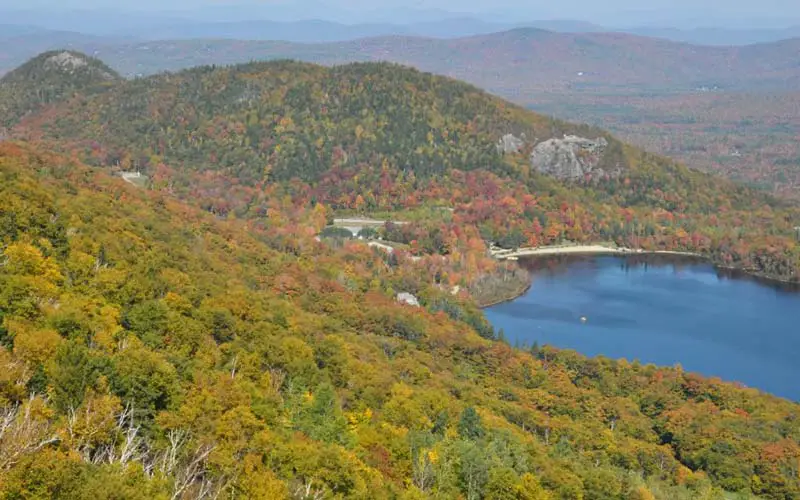 Most Popular Connecticut Mountains
1. Bear Mountain – Salisbury
Bear Mountain is one of the Taconic Mountains, which are an extension of the Appalachian Mountain Range. It's found in Salisbury, CT, and is the highest mountain in the state at 2,316 feet.
It takes about an hour and a half to hike to the peak, which provides a decent but not overly exhausting workout. Bear Mountain has gorgeous views overlooking northeastern Connecticut
2. Chauncey Peak – Meriden
Chaunce Peak is a traprock mountain located in Meriden, CT. It's part of the much larger Metacomet Ridge, which extends from New Haven to the Vermont border.
The summit at Chauncy Peak sits 688 feet in the air, providing a gorgeous view of the landscape below. The trails here are considered moderate difficulty, but there are some steep points.
3. Ragged Mountain – Southington
Just north of Chauncey Peak in Southington, you'll find Ragged Mountain. This is another traprock mountain that's part of the greater Metacomet Range.
Ragged Mountain has easy hiking trails for beginners, but it's also home to some of the best rock climbing in Connecticut. The peak is 761 feet.
4. Talcott Mountain – Simsbury
Talcott Mountain is located in Talcott Mountain State Park in Simsbury. The mountain's peak is 950 feet and is home to a cool mountaintop lookout tower.
The trails here are well-maintained and don't take too long to walk. Once you get to the top, you'll enjoy a nice panoramic view of the state.
5. Mount Carmel (Sleeping Giant State Park) – Hamden
The Sleeping Giant State Park got its name because the two miles of mountaintops here resemble a sleeping man.
The park features 1.5 miles of marked trails that lead to an observation tower at the top of Mt. Carmel. At an elevation of 736 ft, you'll be able to enjoy the views of Connecticut's skyline from Long Island Sound to New Haven.
6. Mount Frissell – Salisbury
Mount Frissell is a 2,454-foot mountain on the tri-state border of Connecticut, Massachusetts, and New York. It's located right next to Bear Mountain and would be the highest mountain in the state if it were fully located in CT.
The trails are pretty heavily wooded, but they offer terrific views of the terrain. You can also check out Brace Mountain while you're in the area.
7. Haystack Mountain – Norfolk
Haystack Mountain is another fantastic mountain in Connecticut. Found among the rolling hills of Norfolk, this mountain is 1,716 feet high and has an observation tower at its peak.
The views are incredible, but understand that the trail is very short. Most of the elevation is gained in your car, not the trail. It's a very easy hike.
8. Pinnacle Rock – Plainville
Pinnacle Rock is one of the smaller mountains in Connecticut, found just southwest of Hartford. Although the summit is only 600 feet, this place has some terrific views and decent hiking.
Pinnacle Rock can be found near the Plainville-Farmington town line and is a well-kept secret of locals of the area.
9. Cobble Mountain – Kent
Cobble Mountain is located near the Connecticut-New York border in the small town of Kent. This is an excellent hiking spot for experienced hikers looking for a bit of a challenge.
Some parts of the trail have a fair amount of rocks and require you to do some climbing. But once you get to the top, you can enjoy the magnificent 360-degree views at 1,365 feet. Plus, this CT mountain is rarely crowded.
10. Lamentation Mountain – Meriden
Lamentation Mountain is one more traprock mountain that's part of the Metacomet Ridge that runs through the center of the state.
The high point of Mount Lamentation is 720 feet, so expect a mildly challenging hike. It's just a bit difficult to find the start of the trail. But overall, this is a solid Connecticut mountain to visit if you live in the Meriden or Berlin area.
11. Hanging Hills – Meriden
The Hanging Hills is another one of the Connecticut mountain ranges overlooking the town of Meriden. It has a number of ridges including the East Peak and West Peak, which is 1,024 feet above sea level.
These Connecticut mountains overlook the Quinnipiac River Valley, and they're never busy.
12. Mohawk Mountain Ski Area – Cornwall
Mohawk Mountain Ski Area isn't a hiking mountain, but it is a solid ski resort. The peak reaches an elevation of 1,600 feet, and there are 26 trails, including a 650-foot vertical drop.
Although you can't go hiking or snowshoeing, it's still one of the best places to go skiing in CT. Mohawk Mountain is located in Cornwall, which is out in Litchfield County.
Other Notable Mountains in Connecticut
Connecticut has a ton of hills, cliffs, ridges, and mountains. Aside from the ones already mentioned, here's a list of a few other notable mountains in the state:
Short Mountain
Round Mountain
Gridley Mountain
Bradford Mountain
Lions Head
Highest Mountain in CT
Of all the CT mountains, the two in Salisbury are the tallest. Bear Mountain has an elevation of 2,316 feet and Mount Frissell has an elevation of 2,454 feet.
While Mount Frissell has a slightly higher peak, the base of the mountain is located in Massachusetts, so it's disputed which is the highest mountain in Connecticut.
Map of Mountains CT
Check out the map of the top mountains CT below. All of Connecticut's best mountains can be found on the map.
CT Mountains – Final Thoughts
Although there are plenty of amazing mountains found in the USA, New England has some of the most beautiful views in the country, especially in the fall. Whether you live here or not, I highly recommend that you check out some of CT's mountains.
However, not all of the best hiking trails are found on mountains. If you're looking for a nearby hiking spot, check out this article about the best hiking trails in CT.