Best Restaurants in CT [2023 Update]
There are so many great restaurants in Connecticut that it can be difficult to decide where to eat. So, I decided to put together this guide outlining some of the top restaurants in the state.
I've compiled a complete list of all the best Connecticut restaurants in each category. Whether you're craving steak, sushi, Italian, American, Mexican, or any other type of cuisine, these are the best restaurants in CT.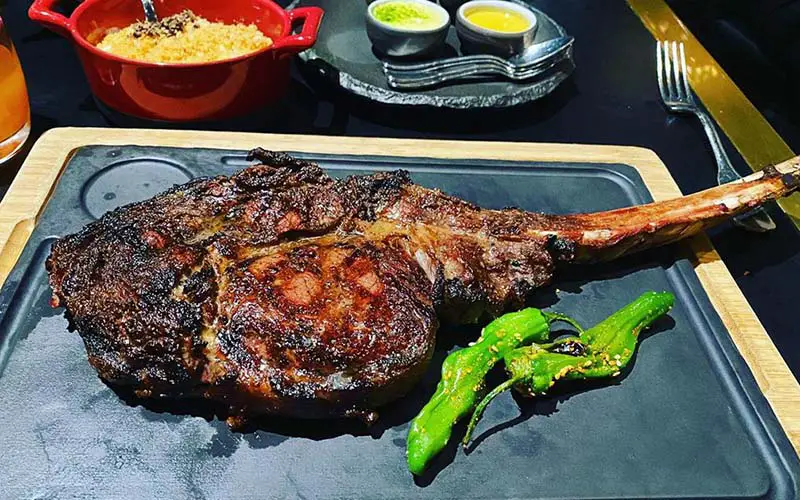 Top Restaurants in Connecticut
1. Viron Rondo Osteria – Chestire
Viron Rondo Osteria is one of the best restaurants in Connecticut. This spot gets rave reviews for its locally sourced Italian cuisine and upscale ambiance.
The restaurant's menu features a wide variety of Italian classics for lunch and dinner, including garlic bread, rigatoni bolognese, chicken piccatta, salmon, and wood-fired pizzas. The service at Viron Rondo Osteria is always amazing too. You can find this Italian spot in Cheshire.
Location: 1721 Highland Ave, Cheshire, CT
2. Shell & Bones Oyster Bar & Grill – New Haven
Shell & Bones Oyster Bar & Grill is an award-winning seafood restaurant in New Haven. Overlooking New Haven harbor, this eatery offers both breathtaking waterfront views and delicious food.
You're able to order a number of dishes like butter-poached lobster tails, salmon, shrimp cocktails, littleneck clams, crab cakes, and Alaskan black garlic cod. There are non-seafood items available on the menu as well, like their Wagyu sirloin steak and pan-roasted chicken.
Location: Shell & Bones Oyster Bar & Grill
3. The Mill on the River – South Windsor
The Mill on the River is a popular Connecticut restaurant that serves a wide variety of dishes. This is one of the fancier restaurants found north of Hartford.
They offer an assortment of different curated menus including one for lunch, dinner, and Sunday brunch, along with a separate 3-course dinner menu. The food here is always top-notch. I highly recommend the pork chops, the ahi tuna, and the chicken parmesan. Just know that the restaurant is typically closed on Mondays.
Location: 989 Ellington Rd, South Windsor, CT
4. Feng Chophouse – Hartford
Feng Chophouse is one of the best sushi restaurants in Connecticut. Located in Hartford, this upscale restaurant offers a range of sushi dishes, along with a variety of cuisines from Southeast Asia.
There's a lot to choose from on the menu, including signature sushi rolls, nigiri, sashimi, Wagyu burgers, and vegetable fried rice. The desserts are amazing as well. I highly recommend both the vanilla creme brulee and the raspberry cheesecake.
Location: 93 Asylum St, Hartford, CT
5. Oyster Club – Mystic
Oyster Club is another top restaurant in CT. Located in Mystic, this chic restaurant serves fresh, boat-to-table seafood with unmatched quality and taste.
The menu is very simple, which makes it easy for guests to decide what to order. Some of the featured dishes include littleneck clams, roasted oysters, mussels, swordfish, and smoked whitefish. The head chef here is very talented, plus the service at the restaurants is superb.
Location: 13 Water St, Mystic, CT
6. J. Gilbert's Wood-Fired Steaks & Seafood – Glastonbury
J. Gilbert's Wood-Fired Steaks & Seafood is one of the best steak restaurants in CT. This fine-dining establishment serves an outstanding selection of wood-grilled USDA Prime and Aged Black Angus Beef.
Aside from steak, the menu at J. Gilbert's also features a number of seafood options, including lobster tails, crab cakes, and salmon. This spot makes some excellent cocktails as well if you visit during happy hour.
Location: 185 Glastonbury Blvd, Glastonbury, CT 
7. Prime One Eleven – Trumbull
Prime One Eleven is another highly-rated steak and seafood place. This CT restaurant allows you to order entrees like Wagyu filet mignon, NY strip steak, baby back ribs, Chilean sea bass, and ahi tuna street tacos.
For sides, I always order steak fries when I eat here. I can't recommend them enough. If you visit on the weekend be sure to check out their Sunday brunch, which is served from 11 am to 3 pm. Plus, the prices at Prime One Eleven are very reasonable considering how good the food is.
Location: 51 Monroe Turnpike, Trumbull, CT
8. Goodfellas Restaurant – New Haven
Goodfellas Restaurant is one of the top restaurants in New Haven. It's an old-school restaurant decorated with mob-themed decor, brick walls, and white tablecloths.
The menu features Italian dishes like Sicilian pork chops, jumbo shrimp, New York strip steak, and lasagna & meatballs. Goodfellas Restaurant has an extensive wine list as well. This spot is famous for being frequented by celebrities like Donny Wahlberg and Robert DeNiro.
Location: 702 State St, New Haven, CT 
9. Millwright's Restaurant and Tavern – Simsbury
Millwright's Restaurant and Tavern is a farm-fresh American restaurant in Simsbury. They offer diners a unique culinary experience with an amazing waterfall view in their dining room.
Some of the dishes you can get here include braised short ribs, venison loin, and chicken & dumplings. For drinks, they offer a solid menu of beverages and an extensive wine list. Millwright's Restaurant and Tavern offers both indoor and outdoor seating.
Location: 77 West St, Simsbury, CT 
10. Hoodoo Brown BBQ – Ridgefield
Hoodoo Brown BBQ is a popular restaurant in Connecticut that serves classic Texas-style barbecue. The menu features dishes like smoked chicken wings, beef brisque, smoked turkey, and BBQ sandwiches.
The wings at Hoodoo Brown are some of the best appetizers you'll have the pleasure of tasting. You can find the restaurant in Ridgefield, which is just south of Danbury.
It's the best place to order BBQ in Connecticut.
Location: 967 Ethan Allen Hwy, Ridgefield, CT
11. Frank Pepe Pizzeria Napoletana – New Haven
Frank Pepe Pizzeria Napoletana isn't only one of the best places to eat pizza in the state, but also in the country. Opening in 1925, Frank Pepe Pizzeria has locations in West Hartford, Fairfield, Danbury, and Manchester, but the restaurant in New Haven is the original.
The pizza pies come in a variety of flavors, including the original tomato pie, Margherita, mozzarella & pepperoni, mozzarella & sausage, and white clam. There may be a wait time if you make a dining reservation here, but the food is more than worth it.
Location: 157 Wooster St, New Haven, CT
12. Staropolska Restaurant – New Britain
Staropolska Restaurant is a highly-acclaimed Polish restaurant in New Britain, Connecticut. This place serves generous portion sizes of tasty polish food at affordable prices.
A few of the standout items on the menu include pierogis, pork cutlets, schnitzel, kielbasa, and chicken breast. Staropolska Restaurant offers an array of lunch sandwiches as well.
Location: 252 Broad St, New Britain, CT
13. Salute – Hartford
Salute is another one of the top Connecticut restaurants located in Hartford. This trendy eatery offers an upscale menu of Italian classics, like boneless short ribs, chicken parmesan, pork tenderloin, and ragu bolognese.
The restaurant also has a fair amount of gluten-free options. While dining, I recommend you check out their bar and lounge area, which is stocked with a wide selection of wines, beers, and spirits. But if you don't have time to dine in, Salute offers takeout and delivery too.
Location: 100 Trumbull St, Hartford, CT
14. Arethusa al tavolo – Bantam
Arethusa al tavolo is one of Connecticut's top restaurants in Litchfield County. The chefs here use locally sourced ingredients, which is one of the many reasons why people have rated the business so highly on places like Yelp.
The menu is one of the most carefully curated in the state offering a range of dishes like Pekin duck, pork tenderloin, seared Mediterranean sea bass, Maine lobster, and organic salmon. They offer a handful of vegetarian and vegan options too.
Location: 828 Bantam Rd, Bantam, CT
15. Coromandel Cuisine Of India – Orange
Coromandel Cuisine Of India is a fantastic restaurant to check out if you're looking for something different. As the name suggests, this award-winning restaurant serves mostly Indian delicacies that you won't find anywhere else.
The food is very authentic. Some of my favorite dishes include tandoori shrimp, kebabs, beef coconut fry, and goat curry. You can find this spot in Orange Connecticut, right off I-95.
Location: 185 Boston Post Rd, Orange, CT
Other Notable Restaurants in CT
There are so many great restaurants in the state of Connecticut, that it's impossible to list them all in one article. But here are some other popular CT restaurants that you need to try:
On The Waterfront Restaurant in New London
Barbarie's Black Angus Grill in Danbury
Elm Street Diner in Stamford
Ludal's Italian Restaurant in North Haven
Cast Iron Chef Chop House & Oyster Bar in New Haven
If you're in the mood for Mexican food, Italian, seafood, or Korean BBQ, check out the linked reviews. Over the past year, I've basically reviewed every type of restaurant in the state of Connecticut.
Best Restaurant CT – Final Thoughts
Those are a few of CT's best restaurants. If you plan on eating a meal at any of these spots, make sure you book a reservation in advance since they can get busy.
For special occasions, like date nights or anniversaries, I recommend checking out this article about the best romantic restaurants in CT.