11 Best Places to go Bowling in CT
If you're looking for a place to go bowling in Connecticut, you're in luck. We've just compiled a complete list of all the top bowling alleys in the state.
Whether you're going out with your friends or hosting a birthday party, these are the best places to go bowling in CT. (I made sure to include bowling alleys from all of the major towns and cities, so you can find the one closest to you.)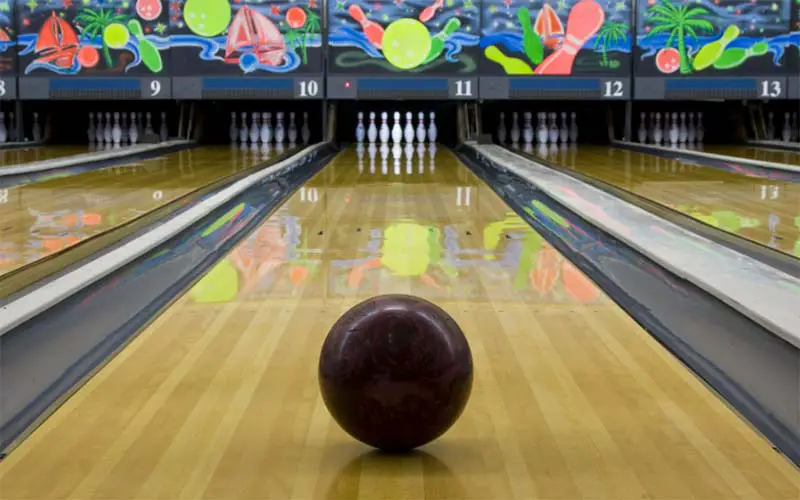 Best Places to Bowl in Connecticut
1. Spare Time
Spare Time is New England's largest family-owned bowling alley. Although they're known for thier bowling, Spare Time also has some awesome attractions like laser tag arenas and arcades. There's a ton to do here for the whole family.
A 2-hour lane rental here costs $129, which isn't bad if you're splitting the bill between 4 or 5 people. There are three separate locations throughout Hartford County, in Vernon, Windsor Locks, and Bristol. All of the locations get very high reviews. (The Windsor Locks location used to be called Bradley Bowl).
Location 1: 129 Ella Grasso Turnpike, Windsor Locks, CT
Location 2: 350 Talcottville Rd, Vernon, CT 
Locaton 3: 177 Farmington Ave, Bristol, CT
2. Lakewood Lanes
Lakewood Lanes is a Connecticut bowling alley found in Waterbury. Bowling here is extrememly affordable as games cost just $3.99 Monday through Friday (games on Satuday and Sunday are only $4.99). You can play by the hour if you want as well.
Lakewood Lanes is a popular spot to do birthday parties. If you have younger kids the lanes have options for bumpers, so the bowling ball doesn't go in the gutter each time.
Location: 694 Lakewood Rd, Waterbury, CT
3. Bowlero
Bowlero is a long-standing bowling chain with many locations in Connecticut. One of the more popular locations is in found just off Route 5 in Wallingford. The location in East Hartford (called Hall of Fame Silver Lanes) is really good as well.
They have dozens of bowling lanes, along with an arcade, sports bar, and restaurant. Many Bowlero locations also offer competitive and social bowling leagues.
Location 1: 1717 Boston Post Rd, Milford, CT
Location 2: 980 N Colony Rd, Wallingford, CT
Location 3: 748 Silver Ln, East Hartford, CT
4. Norwich Bowling & Entertainment Center
Norwich Bowling & Entertainment Center is another great place to go bowling in Connecticut. If you live in the Norwich this is the place to visit.
They have 32 well-maintained lanes that only cost $20 for an hour (up to 5 people). However, you do have to rent thier bowling shoes, which is $3.75 a person. Norwich Bowling has a bowlers league as well, and often hosts tournaments.

Location: 188 W Town St, Norwich, CT
5. Revolutions Bowling and Lounge
Revolutions Bowling and Lounge is a highly-rated bowling alley in South Windsor. They are one of the cheapest bowling spots in the state with $1 games on Monday, $2 games on Tuesday, $3 games on Wednesday, $4 games on Thursday (before 7 pm).
After 7 pm games are still an affordable $5.50 a person. Revolutions Bowling also do kids parties, and offers leagues for both bowling an volleybowl .
Location: 60 Bidwell Rd, South Windsor, CT
6. Nutmeg Bowl
Nutmeg Bowl is one of Connecticut's top bowling alleys. You can find them in Fairfield near Stop & Shop. Nutmeg Bowl has 56 synthetic lanes with the a high-tech automatic scoring system, which has contibuted to it's high reveiws.
In addition to bowling, they also have a fully loaded sports bar with 4 flat screen TVs, along with a kids playhouse. This places is typically open until midnight or 1 am on most nights.
Location: 802 Villa Ave, Fairfield, CT
7. Strikers of Brookfield
Strikers of Brookfield is a top-notch bowling alley in Brookfield, which is near Danbury. They offer open bowling at $5 a game, but if you're a league member you can play at $3 a game.
Strikers of Brookfield has a solid snack bar and lounge area where you can order food. Plus, they have a players pro shop, where you can take bowling lessons for $45 an hour.
Location: 840 Federal Rd, Brookfield, CT
8. Lessard Lanes
Lessard Lanes is a unique entertainment center in Plainville that offers both bowling and mini golf. Games cost only $5 a person during the week, but are raised to $5.50 at night and on the weekend.
If you plan on bowling for a while, you can also rent a lane for $20 for two hours. There's a league here as well that holds events relatively often. You can rent balls and shoes here if you don't have your own.
Location: 136 New Britain Ave, Plainville, CT
9. Amity Bowl
Amity Bowl is a great place to bowl if you live in the New Haven area. It's located in Woodbridge, right off the Merritt. A 2-hour session of bowling here costs less than $20 a person, so it's very affordable.
Just know that there are no lanes available on Monday, Tuesday, and Thursday after 5 pm due to league games.
Location: 30 Selden St, Woodbridge, CT
10. Highland Bowl
Highland Bowl is a 20-lane duckpin bowling center (duckpin means smaller bowling pins). This family-operated bowling alley charges $6.50 per game, or you can rent by the hour for $34.00 per lane.
You can find Highland Bowl in Chestire. The staff here is very freindly, and they are open every day of the week except for Monday.
Location: 1211 Highland Ave, Cheshire, CT
11. Callahan's Bowl-O-Rama
Callahan's Bowl-O-Rama is a popular bowling spot in Newington. This is a family-owned bowling alley that's been in business for more than 60 years.
On the weekend, games cost $15 a person per hour or $25 a person for 2 hours. You can find them on the Berlin Turnpike.
Location: 2143 Berlin Turnpike, Newington, CT
Bowling Alleys in CT
There you have it. These are the best bowling alleys CT has to offer. Whether you win or lose, bowling is a ton of fun for the whole family.