Connecticut Map – State, Town & County (Printable PDF)
Connecticut is one of the oldest states in the county. It's located between New York, Massachusetts, and Rhode Island in the northeastern corner of the United States.
Whether you're visiting CT for the first time or simply looking for a detailed map of your home state, we have you covered.
You'll find printable versions of Connecticut state maps, town & county maps, topographic maps, and road maps below.
Connecticut State Map
Below you'll find a detailed map of Connecticut. The map includes the state boundaries, a few of the major cities, rivers, lakes, and interstate highways.
Map of CT Towns and Counties
If you're looking for a map of CT counties and towns, you can find that here. The map below includes all 169 towns in Connecticut, along with the counties they are located in.
Hartford County, Fairfield County, Litchfield County, Tolland County, Windham County, New Haven County, Middlesex County, and New London County are all colored to make the map easier to read.
Download Map of CT Towns and Counties PDF
Major Cities and Towns in Connecticut
The state of Connecticut has a population of about 3.6 million people. It's made up of 169 municipalities, which include 19 cities, 149 towns, and 1 borough.
Hartford is the capital city of Connecticut, but there are also other large cities and towns, like New Haven, Bridgeport, Waterbury, Stamford, Norwalk, Danbury, Groton, Manchester, Windsor Locks, Storrs, Torrington, New Britain, Middletown, and Hamden.
There are a number of historic New England towns as well, like Greenwich, Mystic, Fairfield, and Norwich.
Connecticut's Geography
Although small, Connecticut has plenty of natural features like rivers, lakes, and mountains. When visiting the state, you'll find Long Island Sound on the southern coastline, the Connecticut River in the central part of the state, and Candlewood Lake on the western border.
The topographic map below offers a good representation of Connecticut's geography. The Connecticut River Valley and the coastline have the lowest elevation, while the Northwest Hills are the highest.
Download Topological Map of Connecticut PDF
There are a handful of other notable physical features represented on this CT map. Here are of few other geological features unique to CT.
Rivers
The Connecticut River is the state's largest river, but the Farmington River, Housatonic River, and Thames River are also sizable. Most of Connecticut's rivers flow into Long Island Sound.
Lakes
Connecticut has over 2,000 lakes, ponds, and reservoirs. Some of the major ones include Candlewood Lake, Bantam Lake, Barkhamsted Reservoir, and Lake Waramaug. You can learn more about the various CT lakes here.
Mountains
There are several mountains in CT. A few of the more popular ones include Bear Mountain, Mount Frissell, and Talcott Mountain.
You'll find the tallest mountains if you visit The Berkshires in the northwestern region of CT. The Berkshires are part of the Appalachian Mountain Range.
State Parks & Forests
In addition to all of CT's lakes, rivers, and mountains, there are over 100 official state parks in Connecticut. Some of the most notable ones include Hammonasset Beach State Park, Rocky Neck State Park, Wadsworth Falls State Park, and Pachaug State Forest.
Other Connecticut Maps
If you're traveling through Connecticut, it's worth learning more about its location in relation to the other states in the U.S. Here are a few other Connecticut maps that may come in handy.
Roads
The interstate highways in Connecticut run nearly 450 miles. Some of the most popular and fastest routes to take are I-95, I-84, and I-91. Other large roads in CT include the Merritt Parkway and the Berlin Turnpike.
Download Connecticut Traffic Map PDF
Nearby States
Connecticut is one of 6 New England States. It borders New York to the west, Rhode Island to the east, Massachusetts to the north, and Long Island Sound to the south (Long Island Sound opens up to the Atlantic Ocean).
To give you a point of reference, check out the map below. The state of Connecticut is easy to spot on a United States map.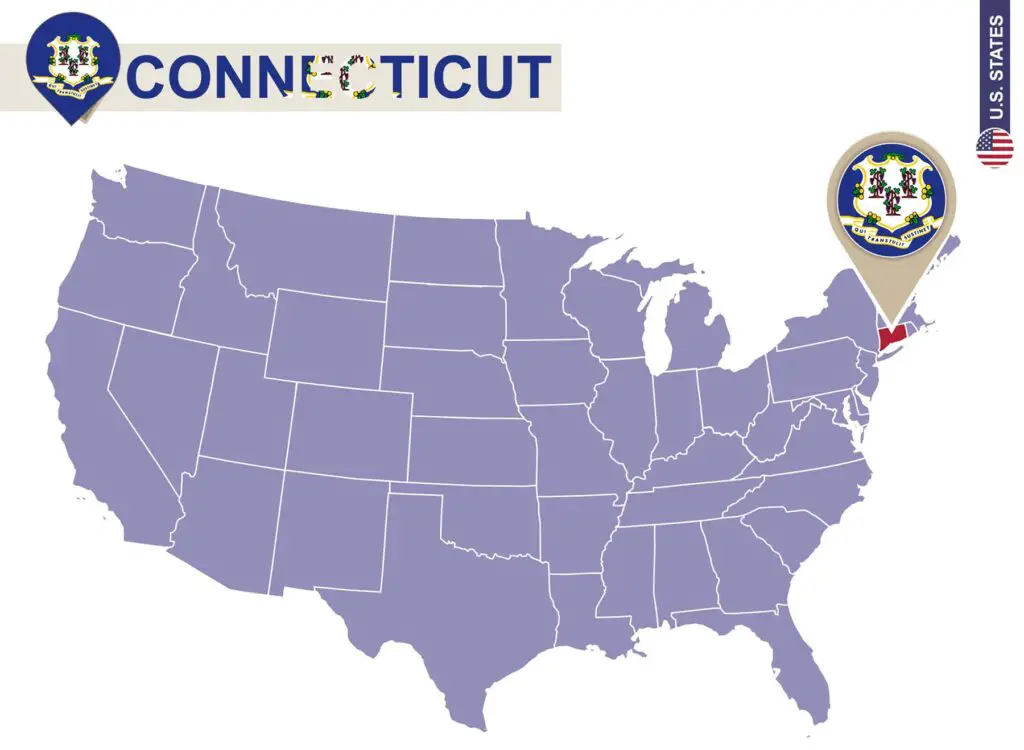 CT Map – Final Thoughts
I hope these CT maps gave you a new perspective on the state. Feel free to download the Connecticut map that best fits your needs.
If you're traveling to Connecticut, you're going to want to fly into Bradley International Airport (BDL). That's Connecticut's largest airport but there are several other smaller airports in CT as well.