12 Essential Restaurants in Clinton, CT
Known for more than just luxury shopping outlets, Clinton Connecticut has some outstanding restaurants- many of which don't get as much attention as they deserve.
Whether you're craving seafood, pizza, or anything in between, you'll be able to find your favorite dishes in this shoreline town. In this post, we'll cover 12 of the best restaurants in Clinton, CT. Let's dive in.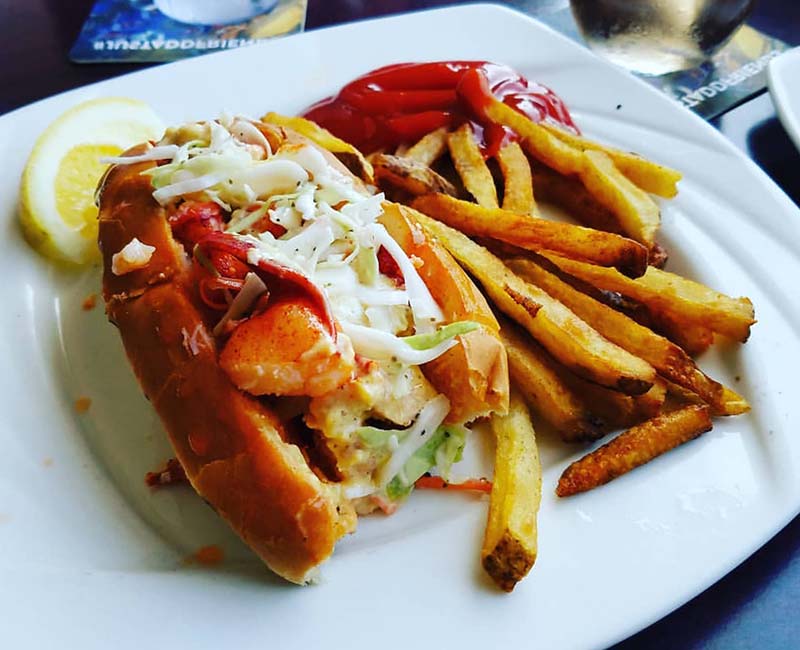 Top Restaurants in Clinton, Connecticut
1. Lobster Landing
Lobster Landing is one of the most popular places to enjoy waterfront dining in Connecticut. The restaurant's menu is extremely simple, as they make a few dishes really well.
You're able to order seafood favorites, like lobster rolls, lobster bisque, and clam chowder. The only thing they don't serve is whole lobsters.
Additionally, Lobster Landing is BYOB-friendly, so you can bring your own beverages. Just be aware that Lobster Landing is closed during the colder months, so if you're in the mood for seafood during the winter, check out the next restaurant on our list.
Address: 152 Commerce St, Clinton, CT
2. Westbrook Lobster Restaurant and Bar
Westbrook Lobster is another excellent place to eat in Clinton. This family-owned restaurant serves up locally sourced seafood and house-made burgers, along with steak and chicken dishes.
I highly recommend trying one of their famous lobster rolls, which are made with fresh-picked lobster meat, butter, and a dash of secret house seasoning. The wine, craft beer, and cocktail list here is quite extensive as well.
You're able to enjoy a variety of seating options at Westbrook Lobster Restaurant. You can grab a table inside, on the patio, or by the bar. They are open Tuesday through Sunday for lunch and dinner.
Address: 346 E Main St, Clinton, CT 
3. The Log Cabin Restaurant
The Log Cabin Restaurant is a rustic diner that services basic Italian and American dishes. It's a great place to eat if you're looking for comfort food in Clinton.
The portion sizes here are very large, so you'll get you're money's worth. Some of the top menu items include veal parmigiana, twin stuffed lobster tails, fried calamari, and prime rib.
The atmosphere at the restaurant is very relaxed, but be aware that this spot is closed Monday, Tuesday, and Wednesday.
Address: 232 E Main St, Clinton, CT 
4. Liv's Dockside Grill
Liv's Dockside Grill is one of the newer shoreline restaurants in Clinton. Opening in 2021, this location upholds the same top-tier quality standards as the other restaurants in the Liv's family- including Liv's Oyster Bar, which made our list of the best restaurants in Old Saybrook.
The restaurant is known for serving hot buttered lobster rolls with no mayo, but they also offer other entrees like shrimp tacos, New England clam chowder, burgers, and truffle fries.
Liv's also started offering weekend breakfast on the docks, which is a great way to start your day. Plus, they have a delivery option if you don't have time to dine in.
Address: 68 Cedar Island Ave, Clinton, CT
5. Chamard Vineyards Bistro
Chamard Vineyards Bistro is one of the top Connecticut wineries, but it's also one of the best French restaurants in CT.
This intimate eatery offers an array of farm-to-table foods, like creamy New England clam chowder, smoked salmon, grass-fed beef, ribeye steak, and roasted duck.
And since Chamard is located on a vineyard, you can bet that the wine offerings are some of the best in the state. The views are amazing as well.
Address: 115 Cow Hill Rd, Clinton, CT
6. Grand Apizza Clinton
Grand Apizza is the go-to pizza joint in Clinton, Connecticut. This place has been serving New-Haven-style pizza since 1955, spanning three generations.
You can order a variety of toppings, ranging from sausage and pepperoni to meatball and potato. On top of that, the restaurant also serves delicious gelato and stuffed breads.
Takeout and delivery are available 7 days a week at Grand Apizza Clinton. Also, be sure to check out their other locations in Madison and Guilford.
Address: 9 E Main St, Clinton, CT
7. Shanks Waterfront Dining
Shanks Waterfront Dining is located right next to Lobster Landing and Liv's Dockside Grill on the Clinton shoreline. This seasonal restaurant offers a scenic waterfront view and tasty seafood dishes.
You're able to order foods like lobster grilled cheese, tuna or lobster tacos, lobster BLTs, and ice cream sundaes. They even serve a gluten-free veggie burger if you have dietary restrictions.
Shanks welcomes customers into its spacious dining area, which often features live music.
Address: 131-c Grove St, Clinton, CT
8. Chow Food and Beverage Company
Chow Food and Beverage Company is a popular American restaurant found in town. They specialize in comfort foods, like sandwiches, burgers, pizza, and wings.
The restaurant's menu also features sides, like mac & cheese, nachos, tacos, and bang bang shrimp, making it a fantastic place to eat if you're craving some carbs.
You can find Chow on the Killingworth Turnpike. They are open 7 days a week.
Address: 36 Killingworth Turnpike, Clinton, CT
9. Taste of China
Taste of China is the premier Clinton restaurant for anyone craving Chinese food. This casual restaurant cooks its food with Sichuan and Chengdu recipes, so you know it's authentic.
All of your favorite Chinese cuisines are available on the menu. From Kung Pao chicken to pork dumplings, there is no shortage of options.
They also have a full bar and an expansive beer menu, featuring many Belgium Ales. You can order from Taste of China online for both takeout and delivery.
Address: 233 E Main St, Clinton, CT 
10. Coffee Break
Coffee Break is one of the best breakfast and brunch spots in Clinton. The head chef here is also a co-owner of the business, so she puts an emphasis on food quality and customer service.
The dishes here are made with fresh ingredients and you can taste it. Some of the featured dishes include omelets, buttermilk pancakes, French toast, burgers, sandwiches, paninis, and soups.
There's also a good selection of teas, coffee, and juices available. The diner is usually open from about 7 am to 2:30 pm daily.
Address: 27 E Main St, Clinton, CT 
11. Rocky's Aqua
Rocky's Aqua is one more seaside restaurant found in Clinton serving a combination of seafood and classic American fare.
Some of the items on the menu here include shrimp cocktails, seared salmon, filet mignon, lobster ravioli, clams, and oysters.
The restaurant also has an outdoor bar with a solid drink menu.
Address: 34 Riverside Dr #2, Clinton, CT
12. Chips' Pub III
Chips' Pub rounds out our list of Clinton restaurants. This American restaurant and bar offers a number of entrees and small plates to keep you satisfied.
A few of the more notable menu items include ribeyes, burgers, seared scallops, penne alla vodka, and BBQ quesadillas.
There's a diverse range of options and the prices here are pretty reasonable.
Address: 24 W Main St # B, Clinton, CT
Other Good Clinton Restaurants
Aside from the Clinton restaurants already mentioned, there are a few other solid places to check out. Here are some honorable mentions:
Nataz Restaurant
Land of Thai
Saldamarco's
Pica Chica Tacos
Final Thoughts
From fresh seafood dishes to classic American comfort food, Clinton has something to satisfy every palate.
So, next time you find yourself in Clinton, make sure to explore these 12 must-try restaurants for an unforgettable culinary experience.