5 Best Beaches in Westport, CT
Westport often flies under the radar when it comes to beach towns, however, that's a mistake. Some of the best beaches in all of Connecticut are found here.
That's why I recently decided to take a swim at all of the most popular beaches in Westport, CT. Here's my list of the top 5.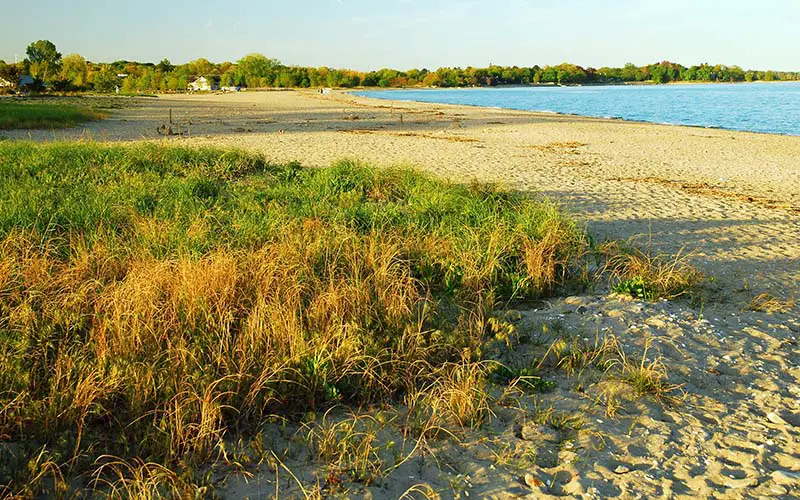 Top Beaches in Westport, Connecticut
1. Compo Beach
Compo Beach is one of the top Westport beaches. The beach is well-maintained and is part of a 29-acre park that has a boardwalk, a concession stand, a playground, open fields, basketball courts, volleyball courts, and a skatepark.
The beach is also located next to a marina, where you can launch boats into Long Island Sound. The view here is amazing, making this one of the more picturesque New England beaches, especially during sunset.
Once the weather starts to get cold, Compo Beach turns into one of the more dog-friendly beaches in Connecticut.
Location: 60 Compo Beach Rd, Westport, CT
2. Sherwood Island State Park
Sherwood Beach is another popular beach in Westport, Connecticut. This family-friendly beach features a pavilion, a jetty for saltwater fishing, showers, bathrooms, and a food concession stand.
There is a permanent alcohol ban at Sherwood Island State Park, so keep that in mind if you're planning a picnic.
The waves here are small, so it's great for smaller children. However, make sure that your kids wear water shoes since there are a lot of sharp sea shells and rocks on the beach.
Sherwood Island State Park is widely considered one of the best Connecticut beaches as well as one of the best state parks.
Location: Sherwood Island Connector, Westport, CT
3. Burying Hill Beach
Burying Hill Beach is located right next to Sherwood Island State Park. The two beaches are separated by a channel of water that flows into Long Island Sound.
The beach here has less sandy areas than Sherwood Beach, but it's still great for swimming, sunbathing, or taking long coastline walks. It's also much less crowded on busy weekends.
The area around the beach has plenty of grassy spots as well. Which is perfect for picnics or playing sports with your friends and family.
Location: 1 Burying Hill Rd, Westport, CT
4. Old Mill Beach
Old Mill Beach is located on the opposite side of Sherwood Beach. It's a very small beach but is popular among Westport locals.
The atmosphere is usually very quiet and relaxing here, so it's perfect for reading a book in the shade. However, the beach lacks public facilities, like restrooms.
This shouldn't be your first choice in beach unless you actually live very close to Old Mill Beach.
Location: Old Mill Rd, Westport, CT
5. Southport Beach
Southport Beach can be found right on the Westport-Fairfield border. It's another small beach that doesn't get too crowded.
This spot is great for swimming since there are seasonal lifeguards on duty here during the summer. There are bathrooms and a snack shack on the beach as well.
This beach is completely free and open to the public, making it a great option for out-of-state visitors.
Location: 124-138 Beachside Ave, Westport, CT
Other Excellent Beaches near Westport, CT
Compo Beach and Sherwood Beach are two of the best beaches in Connecticut. But if you're looking for other swimming options, you'll find these beaches nearby as well:
Jennings Beach in Fairfield
Calf Pasture Beach in Norwalk
Cove Island in Stamford
For more local beach options, check out these articles about the top beaches in Fairfield and Norwalk.
Westport Beaches – Final Thoughts
Those are Westport's best beaches. Regardless of which beach you decide to visit, you'll have a ton of fun in the sun.
Be sure to check out this complete list of CT beaches: