4 Amazing Beaches in Norwalk, CT
Norwalk isn't known for its beaches, but that doesn't mean there aren't a few good spots to go swimming in town.
I recently visited all of the most popular beaches in Norwalk, CT to see which ones are the best. Here's what I found.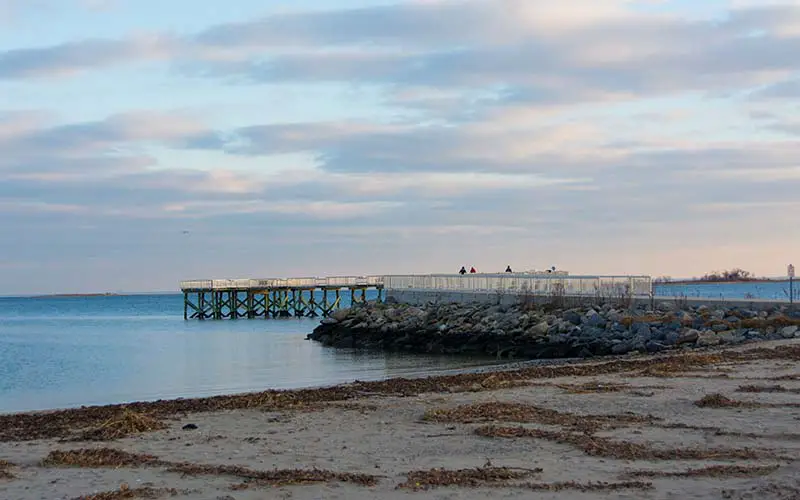 Top Beaches in Norwalk, Connecticut
1. Calf Pasture Beach & Shady Beach Park
Calf Pasture Beach and Shady Beach Park are by far the two most popular Norwalk beaches. They are located right next to each other, so most people consider them to be one large beach.
This beach is usually very calm and has a beautiful sandy coastline. There's a nice pier where you can get an open view of the water as well.
Plus, there are other activities available, including access to baseball fields, basketball courts, a splash pad for kids, volleyball courts, and a playground. Sometimes the beach holds special events, like free concerts or car shows too.
Residents can get free parking here if they verify their license plate number. But non-resident vehicles will have to pay a fee. The parking fee is $42 per car on weekdays and $72 per car on weekends.
Location: Calf Pasture Beach Rd, Norwalk, CT
2. Bayley Beach
Bayley Beach is another beach in Norwalk, Connecticut. This small beach is known for the large number of shells that wash up on shore.
The beach is a bit rocky, so you should have your kids wear water shoes if they're going to go swimming in the water.
In addition to the beach, Bayley's also has a children's playground, basketball court, volleyball court, snack bar, restrooms, and outdoor showers. There are barbecue pits available for picnics as well.
This beach is free for local residents, but non-residents must pay a $25-$30 fee depending on the day (the fee is per family).
Dogs aren't allowed on the beach during the summer, but during the winter Bayley Beach turns into an off-leash dog beach.
Location: 11 Pine Point Rd, Norwalk, CT
3. Weed Beach
Weed Beach can be found just over the Norwalk border in Darien. This is one of the top places to go swimming in southern Connecticut.
The beach has a picnic area with grills, tennis courts, play areas for kids, a concession stand, hiking trails, and shower facilities. Plus, you can hunt for crabs in the sand.
Weed Beach also allows visitors to launch kayaks into Long Island Sound from its marina as well.
Location: Nearwater Ln, Darien, CT
4. Compo Beach
Although technically not a Norwalk beach, Campo Beach is located only a few minutes from the Norwalk town line. This is one of the best-maintained beaches in the state.
It's part of a 29-acre park with a boardwalk, a concession stand, a playground, baseball fields, a marina, and a skatepark.
If you're looking for a fun beach with a great view, this beach is certainly worth a visit.
Location: 60 Compo Beach Rd, Westport, CT
Other Beaches Near Norwalk, CT
There are only two main Norwalk beaches, but there are plenty of other places to swim within a short drive of Norwalk. If you're looking for some new beaches to check out, try these spots:
Compo Beach in Westport
Weed Beach in Darien
Pear Tree Point Beach in Darien
For a full list of nearby beaches, check out these beaches in Darien and Westport.
Norwalk Beaches – Final Thoughts
Those are all of Norwalk's beaches, along with a few others nearby. All of them a great options for summertime fun with your family. Just remember to wear sunscreen while at the beach so you don't get burned.
Be sure to check out this complete list of CT beaches: