Best Beaches in Mystic, CT (& Nearby Beach Spots)
Mystic is known for its popular museums and attractions, but there are a few solid beaches in the area as well. But which Mystic CT beaches are the best? I decided to find out.
I recently visited all of the top beaches in the area (technically Mystic is part of Stonington) and found these to be the best beaches in Mystic, CT.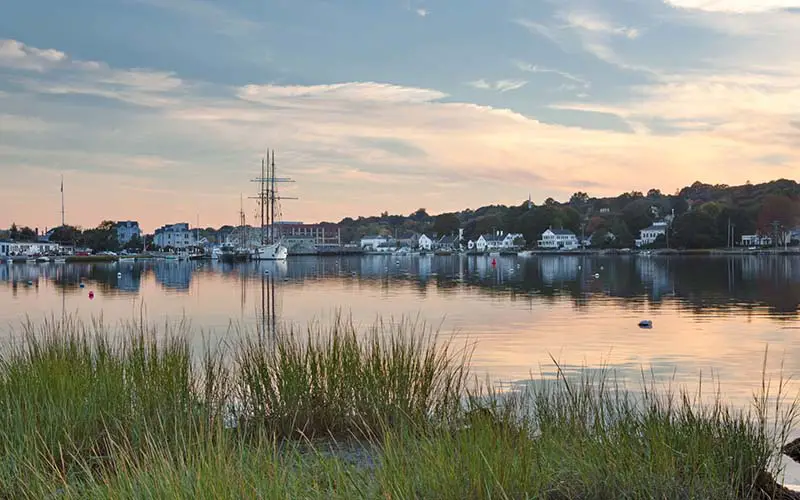 Top Beaches in Mystic, Connecticut
1. Williams Beach Park
Williams Beach Park is the main beach in Mystic, Connecticut. It's a small public beach located right next to the Mystic YMCA.
It's a great place to take your kids swimming in the area since the waves aren't very big. However, water shoes are recommended since the beach is a bit rocky.
There is also a playground, picnic tables, and a baseball field on site. Also, note that there's no lifeguard on duty, so swim at your own risk.
Location: 1 Harry Austin Dr, Mystic, CT 
2. DuBois Beach
DuBois Beach is a popular beach near Mystic. It's located right next to the Stonington Lighthouse Museum, which is a popular lighthouse in CT.
This small beach has very subdued waves and seasonal lifeguards, so it's perfect for families. There's also a shaded gazebo, a dock, and several jetties which are great for crabbing.
You can purchase a season pass to the beach if you live in the Mystic or Stonington area. But if you're visiting, a day pass only costs $10.
Location: 1 Water St, Stonington, CT
3. Eastern Point Beach
Eastern Point Beach is another one of the beaches near Mystic. Located in Groton, this public beach is an excellent swimming spot for families with small kids.
The beach is sandy and the water isn't too deep. Plus, there are a wide variety of amenities like a snack bar, volleyball courts, basketball courts, and a bath house.
Eastern Point Beach also offers a scenic view of the Thames River and Long Island Sound too.
Location: 1 Beach Pond Rd, Groton, CT
4. Esker Point Beach
Esker Point Beach is another great beach found one town over from Mystic. It's a small beach but it has a fair amount of amenities and attractions.
The park features plenty of things to do, like beach volleyball, a boat launching area, and picnicking spots. Just be aware that there are no lifeguards. Parking is free at Esker Point Beach as well.
If you like to walk your dog on the beach, you'll be happy to know this is one of the more dog-friendly beaches in CT.
Location: 900 Groton Long Point Rd, Groton, CT 
5. Bluff Point Beach
Bluff Point Beach is a popular Connecticut state park found on the Groton shoreline not too far from Mystic.
The beach here offers magnificent views of Long Island Sound, however, it's probably not the best place for swimming. This place is more suited for relaxing walks.
Other activities here include hiking, mountain biking, horseback riding, fishing, and kayaking.
Location: Depot Rd, Groton, CT
Other Beaches near Mystic, CT
Aside from the Mystic beaches, there are a number of other outstanding places to swim in the surrounding town. Be sure to check out these local beaches as well:
Ocean Beach Park in New London
Waterford Beach Park in Waterford
Misquamicut State Beach in Westerly, Rhode Island
Mystic Beaches – Final Thoughts
Those are Mystic's top beaches. Regardless of whether you decide to visit a Mystic beach or one of the beaches nearby, you'll have a ton of fun. If you want to stay local, I recommend the beaches in Groton or Stonington.
Also, make sure to eat at one of the many excellent Mystic restaurants when you're done swimming for the day. They are known for their terrific seafood.
Be sure to check out this complete list of CT beaches: