Best Beaches in Madison, CT
Madison is a shoreline town known for having some of the state's best seafood restaurants. But many of the best beaches in Connecticut are located in Madison as well.
Since summer is approaching, I decide to visit all the top beaches in town to see if they lived up to the hype. I found these to be the best beaches in Madison, CT.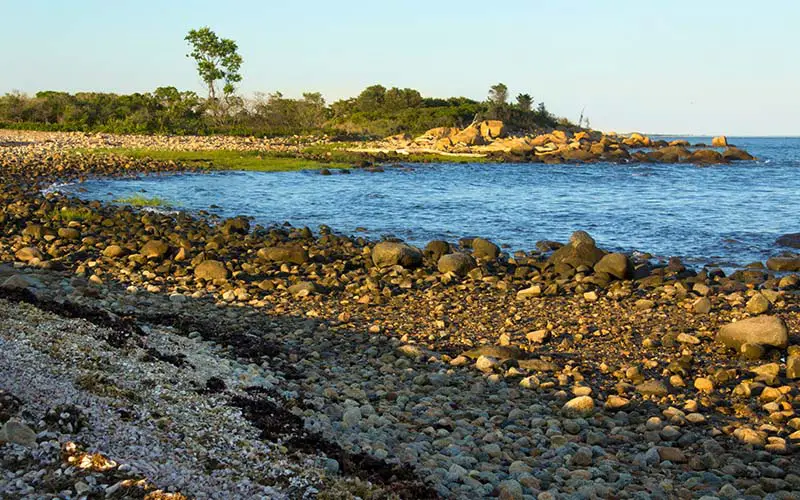 Top Beaches in Madison, Connecticut
1. Hammonasset Beach State Park
Hammonasset Beach State Park is by far the most popular beach in Madison, Connecticut. The beach spans over 2 miles, making it Connecticut's largest shoreline park.
Some of the activities available here include swimming, sunbathing, boating, hiking, camping, biking, and picnicking. All of the amenities on the beach are in great condition, including the boardwalk.
Hammonasset Beach State Park is one of the most visited beaches in CT, but it's free for Connecticut residents since it's a state park.
Location: 1288 Boston Post Rd, Madison, CT
2. East Wharf Beach Park
East Wharf Beach Park is another great Madison beach. This nearly 2-acre beach offers amazing sunrise views of Long Island Sound.
This spot also has a fishing pier, rooftop boat access, a shaded gazebo with benches, and plenty of parking.
Whether you plan on swimming, playing in the sand, or walking the coastline, you'll have a ton of fun at this beautiful beach.
Location: 122 Middle Beach Rd, Madison, CT
3. Surf Club Beach & Garvan Point Beach
Surf Club Beach and Garvan Point Beach are two other solid Madison beaches to check out. Surf Club Beach offers a ton of things to do, including basketball courts, soccer fields, football fields, volleyball courts, horseshoe pits, bocce ball, and a skatepark.
The beach has lifeguards, a concession stand, and picnic areas with grills as well. If you're looking for a more secluded area, check out Garban Point Beach, which is located right next to Surf Club Beach.
Surf Club Beach is one of my favorite beaches in the state since it has excellent amenities and is rarely crowded. There's a nearby county club as well if you like to play golf.
Location: 13 Surf Club Rd, Madison, CT
4. West Wharf Beach
West Wharf Beach is one more beach in Madison, CT. It's located right next to the Madison Beach Hotel, which is one of the best waterfront hotels in Connecticut.
This small beach features mooring posts for boats and a pier that offers scenic views of the water.
Parking is a bit limited at this beach, but you can avoid any issues by getting here early.
Location: W Wharf Rd, Madison, CT
5. Madison Beach Club
Madison Beach Club is a private social club that offers a variety of recreational activities, like swimming, sailing, dancing, dining, and tennis.
Since it's a paid club, it's certainly not the cheapest beach to visit in Madison. But you get access to a private beach and tons of cool attractions.
Location: 128 Island Ave, Madison, CT
Additional Beaches near Madison, CT
Madison has some awesome beaches, but there are also a few other nice places to swim in the surrounding towns. When you get the opportunity, I recommend checking out these beaches in Guilford and Clinton as well:
Jacobs Beach in Guilford
Clinton Town Beach in Clinton
Branford Point in Branford
Madison Beaches – Final Thoughts
Those are Madison's top beaches. Madison is fortunate to have some of the best beaches in the state of Connecticut. Just be sure to stay safe when out on the water. Wearing sunscreen will go a long way as well.
Once you're done swimming for the day, make sure you eat at one of Madison's premier restaurants.
Be sure to check out this complete list of CT beaches: